Peanut Butter Gooey Butter Cookies (From Scratch)
Soft and delicate Peanut Butter Gooey Butter Cookies from scratch turns a traditional St. Louis cake into cookies. Recipe makes 1 dozen cookies.
One thing I'm terrible at is printing my photos to display. I take so many photos to the point where I got a camera tattoo a few months ago, yet my apartment is bare.
A few years ago I bought picture frames with every intention of hanging them, but that never happened. They are literally sitting in a bag on the floor taunting me.
Recently as I was tidying one of my bookshelves, I ended up cleaning off the entire shelf, leaving me with ample room to do…something.
I grabbed a few abandoned frames, figured out which ones would fit best, and made a note of how many photos I needed.
Now to figure out which pictures to print. As I was scrolling through photos of my vacation to St. Louis last year, I started craving St. Louis gooey butter cake.
As the name states, it's a buttery cake with a gooey center. I had the best cake in St. Louis, fresh and warm from the oven; I still think about it one year later!
I really really wanted to make a cake but then remembered seeing gooey butter cookies in my newsfeed.
Cookies are faster to make plus I was in a cookie baking mood.
And since March is National Peanut Month, I made Peanut Butter Gooey Butter Cookies from scratch to celebrate because everything is better with peanut butter.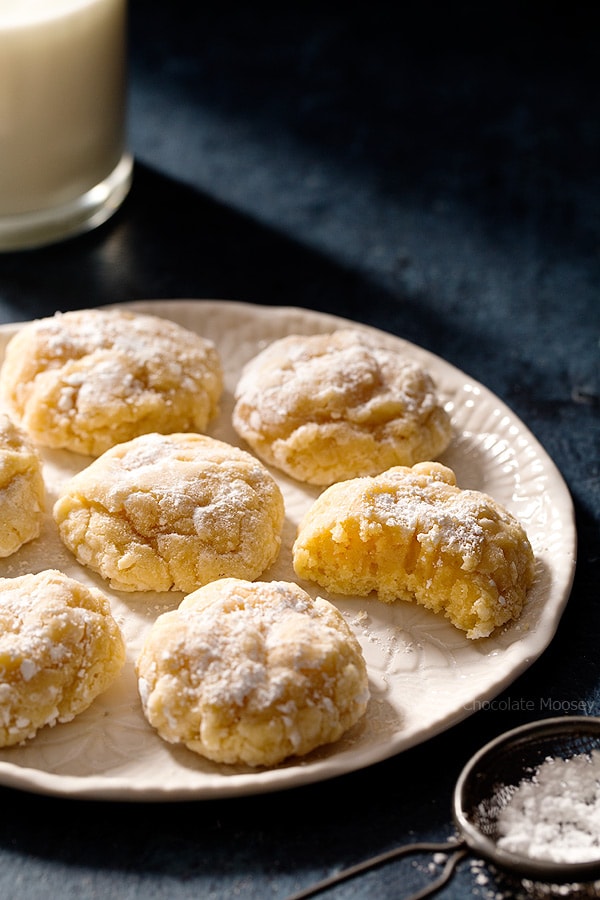 I learned there are two kinds of gooey butter cake: the traditional kind made with yeast and the modern version made with cake mix.
These cookies are based on the cake mix version but made entirely from scratch.
They are soft and delicate with a gooey center that mimics underbaked cookie dough (hence the gooey part).
The cream cheese contributes to the softness of the dough while giving them that cake mix taste.
When you scoop the dough, even after chilling it's going to be soft and sticky. As tempting as it might be to add more flour, don't. The softness contributes to their gooeyness.
If you're having trouble shaping them, roll them in powdered sugar first then shape into balls.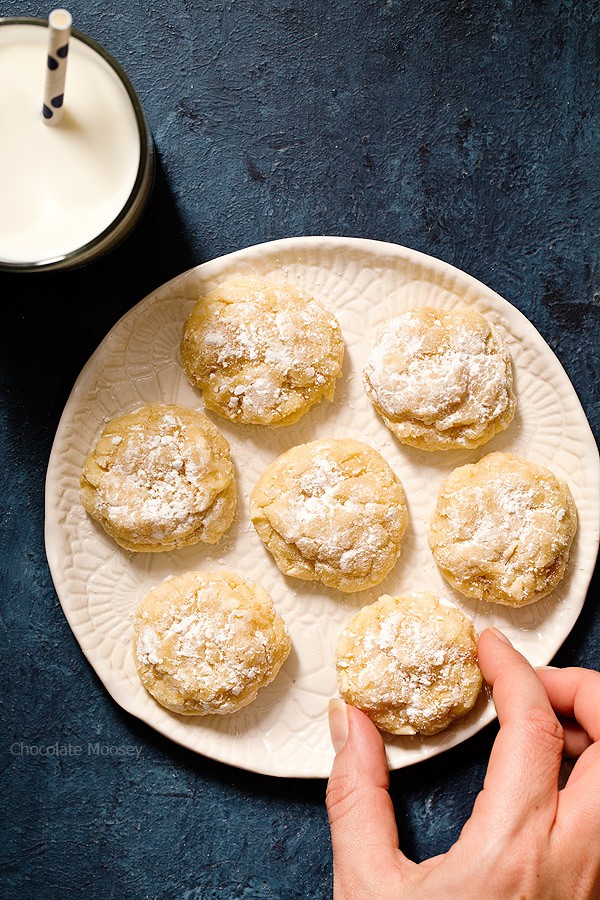 Want more peanut butter cookie recipes? Check out Small Batch Peanut Butter Cookies and Small Batch Peanut Butter Cookie Cups.
Peanut Butter Gooey Butter Cookies (From Scratch)
Yield: 1 dozen
Prep Time: 1 hour
Cook Time: 12 minutes
Total Time: 1 hour 12 minutes
Ingredients
1 cup all-purpose flour
1 teaspoon baking powder
1/4 teaspoon salt
1/4 cup creamy peanut butter
2 ounces full-fat cream cheese, softened
2 tablespoons unsalted butter, softened
3/4 cup granulated sugar
1 egg
1 egg yolk
1/2 teaspoon vanilla extract
1/4 cup powdered sugar, sifted
Instructions
In a medium bowl whisk together the flour, baking powder, and salt.
In a large mixing bowl, beat together the peanut butter, cream cheese, and butter for 30 seconds or until smooth. Add the sugar and beat until light and creamy, about 2-3 minutes.
Beat in the egg, egg yolk, and vanilla.
Gradually beat in the flour mixture until a soft dough forms.
Refrigerate the dough for at least 30 minutes.
Preheat the oven to 325F. Line a baking sheet with parchment paper.
Add the powdered sugar to a small bowl. Using a #40 cookie scoop or by hand, roll the dough into 1 1/2-inch balls, roll in the sugar until completely coated, then place on the baking sheet about 2 inches apart. The dough should be soft and sticky even after chilling. If you're having trouble shaping them, roll them in sugar first then shape.
Bake for 12-14 minutes or until puffed and slightly wet in between the cracks. Do not overbake or they won't be gooey. Cool the cookies for 5 minutes then carefully transfer to a wire rack to finish cooling. Serve at room temperature. Store in an airtight container for up to 1 week.
Source: Adapted from Lottie and Doof
Disclosure: This post contains Amazon affiliate links.
This post may contain affiliate links. As an Amazon Associate and member of other affiliate programs, I earn from qualifying purchase.