Make your next holiday cocktail an easy one with Cranberry Orange Sangria made with red wine, cranberry juice, and oranges.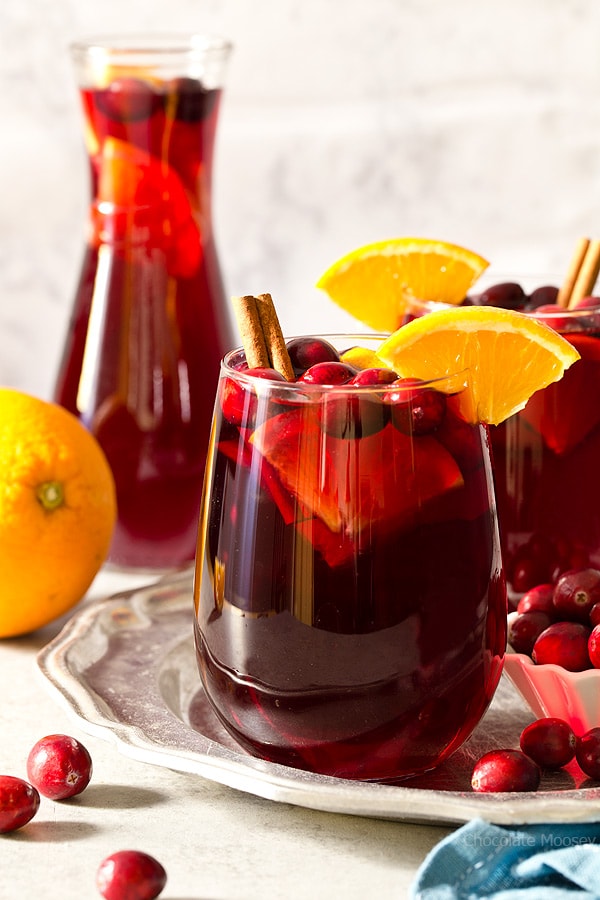 We're 3 days away from the biggest food holiday of the year – are you ready for it? I'm ready for it. Probably because I serve the same menu every year, so it's the same routine every year. However, there is a little bit of creative room when it comes to adding new recipes to the table. You have to do it in slow increments to not upset the strict traditionalists, but as long as everyone's favorite dishes are there, you can easily add one more fun recipe, especially if it's to be enjoyed pre-dinner while everyone is waiting to eat.
Cranberries are often synonymous with the holidays because cranberry season is September through November. As a result, families often serve cranberry sauce for Thanksgiving. If you're making homemade cranberry sauce for Thanksgiving, I can almost guarantee you'll have plenty of fresh cranberries leftover. What are you going to do with them? I'll tell you what to do with them. You can stick them in your wine glass with this Cranberry Orange Sangria recipe – a red wine based cocktail flavored with cranberry juice and orange slices. You make a pitcher a few days ahead of time and have it ready in your fridge, making your holiday season a little less stressful.
It's no secret I make sangria a lot, like my
Red Apple Cider Sangria
or
Strawberry Vanilla Sangria
. Probably because once you understand the formula, you can make almost any flavor you'd like. First is the wine itself. You want to make sure it's a little on the dry side to balance the other ingredients, which are often on the sweet side. Next you pick a second liquid to balance out the alcohol level. I don't like mine super boozy, so I usually go with fruit juice. Third, you need fruit – one citrus, one non-citrus. Because I wanted to make a holiday cocktail, naturally cranberry came to mind. Applying my sangria formula I listed above, I used Pinot Noir, cranberry juice, fresh cranberries, and orange slices.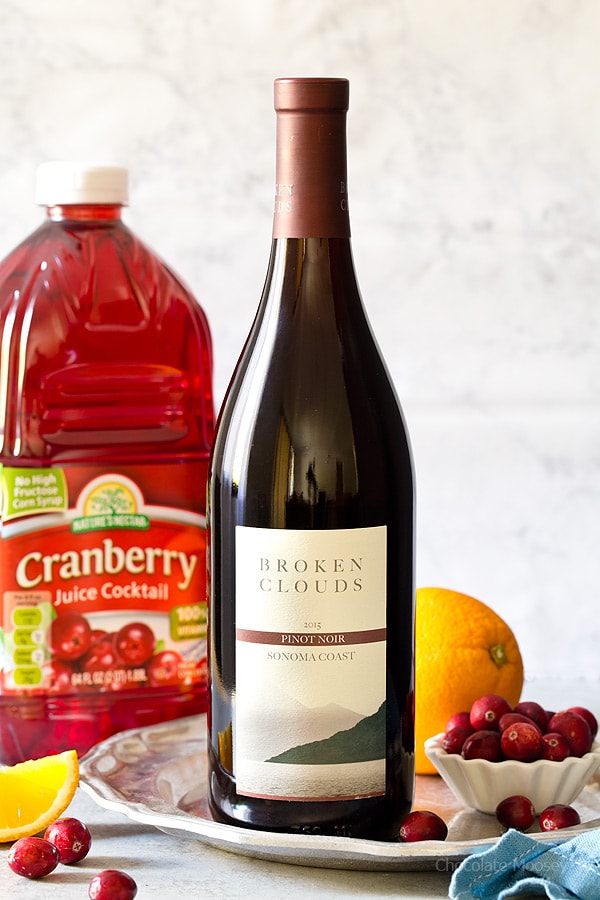 Confession – I'm one of those weird people who actually enjoys grocery shopping. However, I'm also on a tighter budget than usual because I need to buy a new car soon. That's why for the holidays, I did all of my grocery shopping at
ALDI
, a grocery store chain that focuses on high quality products at impossibly low prices. I've been shopping at ALDI since forever and visited their test kitchen last year. At least twice a year they taste test their products alongside national brands to ensure they taste just as great if not better. That means you can spend less while still enjoying quality-tasting products. I even prefer some ALDI brand products over national brands, such as their butter round crackers. For the wine, I chose their Broken Clouds Pinot Noir, a red wine that is fruity but not too sweet. Then I picked up a bottle of cranberry juice, fresh cranberries, fresh oranges, sugar, and about 50 more items not related to this sangria (ha).
The best thing about sangria (aside from actually drinking it) is you can make it a few days ahead of time and keep it in a pitcher in your fridge. Sangria needs at least 24 hours to chill before serving to allow the flavors to blend. With Thanksgiving being the biggest food holiday of the year, it's much less stressful to make your recipes over a few days rather than in one long day. Make the sangria on Tuesday or Wednesday then once the turkey is in the oven, serve up a few glasses while everyone is waiting to dig in.
For more information about ALDI, check them out on Facebook, Twitter, and Pinterest.
Cranberry Orange Sangria
Prep Time:
1 day
10 minutes
Total Time:
1 day
15 minutes
Ingredients
1/2 cup water
1/2 cup Baker's Corner Granulated Sugar
1 (750 ML) bottle Broken Clouds Pinot Noir
2 cups Nature's Nectar Cranberry Juice Cocktail
1 orange, sliced
1 cup fresh cranberries
2 cinnamon sticks
Instructions
In a medium saucepan, whisk together water, and sugar. Bring to a boil over medium heat, whisking often. Boil until the sugar has dissolved. Remove from the heat.
In a large pitcher, mix together sugar syrup, wine, cranberry juice, orange slices, cranberries, and cinnamon sticks. Refrigerate for at least 24 hours before serving.
Disclosure: This post is sponsored by ALDI. Thank you for supporting me and the companies I work with as sponsored posts help pay for the costs of running Chocolate Moosey, including website hosting and groceries for recipe development.