When you're looking for an easy make and take dessert for your next get together, look no further than this Apple Butter Gooey Butter Cake with a homemade yellow cake base and an apple butter cream cheese layer.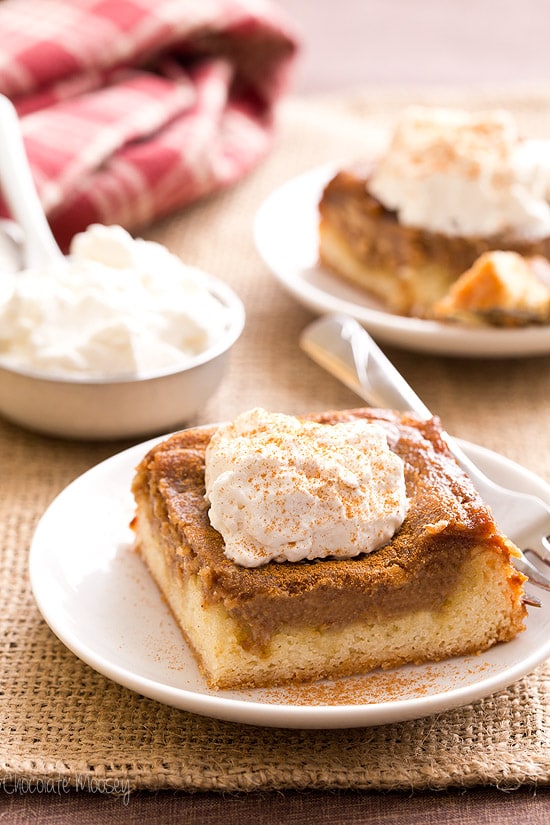 It seems as if lately my 8×8 square pan has been getting a work out in the kitchen, ranging from
apple fritter cake
to
pumpkin spice poke cake
to honey cake (coming soon) to pumpkin pie bars (also coming soon). What I love about baking in my square pan is you bake it then serve it straight from the pan. If you're traveling, you can literally make and take your cake to your destination, sometimes while it's still cooling (depending on whether you need to frost it). Some pans even come with lids, but if yours doesn't (like mine), all you need is some foil or plastic wrap. My latest adventure in square cake baking is this Apple Butter Gooey Butter Cake. I was intrigued by the concept after seeing numerous versions floating around online -a layer of cake (in this case yellow butter cake) topped with a cream cheese layer and a slightly underbaked middle (hence gooey). I know there are some purists out there who may argue this isn't a true St. Louis gooey butter cake, but I'm going with the easy baker version. Top each slice with a dollop of whipped cream for a dressed up dessert worthy enough for the holidays.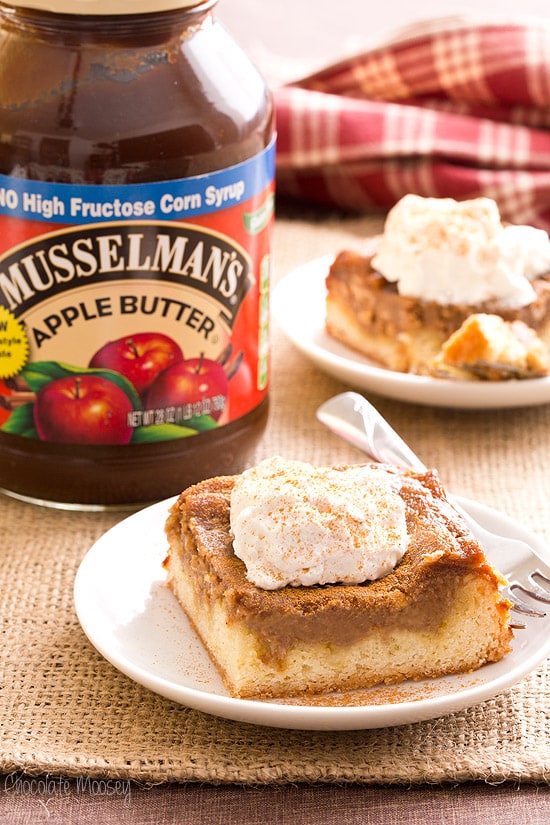 I kept seeing recipes for pumpkin gooey butter cake, so I thought I would give an apple butter version a try with my favorite
Musselman's Apple Butter
made from American-grown apples. However, most of the recipes I saw used cake mix. Since I bake from scratch, I essentially made my own yellow cake mix then proceeded to make said cake for the base. Why should store bought cake mixes have all the fun?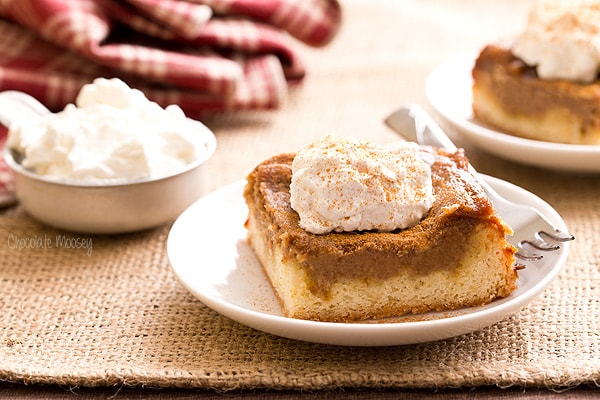 The gooey part of the name comes from the gooeyness between the cake and cream cheese layers, as if it's slightly underbaked. It's more prominent if you serve the cake the same day you baked it while either still warm or at room temperature. If you do refrigerate any leftovers, let the cake sit 15-30 minutes at room temperature before eating. It may not be as gooey at this point, but it's still a worthy dessert.
For more information about Musselman's, please visit their
website
and say hello on
Facebook
and
Twitter
.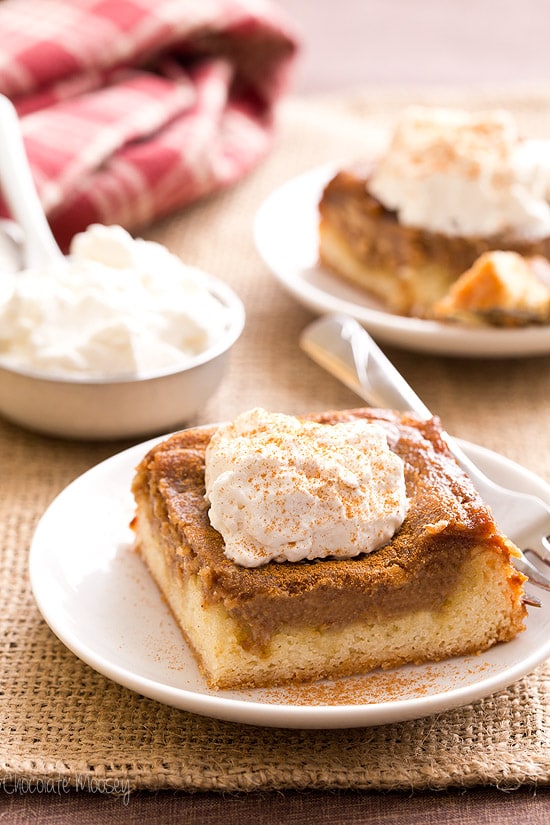 Ingredients
Cake

1 cup all-purpose flour, sifted
3/4 cup granulated sugar
1 1/2 teaspoons baking powder
1/2 teaspoon salt
1 egg
1/4 cup (2 ounces or 4 tablespoons) unsalted butter, melted
2 tablespoons whole milk
1/2 teaspoon vanilla extract

Filling

4 ounces cream cheese, softened
1 cup Musselman's Apple Butter
1 egg
1/4 cup (2 ounces or 4 tablespoons) unsalted butter, melted
1/2 teaspoon vanilla extract
1 cup powdered sugar
1/2 teaspoon ground cinnamon
1/2 teaspoon ground nutmeg

Whipped cream and ground cinnamon, for serving
Instructions
Preheat oven to 350F. Lightly grease an 8x8 square pan.
Make the cake layer: In a large mixing bowl, whisk together the flour, sugar, baking powder, and salt. Whisk in the egg, melted butter, milk, and vanilla until moistened. Spread evenly in the pan (mixture will be slightly sticky).
Make the filling: In a large bowl with an electric mixer, beat together the cream cheese and apple butter until smooth. Beat in the egg then beat in the melted butter and vanilla. Scrape down the bowl then beat in the powdered sugar, cinnamon, and nutmeg.
Spread the filling over the cake layer then bake 45-50 minutes or until the center is set (do not overbake as the center should be slightly gooey). Cool completely before serving. Garnish with whipped cream and dust with cinnamon. Refrigerate any leftovers in an airtight container for up to 4 days. For best results, let cake sit at room temperature for 15-30 minutes before serving.
7.6.3
3468
https://www.chocolatemoosey.com/2015/11/02/apple-butter-gooey-butter-cake/
Source: Adapted from
Food Network
More Apple Butter Recipes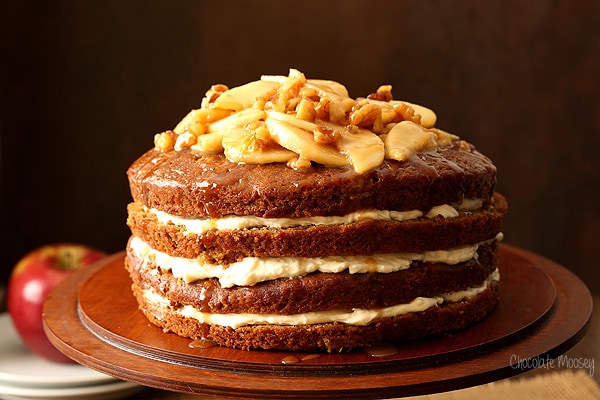 Caramel Apple Butter Layer Cake
Disclosure: This post is part of an ongoing paid ambassadorship with Musselman's. Thank you for supporting me and the companies I work with as sponsored posts help pay for the costs of running Chocolate Moosey, including website hosting and groceries for recipe development.