This beautiful yet easy Caramel Apple Pecan Tart is actually an apple cake with pecans all dressed up in a tart pan. No need to make a pie crust; all you need to do is pour cake batter into the pan and top with apples.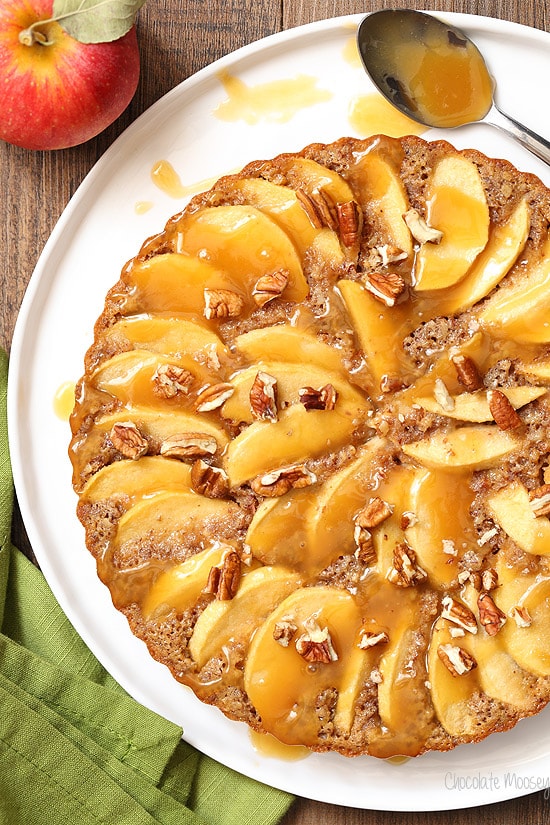 Halfway through September with the first official day of fall being tomorrow and it's finally starting to feel like it. Mornings are becoming chillier. Days are becoming shorter. I used to be able to leave at 7-7:30 PM for my evening walks at the park, but now I have to leave earlier so I don't end up walking in the dark. I've even had to wear my jacket for a few evenings. Sure, I'm going to miss the warm weather and sunshine at 8 PM, but I'm also ready for apples and apple cider. A few weeks ago, Dad and I went
apple picking
at our favorite farm and walked away with 12 pounds of fuji and gala apples. First I made my
apple pie crumb bars
because I haven't had them since last apple season. Then I made
Apple Fritter Cake
and now this apple tart. In between all of the baking, I've been eating apples as snacks and made
small batch applesauce
. All apples all day in my kitchen.
I had the idea for this Caramel Apple Pecan Tart last year but ran out of time during PA apple season to try it. It's actually more of a cake baked in a tart pan for presentation purposes. All you need to do is make cake batter, pour the batter into the pan, then top with apples. No need to mess with a graham cracker crust or roll out pie dough. It's an ideal dessert to make when you're limited on time yet want it to look impressive.
I was originally going to use almonds for the nut, but I didn't have enough. Plan B used up the rest of my walnuts, but then the tart didn't come out like I wanted (still edible though). Plan C used the only nut I had left in the pantry – pecans. Even though I used pecans for the final recipe, feel free to substitute for your favorite nut. I bet hazelnuts would be wonderful too.
Don't worry too much about arranging your apples in a perfect pattern on top. For some reason, I can't seem to overlap them nicely and still maintain a circle (you should've seen my first attempt – ha!) Just think of it as being a rustic caramel apple tart.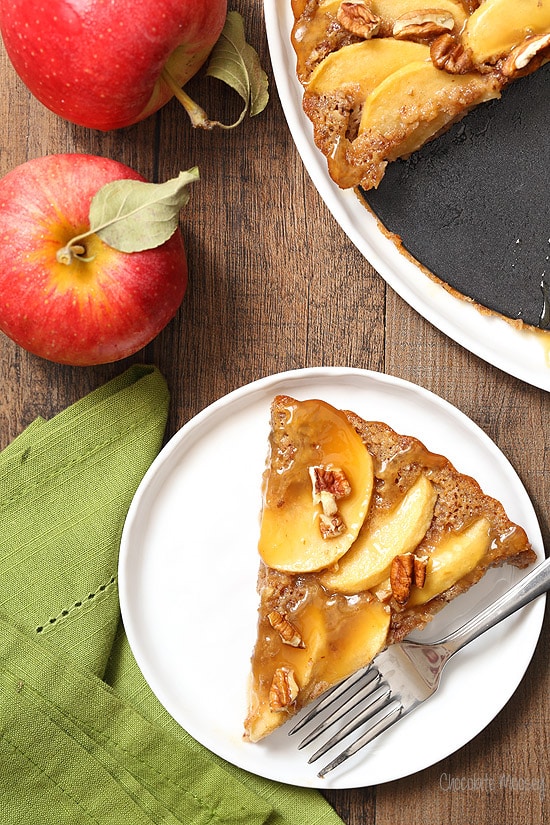 Items You May Need (affiliate links):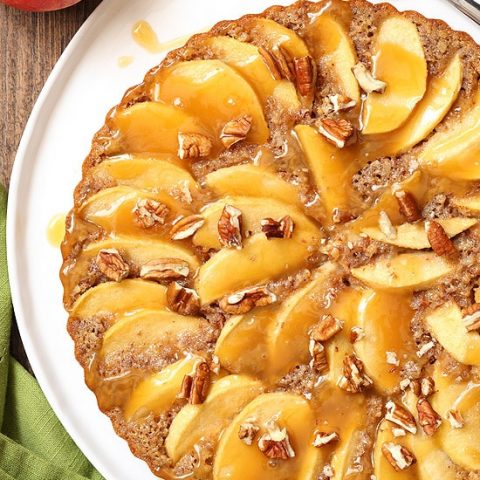 Caramel Apple Pecan Tart
Total Time:
1 hour
10 minutes
You can use your favorite nut such as almonds or walnuts in place of the pecans.
Ingredients
1 cup chopped pecans, plus more for garnish
1/2 cup granulated sugar
1/3 cup all-purpose flour
1 teaspoon ground cinnamon
1/4 teaspoon salt
1/4 cup (2 ounces or 4 tablespoons) unsalted butter, melted
2 eggs, room temperature
1/4 cup whole milk, room temperature
1 large apple, cored, peeled, and thinly sliced
2 tablespoons caramel sauce (homemade or store bought), plus more for drizzling
Instructions
Preheat oven to 350F. Lightly grease a 9-inch fluted tart pan with a removable bottom and place on a baking sheet.
In a food processor, process together the pecans and sugar until blended. Transfer to a large bowl and whisk in the flour, cinnamon, and salt.
Whisk together the melted butter, eggs, and milk then stir into the flour mixture until fully incorporated. Pour batter into the prepared tart pan.
In a large bowl, stir together the apple slices and caramel sauce. Arrange in a circular pattern on top of cake batter. Bake 35-40 minutes or until golden brown and a toothpick inserted in the center comes out clean. Cool for 15 minutes then remove from the pan. Garnish with caramel and pecans then serve warm or at room temperature.
Source: Adapted from
Taste Of Home
More Caramel Apple Recipes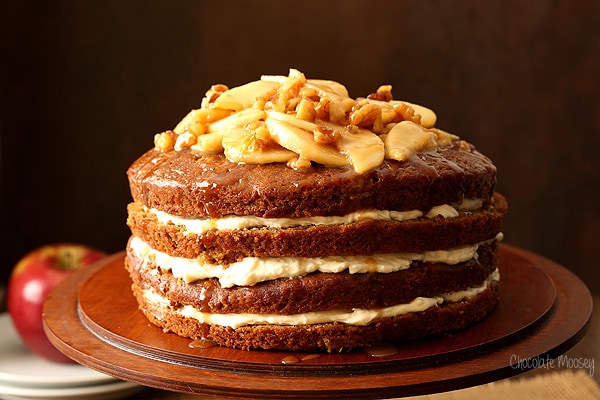 Caramel Apple Butter Layer Cake