Coconut Crusted Baked Cauliflower Bites
I love breaded food but don't like frying at home. That's why I made Coconut Crusted Baked Cauliflower Bites served with a homemade marinara dipping sauce. It gets a double dose of coconut from coconut flakes and coconut milk.

What's the one dish you see on a menu that you almost always order when you see it? For my family, it's breaded mushrooms and breaded cauliflower. If we're ordering dinner from a local sub or pizza shop, we almost always get breaded mushrooms. Not all places sell breaded cauliflower, so if we see it, we'll either get that instead or order both. Cauliflower is one of my favorite vegetables. Most of the time I make my friend's
cauliflower fried rice
. Other times I'll roast it. Once in a while I'll make
cauliflower steaks
. If I'm grocery shopping and not sure what I have planned for dinner the following week, I'll grab a head of cauliflower and figure it out later. It's such a versatile vegetable to have on hand.
With football games under way, so are tailgating parties. Even though I don't typically host parties, I still eat my favorite party foods during games. Sometimes if it's Sunday, Dad and I will order subs from one of our favorite sandwich shops. The one location doesn't have a fryer, so breaded anything is out of the question, which is always a disappointment. One solution to this dilemma is making our own breaded cauliflower in the oven (which is better for you than frying anyway). Dad and I also love coconut shrimp, so I combined the two ideas and came up with Coconut Crusted Baked Cauliflower Bites. Then of course you can't have breaded cauliflower without a dipping sauce, so I made a traditional homemade marinara sauce.
I wanted my cauliflower bites to have as much coconut flavor as possible, so in addition to adding coconut flakes to the breadcrumbs, I also dipped them into coconut milk to double the coconut flavor. It's no secret I love
coconut milk
.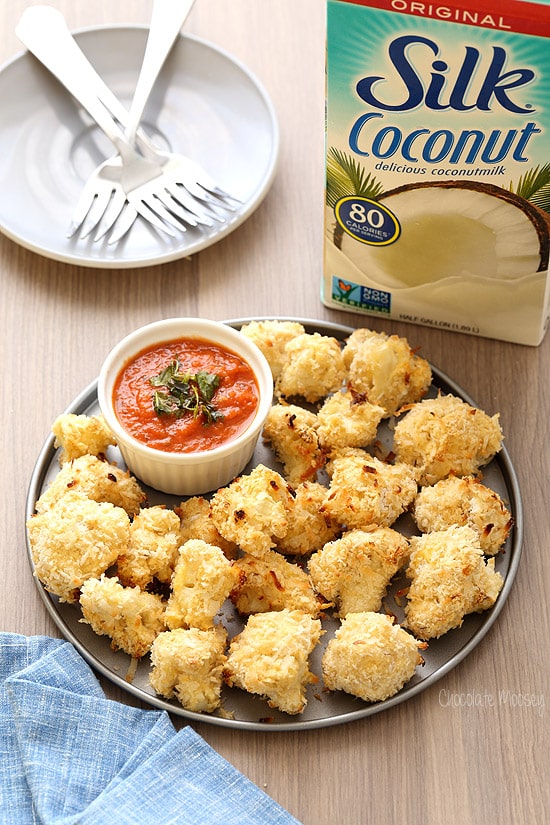 Have you heard of Meatless Mondays? As the name suggests, you eat one meal on Mondays that don't have any meat. I personally don't stick with Mondays, but I do eat meatless meals a few times a week because I love vegetables. Most of the time it's pasta with whatever veggies I have to use up in the fridge, but last week I made cheese soup to use up some broccoli, carrots, and mushrooms I had. I also make
portobello mushroom burgers
a lot. Today's breaded cauliflower is part of Silk's
sideline meat during football
campaign where they are encouraging people to eat a more plant-based diet during tailgating season, known as #MeatlessMondayNight. You can check out
Silk's website
for more information.
For the homemade marinara sauce, let me start by saying – why don't companies make small cans of crushed tomatoes?? I could only find giant 28 ounce cans. That doesn't work for someone like me who doesn't cook for an army. Instead, I used diced tomatoes then when the sauce was done cooking, I blended it together to make it easier for dipping. You will still have leftover marinara sauce from this recipe, but it doubles as a great pasta sauce for the next day.
Coconut Crusted Baked Cauliflower Bites
Yield: 4 servings
Prep Time: 45 minutes
Cook Time: 20 minutes
Total Time: 1 hour 5 minutes
Coconut Crusted Baked Cauliflower Bites served with a homemade marinara dipping sauce gets a double dose of coconut from coconut flakes and coconut milk.
Ingredients
1/2 cup all-purpose flour
1/2 teaspoon salt
1/2 teaspoon garlic powder
1/2 teaspoon onion powder
1 egg
1/2 cup Silk coconut milk
1/2 cup Panko breadcrumbs
1/2 cup sweetened coconut flakes
1 head cauliflower (roughly 2 pounds), cut into small florets
Marinara Sauce
1 tablespoon olive oil
1/2 cup chopped onion
1 clove garlic, minced
1 can (14 ounces) diced tomatoes with juices
1 teaspoon sugar
1 teaspoon dried basil
1 teaspoon dried oregano
1 teaspoon dried parsley
1/4 teaspoon salt
Instructions
Preheat oven to 450F. Line the bottom of a roasting pan or cookie sheet with foil. Place a roasting or cooling rack on top. Lightly spray the rack with cooking spray.
In a shallow plate or bowl, whisk together the flour, salt, garlic powder, and onion powder. In a second plate or bowl, whisk together the egg and coconut milk. In a third plate or bowl, mix together the breadcrumbs and coconut flakes.
Dip one cauliflower floret into the flour mixture then the coconut milk mixture then the breadcrumb mixture. Place on the rack. Repeat until all of the cauliflower is gone.
Bake 15-20 minutes or until golden brown. Serve with marinara dipping sauce (recipe below)
Marinara Dipping Sauce
In a large saucepan, heat the olive oil until hot. Add the onion and cook until soft, about 5 minutes. Add the garlic and cook 30 seconds. Add the tomatoes with juices, sugar, basil, oregano, parsley, and salt. Bring to a boil. Once boiling, cover and simmer for 15 minutes. Add the sauce to a blender and blend until smooth. Serve with cauliflower bites.
Disclosure: This post is sponsored by Silk. Thank you for supporting me and the companies I work with as sponsored posts help pay for the costs of running Chocolate Moosey, including website hosting and groceries for recipe development.
This post may contain affiliate links. As an Amazon Associate and member of other affiliate programs, I earn from qualifying purchase.