Crispy homemade potato chips tossed in a spicy barbecue seasoning are easier to make at home than you think! Recipes for baked potato chips and fried potato chips provided.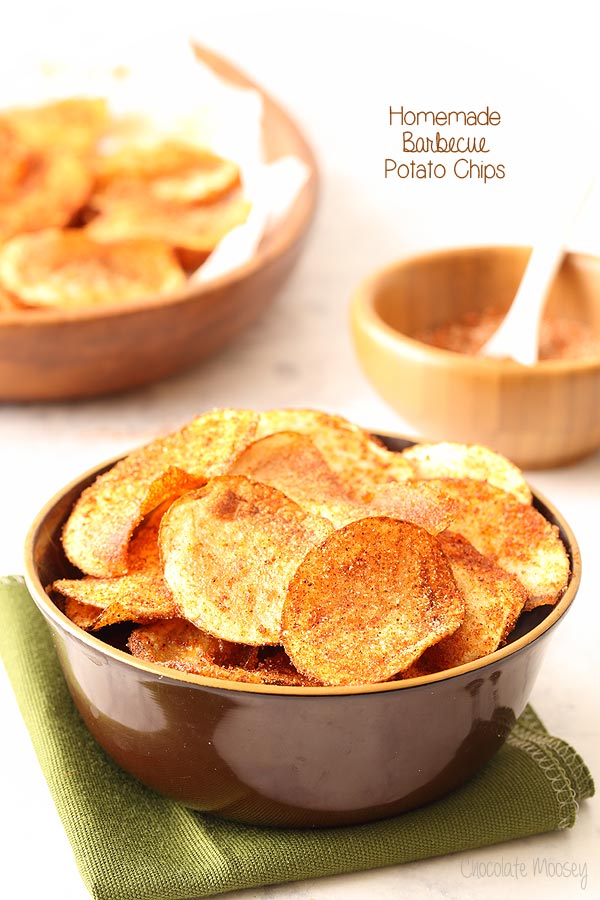 Judging by how many potato recipes I posted this month (answer: 3), you'd think the potato was my favorite vegetable.
I can't say that it's my number one favorite, but I certainly do love potatoes (case in point: see all of my potato recipes).
When I buy them, it's definitely a better deal to buy a 5 pound bag rather than a few loose ones, but as you can imagine when you're just one person, it takes a lot to use up 5 pounds.
That's why when I buy a bag, I have plans to make several potato recipes.
I've been wanting to make Homemade Barbecue Potato Chips for awhile, so after making my broccoli and cheese mashed potatoes, I went to town and made several batches.
Then I inhaled said batches in half the time it took to make them. Why don't the snack recipes ever last long enough?
Just like my salt and vinegar chips, I made both fried and baked potato chips then tossed them in barbecue seasoning.
Personally, I prefer baking as it doesn't require as much oil, but I included both methods in the recipe so you can decide how you want to make them.
Either way, if you haven't tried making homemade potato chips of any kind, you don't know what you're missing.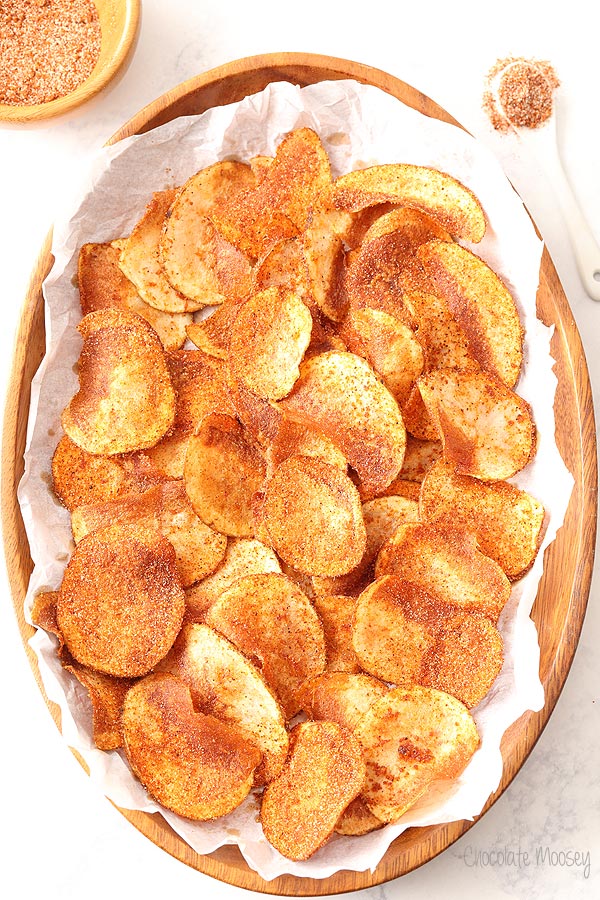 I wanted my next potato chip making adventure to be barbecue (or is it simply spelled BBQ?).
The seasoning for barbecue chips in general is a little bit tricky because everyone's definition of spice is different.
The first recipe I tried had too much paprika in it, but reviews said people loved it while a few others also agreed there was too much. I made a few adjustments and tried again.
It also comes down to which spices you buy. The $1.00 chili powder you buy at the discount store may not be as strong as the fresh chili powder you buy from a specialty spice store.
Feel free to adjust the spices in the recipe to your taste.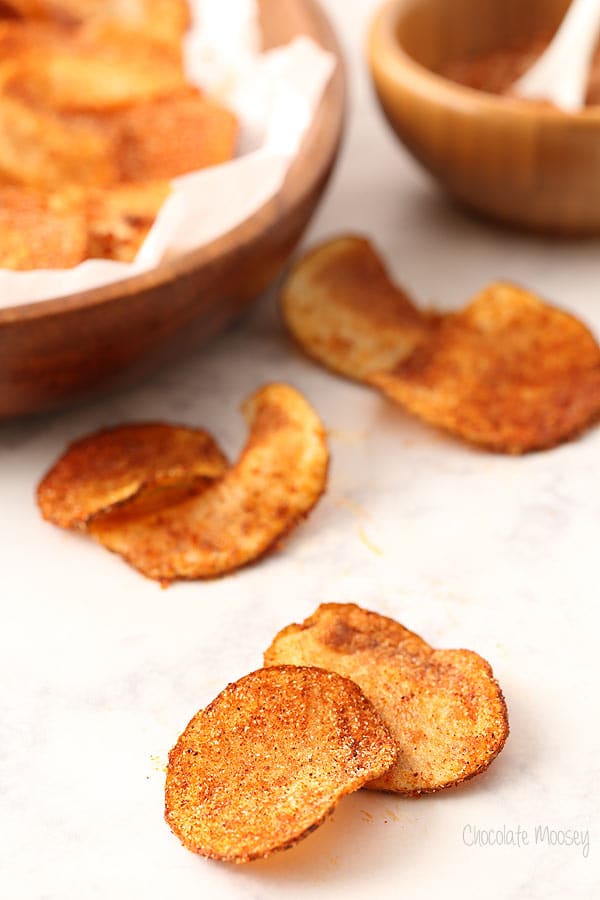 A handheld mandoline is highly recommended in order to slice the potatoes thin enough; if they are too thick, they will not crisp up like chips.
Here is the handheld mandoline I use.
No matter which one you buy, please promise me you'll use the hand guard.
Trust me – a mandoline cut hurts worse than a knife (you also don't realize how much you really use your thumb until it's all bandaged up).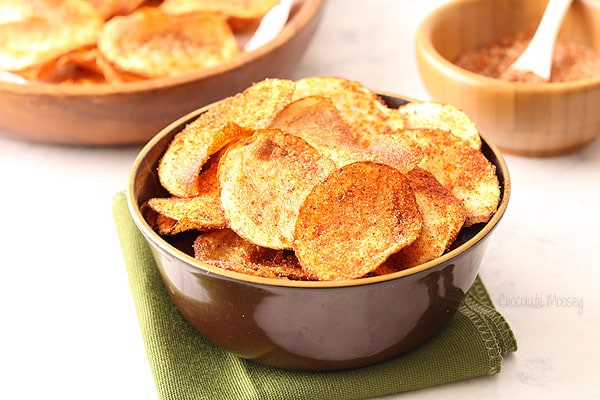 Items You May Need (Amazon Affiliate Links):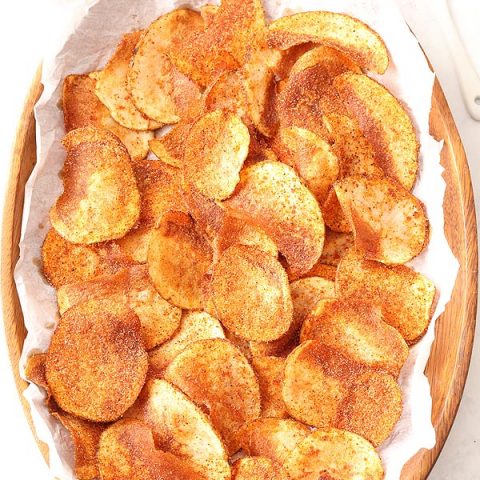 Homemade Barbecue Potato Chips
Total Time:
1 hour
5 minutes
Crispy homemade barbecue potato chips tossed in a spicy barbecue seasoning are easier to make at home than you think!
Ingredients
1 large russet potato, peeling optional (roughly 6-8 ounces)
3/4 cup water
1 1/2 teaspoons smoked paprika
1 teaspoon onion powder
1 teaspoon brown sugar
1/2 teaspoon garlic powder
1/2 teaspoon salt
1/4 teaspoon chili powder
Frying oil (such as vegetable or peanut), enough to fill a fryer or to brush slices before baking
Instructions
With a mandoline (or precise knife skills), thinly slice the potato to about 1/10 inch (2.5 mm) thick. You do not want to see through the slices.
Put the potato slices in a bowl and pour water over top. The potatoes should be submerged - if not, add more liquid. Soak for 30 minutes. Drain and pat completely dry.
In a large freezer bag or bowl (preferably with a lid so you can shake it for easier coating), combine the paprika, onion powder, brown sugar, garlic powder, salt, and chili powder.
If you're frying the chips:
Fill a fryer (or a really deep saucepan) with frying oil of choice and heat to 350F. Place a cooling rack on top of a cookie sheet.
When the oil is ready, ensure the potato slices are completely dry. Fry a few at a time until golden brown, being careful not to overcrowd the fryer. Time will vary depending on the size and thickness of the slices, but the average is 3-5 minutes, flipping each chip over halfway through frying.
Remove the chips and place on the cooling rack. Let cool for a few minutes to allow them to crisp up then toss in the spice mixture.
Repeat with the remaining slices, ensuring the oil is 350F when frying. You may need to pause in between batches to let the oil heat up again.
If you're baking the chips:
Preheat oven to 400F. Line two baking sheets with foil and lightly grease with cooking spray.
Ensure the potato slices are completely dry then place the slices in a single layer on the two sheets. Brush each slice with oil.
Bake for 10-15 minutes or until golden brown and crisp (but not burnt). If you find that some of the smaller pieces are baking faster after 10 minutes, you can remove those then finish baking the rest. Let cool for a few minutes to finish crisping up then toss in the spice mixture.
Source: Adapted from
Taste Of Home
More Snack Recipes

Homemade Salt and Vinegar Potato Chips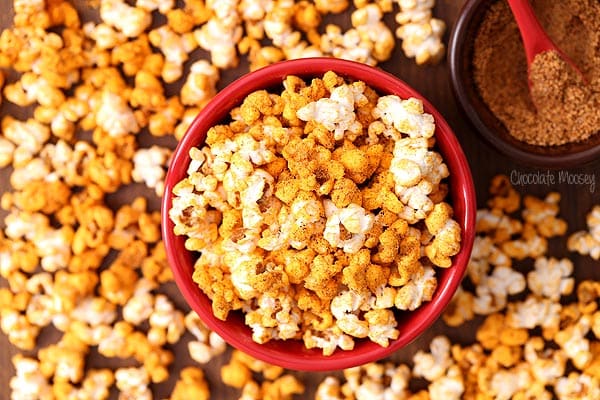 Chili Cheese Popcorn

Irish Cheese and Bacon Popcorn

Salt and Vinegar Popcorn