Happy Chocolate Peanut Butter Day! Let's celebrate with these Peanut Butter Chocolate Chip Cookies that I turned into mini cookie bites.
It's baaa-aaack! The second annual Chocolate Peanut Butter Day, hosted by me along with my totally awesome co-host Miriam of
Overtime Cook
.
Last year, we decided that a day dedicated to recipes featuring our favorite chocolate and peanut butter pairing needed to happen, so we picked March 25, invited our blogger friends to join in, and had a blast.
I made Buckeye Cheesecake Bars to celebrate.
Back by popular demand, we are once again bringing you a long list of chocolate peanut butter recipe ideas for you to make, not just today but every day of the year.
I was actually a bit indecisive with what recipe to make as I kept bouncing between several cookie ideas.
After seeing how popular my Chocolate Chip Cookie Brownie Bites were, I wanted to do a spinoff of them with these Peanut Butter Chocolate Chip Cookie Bites.
I think the only thing better than a warm chocolate chip cookie is a warm peanut butter chocolate chip cookie in bite-size form.
I'm not going to talk about how many I ate, but I will say when I shared them, they disappeared pretty quickly.
If you're in the market for a crowd pleasing cookie that takes very little time to prepare, you don't want to miss this recipe.
Chocolate and peanut butter has been my favorite flavor combination since forever.
Growing up, peanut butter cups were probably my favorite candy.
Ironically my mom doesn't like peanut butter, so we didn't have too many peanut butter desserts growing up.
If I did make something with peanut butter, I usually had to make an alternative for her to enjoy. Thank goodness I get my food genes from my dad.
What I love most about this recipe is that they make enough to share with a crowd without going overboard on the ingredient amounts.
Even though I'm all about small serving sizes, sometimes you just need to bake something up for a gathering or a potluck.
These cookie bites are very easy to transport and can also be mailed if you know someone who could use a sweet surprise.
If you want to learn more about mailing cookies, check out my tips on mailing cookies.
Peanut Butter Chocolate Chip Cookie Bites
Happy Chocolate Peanut Butter Day! Let's celebrate with these Peanut Butter Chocolate Chip Cookies that I turned into mini cookie bites.
Ingredients
1 1/2 cups all-purpose flour
1/2 teaspoon salt
1/4 teaspoon baking soda
1/8 teaspoon baking powder
1/2 cup creamy peanut butter
1/4 cup (2 ounces or 4 tablespoons) unsalted butter, softened
1/4 cup packed brown sugar
1/4 cup granulated sugar
1 egg, room temperature
1 teaspoon vanilla extract
1 cup semisweet chocolate chips
Instructions
Preheat oven to 350F. Lightly grease two 24-cup mini muffin pans with cooking spray.
In a medium bowl, whisk together the flour, salt, baking soda, and baking powder.
In a large mixing bowl, beat together the peanut butter, butter, brown sugar, and sugar until light and creamy, about 2-3 minutes. Beat in the egg and vanilla for 1 minute. Gradually beat in the flour mixture and chocolate chips.
Roll the dough into 1-inch balls (roughly 1 tablespoon each) then add to each muffin cup. Smooth out the dough so it completely fills the cup (they won't spread when baking).
Bake 10-12 minutes or until golden brown and set. Cool in the pan for 10-15 minutes then carefully remove from the pan. Cool completely on a wire rack. Store in an airtight container for up to 1 week.
Source: Adapted from my
Chocolate Chip Cookie Brownie Bites
More Cookie Recipes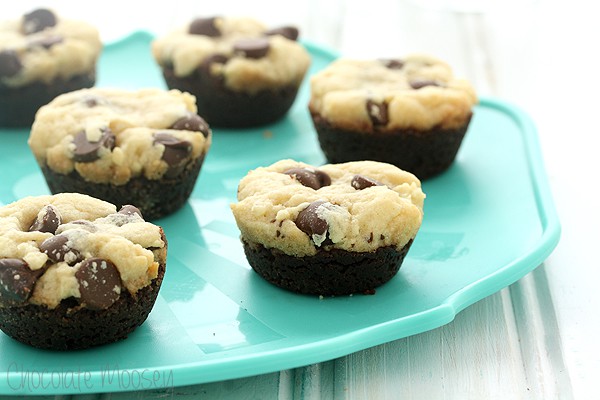 Chocolate Chip Cookie Brownie Bites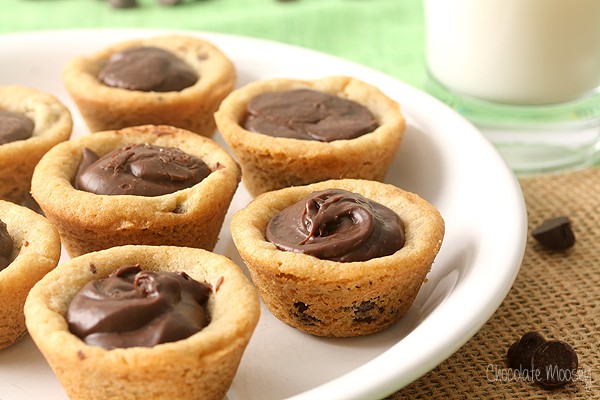 Fudge Filled Chocolate Chip Cookie Cups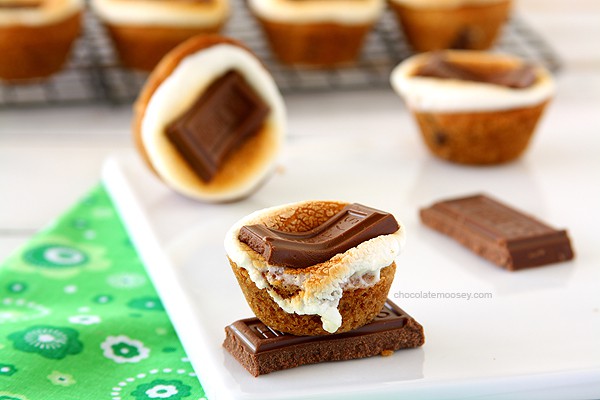 S'mores Chocolate Chip Cookie Cups

Peanut Butter Cookie Dough Sandwich Cookies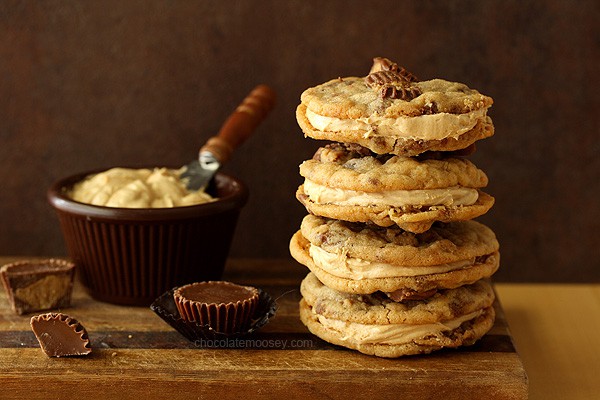 Peanut Butter Cup Sandwich Cookies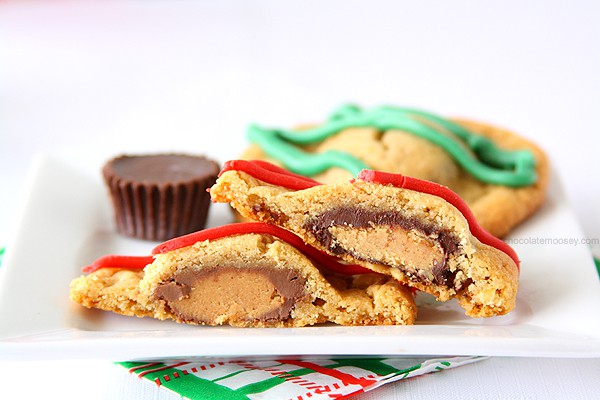 Double Peanut Butter Surprise Cookies