If mint chocolate chip ice cream is your favorite flavor, then you'll love these Mint Chocolate Chip Cupcakes with a big scoop of mint chocolate chip buttercream frosting on top. Tastes just like mint chocolate chip ice cream but without the mess of melting everywhere!

Is it true? Is Sunday *really* March 1? What happened? I swore just yesterday the groundhog threatened us with more winter then I spent the next few days bundled up in my apartment as wind chills hit below zero. Then my friend texted me that
Shamrock Shakes
are back at McDonald's. Yes! That to me is the kickoff to #mintchocolatechipallthethings. Even though mint chocolate chip is acceptable all year round, I can't help but associate it with March. Probably because most things are artificially green, making them perfect for St. Patrick's Day. I have a few mint chocolate chip recipe ideas coming up, starting with these Mint Chocolate Chip Cupcakes – chocolate mint cupcakes topped with mint chocolate chip buttercream frosting. Nope, that's not ice cream! Instead of decorating them like normal, I scooped frosting right on top. Clever, aren't I? These cupcakes would be perfect for St. Patrick's Day, birthday parties, I-wish-it-were-summer parties, and I'm-in-the-mood-for-a-cupcake parties.
I am not a cake decorator. I can make cakes and cupcakes taste great. I can frost them enough to not be naked (but sometimes they look like a 5 year old frosted them). I will never make my cakes look like cute animals or your favorite cartoon show. However, I did learn a little trick a long time ago to scoop frosting on top to look like ice cream. Not bad, right? Scooping the frosting means you use twice the amount of frosting than normal. If you decide to pipe the frosting like normal cupcakes, cut the recipe in half (or eat the leftovers with a spoon. Ahem).
For the cupcakes themselves, I went with chocolate cupcakes flavored with
peppermint extract
. My secret ingredient for making chocolate cupcakes even better is
espresso powder
. Coffee enhances the chocolate even more without adding any coffee flavor to the batter, so no worries if you don't like coffee. You can find espresso powder either in the coffee section, the specialty Italian section, or an Italian grocery store. However, it is an optional ingredient if you don't have any. The cupcakes will still be delicious without it.
Items You May Need:
Mint Chocolate Chip Cupcakes
This recipe makes twice the normal amount of frosting because you scoop it like ice cream on top. If you want to pipe them like regular cupcakes, cut the frosting in half and either use mini chocolate chips or top with regular chocolate chips (regular chocolate chips may get stuck in the piping bag).
Ingredients
Chocolate Mint Cupcakes
1 cup + 2 tablespoons all-purpose flour
1/2 cup unsweetened cocoa powder
1 teaspoon espresso powder (optional)
1/2 teaspoon baking soda
1/8 teaspoon salt
1/4 cup (2 ounces or 4 tablespoons) unsalted butter, softened
3/4 cup granulated sugar
1 egg, room temperature
1 teaspoon peppermint extract
2/3 cup buttermilk, room temperature
1 cup semisweet chocolate chips
Mint Buttercream Frosting
3 cups powdered sugar, sifted
1 cup (8 ounces or 16 tablespoons) unsalted butter, softened
1/8 teaspoon salt
1 teaspoon peppermint extract
6-8 drops green food coloring
1 cup semisweet chocolate chips
Instructions
For the cupcakes
Preheat oven to 350F. Line a cupcake pan with 12 cupcake liners.
In a large bowl, mix together the flour, cocoa powder, espresso powder (if using), baking soda, and salt.
In another large bowl, beat together the butter and sugar until smooth and creamy, about 2-3 minutes. Beat in the egg and peppermint extract until smooth, about 1 minute. Alternating between the flour mixture and buttermilk, gradually add the flour in 3 parts and the buttermilk in 2 parts, starting and ending with flour (do not overmix). Stir in the chocolate chips.
Scoop the batter evenly into the 12 cupcake liners and bake 18-22 minutes or until a toothpick inserted in the center comes out clean (note: you may get chocolate from the chocolate chips. Make sure it's not cake batter). Cool completely.
For the frosting
In a large mixing bowl, beat together the powdered sugar, butter, and salt until smooth and creamy, about 2-3 minutes. Scrape down the bowl then beat in the peppermint extract and green food coloring. Beat another 2-3 minutes until light and fluffy. Stir in the chocolate chips.
Using a large ice cream scoop, scoop some frosting on top of each cupcake. Store in an airtight container for up to 3 days.
Source: Adapted from
125 Best Cupcake Recipes
More Mint Recipes For You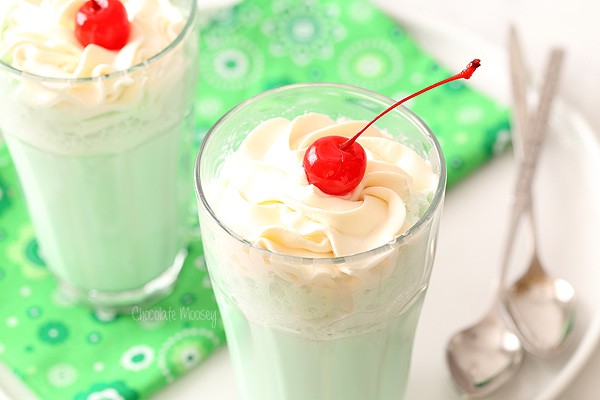 Copycat McDonald's Shamrock Shakes

Peppermint Mocha Brownie Cookies (use green sprinkles for St. Patrick's Day!)

Disclosure: This post contains Amazon affiliate links, which means if you make any purchases through these links, I will earn a tiny portion of the sale. This money then goes back into the blog (mainly buying groceries). As always, thanks for your support!