If you're looking for the easiest sugar cookie recipe to make, then you'll want to make this Single Serving Deep Dish Funfetti Sugar Cookie. It's a soft sugar cookie with sprinkles that doesn't require a mixer to make. Option to make this recipe without egg included.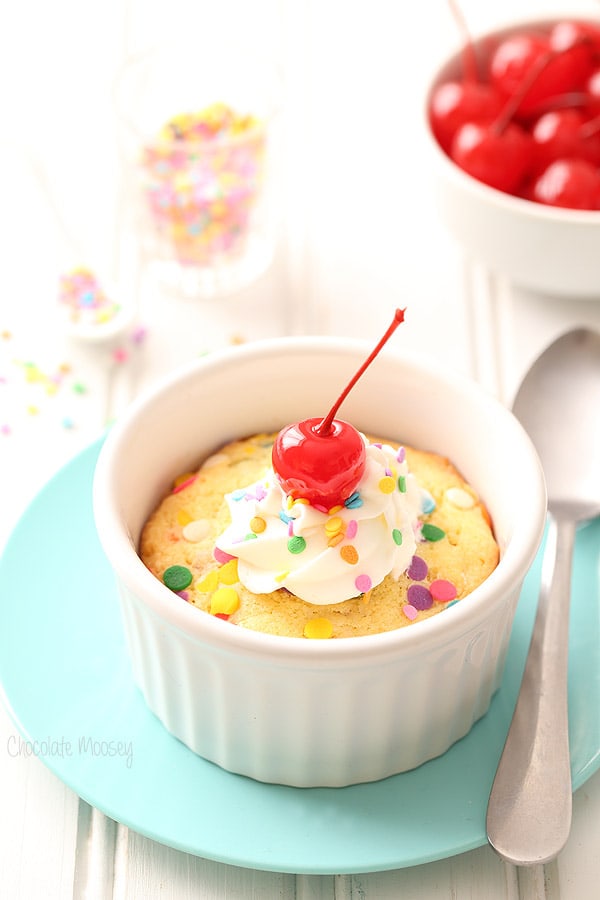 Ah Valentine's Day. The holiday that puts extra pressure on couples and reminds singles that they are alone.
As much as I love the cuteness of it all – the red and white color theme, heart-shaped everything, desserts for two, chocolate galore – I do think it gets a bit overhyped.
Why can't you make me a red and white heart-shaped cake in May when it's my birthday? I like chocolate cake all year round (and don't care what shape it's in).
I also think it's a tough holiday for singles like myself to handle. We go through enough challenges alone, standing on our own two feet paying our bills, let alone being surrounded by a couples-only holiday.
I used to let Valentine's Day bother me, but over the past few years, I've come to peace with being single. In fact, I've embraced it. I can do what I want, when I want. Nobody can tell me I need to clean up the piles of books in my living room or that he won't eat the seafood I'm making for dinner. There's always a bright side to every situation, even if Cupid thinks otherwise.
Last year, I embraced Valentine's Day with my single serving chocolate chip cookie. This year, I'm buying myself sushi and making my Single Serving Deep Dish Funfetti Sugar Cookie for dessert. Why not have a little celebration in your life with sprinkles and whipped cream with a cherry on top?
This recipe isn't limited to Valentine's Day either. Make it because it's Monday. Make it because it's Friday. Make it because you landed a big promotion at work. Make it because you just had a break up. Make it because you're craving a cookie. Make it because you're tired of winter. Make it just because you can.
And if you are in a relationship, don't worry – I'm not leaving you out completely! Although I developed this recipe to make only one cookie, you can totally double this recipe and serve it for Valentine's Day or just dessert for two in general.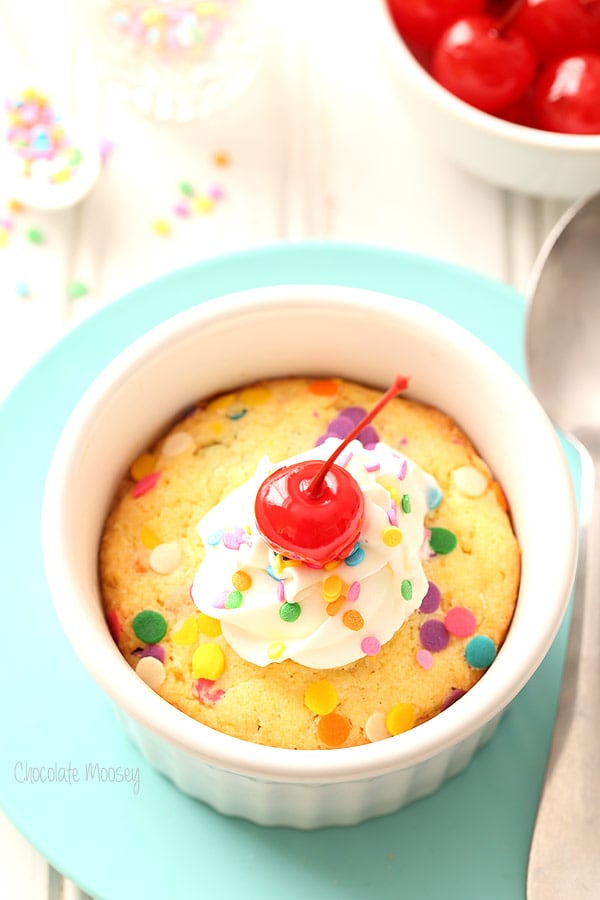 After last year's single serving cookie success, I wanted to repeat it but with a different flavor profile. First thing that came to mind was Funfetti because how can you not smile when sprinkles are involved? The base is a soft sugar cookie made with a few ingredients whisked together in a bowl. You don't even need a mixer!
I baked my cookie in a 6-ounce ramekin so it's not quite a mug cookie, but if you plan on baking desserts for one or two often, I highly recommend investing in ramekins to make baking easier. Mugs can vary in size and shapes, so it's hard to say how long it might take and whether the cookie will bake evenly.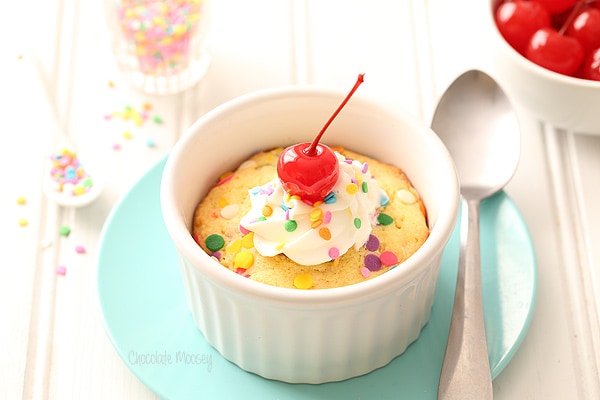 I tested this single serving sugar cookie two ways – with egg and without egg. I prefer it with the egg yolk as it results in a better texture, but it is possible to make this sugar cookie egg free if you have an egg allergy. Just note that because there is no egg, the texture is a bit more crumbly and the middle sinks. However, that just means it creates a built-in pocket for toppings. Just add extra whipped cream and nobody will know.
Items You May Need (affiliate links):

Carla Cardello (www.chocolatemoosey.com)
Yields 1
Single Serving Deep Dish Funfetti Sugar Cookie
Even though this recipe only makes one cookie, feel free to double and serve it as dessert for two.
15 minPrep Time
21 minCook Time
36 minTotal Time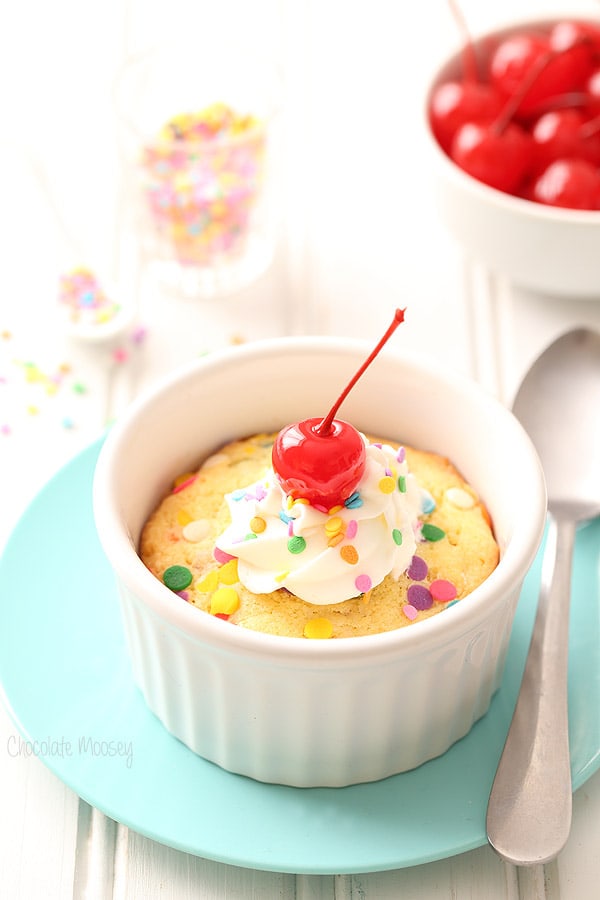 Ingredients
2 tablespoons melted butter
2 tablespoons granulated sugar
1 egg yolk* (see Notes for egg free option)
1/8 teaspoon vanilla extract
1/4 cup all-purpose flour
1/8 teaspoon baking powder
Pinch of salt
1 tablespoon sprinkles plus more for garnish
Whipped cream** and cherry, for garnish
Instructions
Preheat oven to 375F degrees. Have one 6-ounce ceramic ramekin ready***.
In a medium bowl, whisk together the butter and sugar for at least 1 minute or until completely blended together (you must really whisk in the sugar or it may be grainy after baking). Whisk in the egg yolk and vanilla until smooth then whisk in the flour, baking powder, and salt. Whisk in the sprinkles.
Transfer the batter to the ramekin. Bake 18 minutes for a slightly underdone, gooey cookie texture or bake 21 minutes or until a toothpick inserted in the center comes out clean. Let cool 15 minutes (or to room temperature) then top with whipped cream, cherry, and sprinkles.
Notes
Although I prefer the cookie with egg, it is possible to make this sugar cookie egg free if you have an egg allergy. Just note that the texture will be a bit more crumbly and the middle sinks. Just add extra whipped cream and nobody will know.

*To make whipped cream for one cookie, beat on high speed with a hand mixer 2 tablespoons cold heavy whipping cream in a small mixing bowl. As it thickens, gradually add 1/2 teaspoon powdered sugar and 1/8 teaspoon vanilla. Continue beating until stiff peaks form (when you pull the beaters straight up, peaks will form but not fall over).

***If you use a different sized ramekin or other heat-proof vessel, cookie texture and baking time may vary.
7.8.1.1
3153
https://www.chocolatemoosey.com/2015/02/10/single-serving-deep-dish-funfetti-sugar-cookie-egg-free-option/
More Desserts For One (Or Two)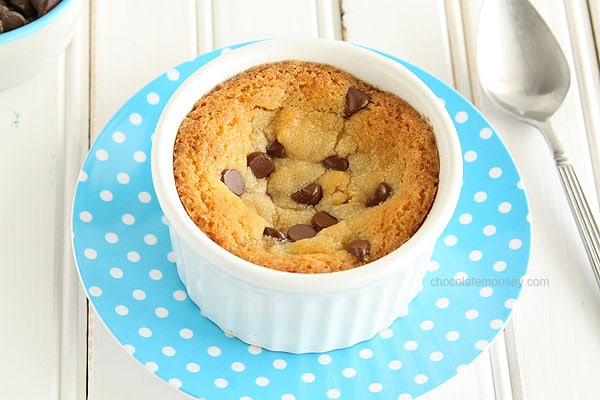 Single Serving Deep Dish Chocolate Chip Cookie