Cuddle up during winter with Raspberry Hot Chocolate from scratch made with fresh raspberries. You can also use frozen raspberries, raspberry jam, or raspberry extract for that chocolate raspberry pairing.

I hope you had a very Merry Christmas last week (or a Happy Hanukkah or just a happy week in general). As usual, I received a few new cookbooks that I can't wait to dive into:
Baking Chez Moi
,
Plenty
(already made his mushroom ragout), and
Baked Occasions
. I'm pretty easy to buy for – either ask for my cookbook wish list or just give me gift cards so I can buy my own cookbooks. I will also accept grocery and coffee house gift cards. Books, food, coffee. No drama here (and certainly no scented candles or body lotion). Even though Christmas is now over and gingerbread treats are no more until next Christmas, I still want to cuddle up with some homemade hot chocolate. After all, the past few years Pennsylvania has gotten hit with pretty bad snowstorms in January and February, so we need to be prepared. Then there's New Year's Eve. I think the last time I stood outside to greet the new year was back in 1999 when we all thought the world was going to end (nice try, Y2K). However, every year I watch Rockin' New Year's Eve in Times Square from the warm comfort of my couch and think that someday I'll join them. Except I wouldn't be standing in the front row and not going to the bathroom for 12 hours. Instead, I would rent a hotel room overlooking Times Square and watch the ball drop as I hold a big cup of (probably spiked) hot chocolate. Until then, I will think of those poor (silly) souls who are in need of hot chocolate while they wait all day in the freezing cold for a possible 5 minutes of fame. And if I could, I would gladly serve them my Raspberry Hot Chocolate made with fresh raspberries (or frozen or jam or whatever raspberries you have in the kitchen).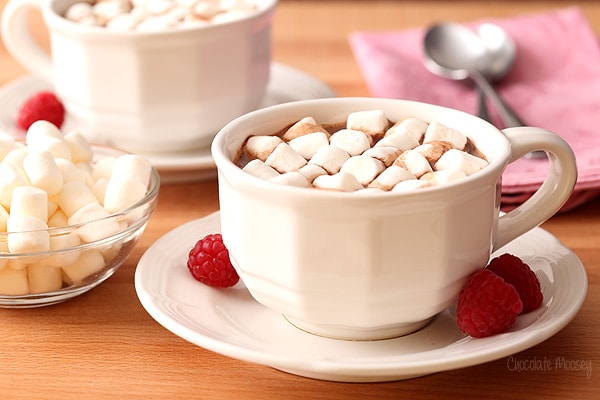 This hot chocolate recipe was a result of having leftover fresh raspberries from my
Raspberry Coconut Mini Pies
I posted earlier this month. Although I made this recipe around the same time, the post kept getting pushed back on my calendar. I know it's winter, which is technically not raspberry season. However, I usually buy
Driscoll's
from the store since it's available all year round. You can also thaw out some frozen raspberries, add some raspberry jam, or even use a few drops of
raspberry extract
.
Do you like whipped cream or mini marshmallows on top of your hot chocolate? I am a huge marshmallow fan, so I'm going with marshmallows (although whipped cream does win bonus points for presentation). Or better yet,
marshmallow whipped cream
– best of both worlds.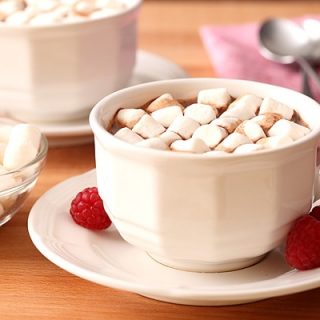 Raspberry Hot Chocolate
Ingredients
12 ounces (roughly 3 1/2 cups) fresh raspberries*
1/2 cup granulated sugar
1/4 cup water
1 1/2 cups milk
1/4 cup unsweetened cocoa powder
2 tablespoons powdered sugar
Mini marshmallows or whipped cream, for topping
Instructions
In a medium saucepan, combine the raspberries, sugar, and water. Bring to a boil then boil for 3-5 minutes or until the raspberries are cooked down and the mixture thickens. Remove from the heat and push through a strainer or sieve, discarding the seeds left behind. You should have roughly 1 cup puree.
In another medium saucepan, heat the milk until hot (but not boiling). Whisk in the cocoa powder, powdered sugar, and raspberry puree. Serve immediately. Top with marshmallows or whipped cream.
Notes
*You can also thaw out some frozen raspberries (drain extra liquid), add some raspberry jam, or even use a few drops of raspberry extract in place of the fresh raspberries.
Other Hot Chocolate Recipes

Cheesecake Hot Chocolate
Disclosure: This post contains Amazon affiliate links. That means I earn a tiny portion of what you buy through this link. This money goes back into keeping my blog running. Thank you for your support!