Sweet Chili Mac And Cheese Shells with broccoli is meatless comfort food at its finest with a spicy cheese sauce to warm you up on those brisk, chilly days.

My favorite part about being a food blogger isn't about working from home, receiving products to try, or even the photography. It's making a recipe that I cannot wait to share with you. Don't get me wrong – I'm excited about every recipe I share with you (or I wouldn't write about it). But this Sweet Chili Mac and Cheese Shells recipe is one of those
omg so amazing why is nobody else eating this with me right now?!
meals (you'd think it would be the opposite, that I would want to hoard all the delicious food for myself, but nope my first thought is sharing it with someone. Which is ironic considering how selfish I can be with food). I should probably also add a disclaimer that anything with sweet chili sauce means I will automatically love it. If I ever marry someone who hates it, we may have some marital issues. Anyway, this meatless comfort food has everything you want for when it's too cold to roll out of bed in the mornings. A little bit of spice, lots of cheese, and some broccoli to round it all out.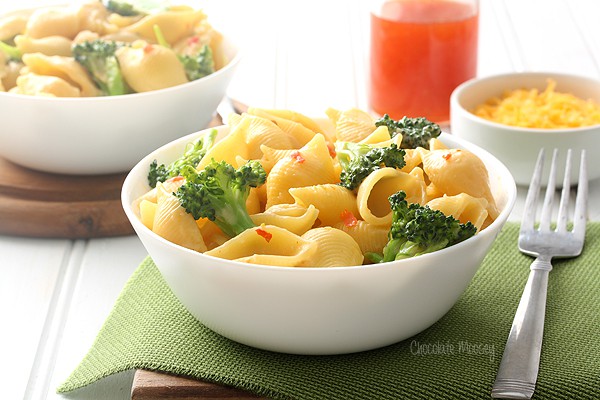 I talked a little bit about pasta shapes on my
butternut squash penne alfredo post
, but isn't it funny how the type of pasta used can change our perspective? Macaroni and cheese is usually made with elbow macaroni, which is totally fine for this recipe if you choose so, but I felt some excitement over using the shells because they remind me of childhood. You know, the cheesy Velveeta shells every mom made from the box (and if you were lucky, she would throw in bacon bits or even hot dogs)? When my friend's mom asked us what we wanted for lunch, our answer was often cheesy shells.
Adding sweet chili sauce to the cheese came to me when I was looking up food trucks in Pittsburgh. There's a mac and cheese truck (which I haven't visited yet) that posted its menu on Twitter. One of the options was braised beef and broccoli. That Asian twist sounded so good, and when I think of Asian, I think of sweet chili sauce. I actually don't know if the inspiration had sweet chili sauce in it, but that didn't matter. I wanted mac and cheese my way (which is also why I added broccoli. I love broccoli).
I think sweet chili sauce is still fairly new to most people, so you can either make it homemade with my recipe or pick up a bottle in your grocery store's Asian food aisle. If I have spicy red peppers, I make it homemade. If not, I pick up a bottle.

Sweet Chili Mac And Cheese Shells
Ingredients
1/2 pound (8 ounces) uncooked medium shell pasta (roughly 3 cups)
2 cups uncooked broccoli
2 tablespoons butter (add 1/8 teaspoon salt if unsalted)
1/4 cup chopped onion
1 clove minced garlic
2 tablespoons all-purpose flour
1 cup whole milk
1/4 cup sweet chili sauce (homemade or store bought)
1 cup shredded cheddar cheese
Instructions
Bring a large pot of salted water to a boil. Cook shells as directed on the package until al dente. During the last few minutes of cooking, add the broccoli to the boiling water. Drain everything together in a colander.
Meanwhile, in a large saucepan, melt the butter. Add the onion (and salt, if using) and cook for 5-8 minutes or until soften. Add the garlic and cook 30 seconds. Add the flour and stir to cook. Slowly whisk in the milk. Bring to a boil and cook until thickened, about 3-5 minutes. Whisk in the sweet chili sauce and cheddar cheese until melted. Toss together the pasta, broccoli, and sauce then serve hot.
More Comforting Recipes To Make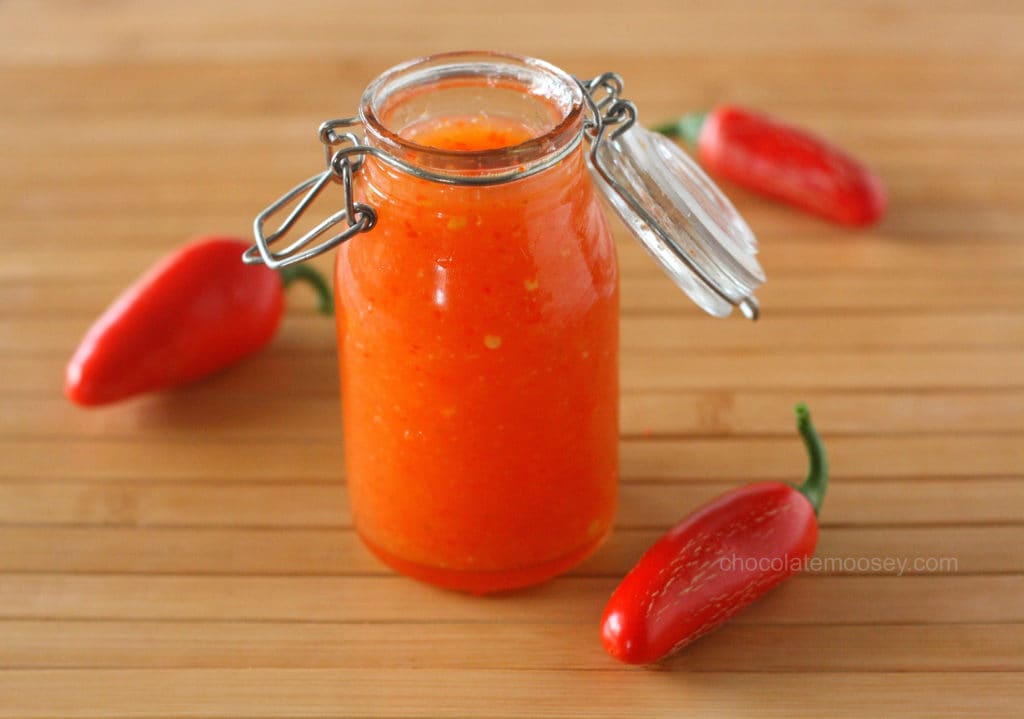 Sweet Chili Sauce