General Tso's Sweet Chili Shrimp with broccoli and rice is a quick, healthier alternative to Chinese takeout.
What's your favorite protein? Mine has to be shrimp. If I could use shrimp in all of my cooking instead of chicken or beef, I'd be a happy moose. Not only is shrimp one of the easiest, quickest proteins to cook, I just love the taste. When
OXO
and
The Shrimp Council
asked me to participate in their Shrimp Showdown challenge, I was in. The challenge was to create a delicious meal using 5 pounds of fresh shrimp. As you can imagine, 5 pounds is a ton of shrimp, so I made several recipes I'll be sharing over the next few weeks. Today's recipe is one of my favorite dinners this month – General Tso's Sweet Chili Shrimp. This Asian-inspired quick meal served with rice and broccoli is a much healthier alternative than typical Chinese takeout.
(Oh and if you really love shrimp, you don't want to miss the Shrimp Showdown giveaway! Just keep reading)

My inspiration for this dish were my tastebuds. About once a month, I get Chinese takeout for lunch at work, and I almost always order the general tso's chicken. Even though the chicken is great, I always feel jipped with two pieces of broccoli. Bring on more broccoli!
I swear these are the biggest shrimp I have ever worked with – about as big as the palm of my hand! This was my first time using
a shrimp cleaner
. I've peeled shrimp once before by hand, and it definitely wasn't this easy; usually I just buy shrimp already peeled. At first I was skeptical. Do I really need a one-task tool in my drawer? Yes – if you plan on shelling more than a dozen shrimp (and trust me – 5 pounds of shrimp is way more than a dozen). You devein and shell the shrimp in one movement. It took me a few tries to get it right, but once you get a groove going, shelling becomes a breeze. To see the tool in action,
watch OXO's demonstration video
.
The easiest (and healthiest) way to cook shrimp? With a steamer. I've never used a steamer before until OXO sent me one to try (
see it here
). As the name implies, you use steam to cook the shrimp. Boil about an inch or so of water in a pan, insert the steamer full of shrimp (and vegetables if using), cover, and cook until pink (these jumbo shrimp took 8 minutes. Smaller shrimp take less time). The steamer keeps the shrimp above the water so you don't end up boiling them. To learn more about the steamer,
watch OXO's demonstration video
.
For the sauce, I made a variation of general tso's sauce by using sweet chili sauce. I have a
homemade recipe for the sauce
or you can pick up a bottle in the Asian food aisle. Now I know the sauce on the shrimp doesn't look as dark as traditional sauce, but I promise the flavor is there. In fact, dare I say my sauce is even better.
General Tso's Sweet Chili Shrimp
Meal planning tip – Take some extra time on a day off to shell the shrimp and cut up the broccoli ahead of time. You can freeze shelled shrimp, making them ready to grab at a moment's notice. This recipe also works great with leftover rice.
Ingredients
3/4 cup uncooked long grain rice
1 1/2 cup water
1 pound raw shrimp, peeled, deveined, and patted dry
2 cups broccoli, chopped
3/4 cup chicken broth
3 tablespoons soy sauce
3 tablespoons vinegar
6 tablespoons sweet chili sauce
3 tablespoons granulated sugar
2 tablespoons cornstarch
Instructions
In a large saucepan, bring the rice and water to a boil. Once it boils, turn the heat down to low and cover. Simmer 15 minutes or until the water is absorbed and rice is fluffy, stirring occasionally. Remove from the heat and let stand covered 5 minutes.
While the rice is cooking, in another saucepan, bring about one inch of water to a boil. Place the shrimp and broccoli into a steamer*. Add the steamer to the pan and cover. Cook for 5-8 minutes or until the shrimp is pink and curled. Remove and let cool.
While the shrimp and rice are cooking, in a third saucepan, combine the chicken broth, soy sauce, vinegar, sweet chili sauce, sugar, and cornstarch to a boil. Cook for about 5 minutes or until it thickens.
To serve, divide rice between two plates. Toss the shrimp and broccoli with the sauce then spoon on top of rice.
Notes
*If you don't have a steamer, you can use a heatproof colander. If you don't have either of those options, you can cook them in a saucepan. Melt 2 tablespoons butter then add shrimp, cooking until pink and curled, flipping halfway through (about 5-8 minutes).
—-
If you enjoyed this General Tso's Sweet Chili Shrimp, you may also like these Asian-inspired recipes: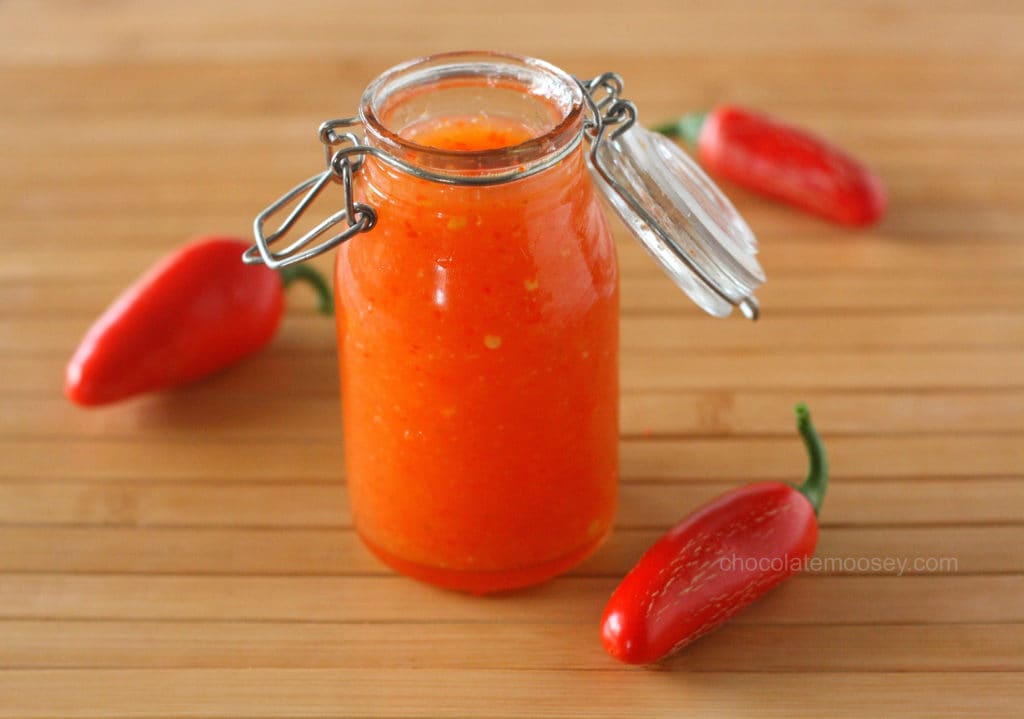 Sweet Chili Sauce

Asian Shrimp Tacos With Mango Salsa

Crispy Baked General Tso's Sweet Chili Chicken Strips

Fried General Tso's Sweet Chili Chicken Strips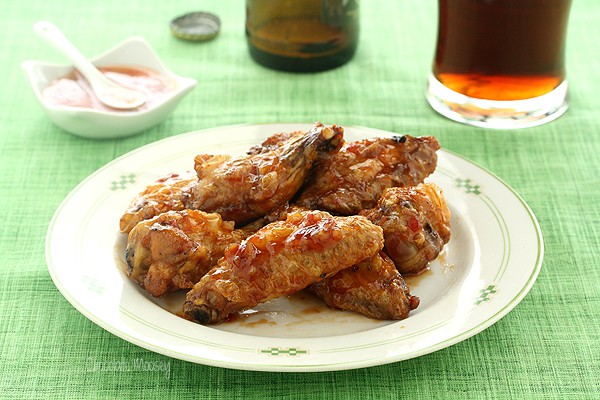 Baked Sweet Chili Chicken Wings

Beef Stir Fry Kabobs
—–

Photo provided by OXO
Are you ready to cook some shrimp now? OXO is giving away one shrimp-themed package to help you get started in the kitchen. It includes the following:
Flexible Kitchen & Herb Snips
Silicone Steamer
Wooden Lemon Reamer
3 Piece Bowl and Colander Set
12″ Tongs with Silicone Heads
$100 Visa Gift Card from the NFI Shrimp Council
To enter, follow the directions of the widget below. Giveaway closes Friday March 28 at 5 PM EST. OXO will pick and contact the winner. U.S. residents only.
*Disclosure: OXO provided me with kitchen tools and The Shrimp Council provided me with 5 pounds of shrimp. No monetary compensation was provided. All writing and photographs are my own unless otherwise noted.