Warm French toast roll ups stuffed with apple butter then tossed in cinnamon sugar make brunch much more exciting, especially when you dunk them into apple butter cream cheese dipping sauce.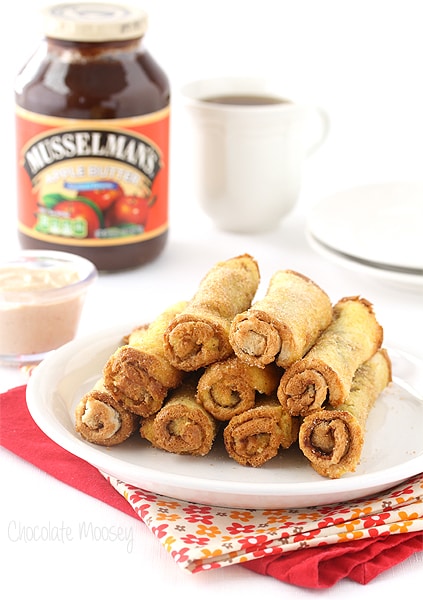 I am not a morning person.
I hit snooze more times than I care to admit. I'd rather stay up until midnight than wake up at before 8 AM.
Unfortunately, that won't work during the week when I have to get up at 6 AM for work.
Breakfast becomes something quick and small – a bagel, oatmeal, fruit, a cookie.
Because life is hectic during the week, every Sunday I make an effort to cook a nice breakfast (although sometimes breakfast can turn into brunch if I'm busy Sunday morning).
Today I'm bringing you Apple Butter French Toast Roll Ups with Apple Butter Cream Cheese Dipping Sauce for a fun new way to eat your morning meal, whether you eat breakfast at 8 AM or brunch at noon.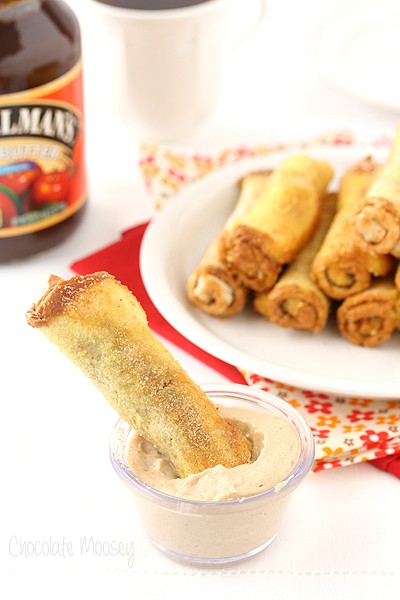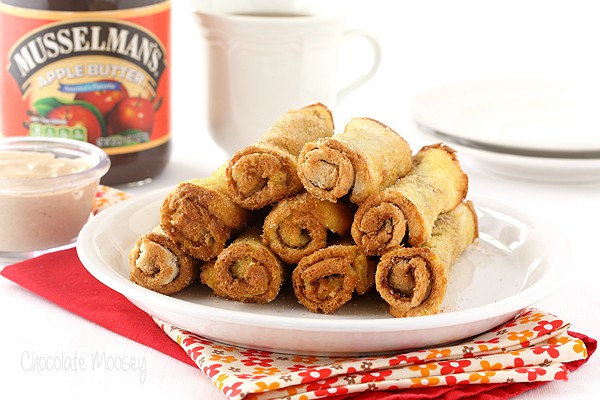 I have been making French toast for as long as I can remember because it's one of those recipes where even the most novice cook can make.
In fact, one of my first breakfasts to make while studying abroad in Ireland was French toast. I don't think I learned how to make pancakes and waffles until my last year or so of college.
I also find French toast boring sometimes. Pancakes and waffles you can change the batter in a variety of ways, but French toast? Not so much.
How do you make French toast more exciting?
By stuffing, rolling, and dipping them. Very similar to French toast sticks I had as a child but filled with apple butter goodness.
This recipe is perfect for a crowd, especially if you invite people over for brunch.
Normally you'd cook French toast one slice at a time in a skillet. By the time you finish the last one, everything is cold.
If you serve them as you make them, then everybody doesn't eat together.
By baking the rolls, all of them will be ready at the same time, meaning you can spend time with your loved ones as you devour breakfast (or brunch).
Apple Butter French Toast Roll Ups with Apple Butter Cream Cheese Dipping Sauce
Ingredients
French Toast Roll Ups
16 slices white sandwich bread
1 cup apple butter
2 eggs
1/4 cup milk
3/4 teaspoon ground cinnamon
1/8 teaspoon ground nutmeg
2 tablespoons melted butter
1 tablespoon granulated sugar
Dipping Sauce
3 ounces cream cheese, softened
1/4 cup apple butter
1/2 cup powdered sugar
2 tablespoons milk
Instructions
For the roll ups
Preheat oven to 375F. Line a baking sheet with a silicone mat or grease really, really well (the roll ups will stick if you aren't prepared).
Flatten one slice of bread to about half of its original thickness. Spread roughly 1 tablespoon apple butter evenly on top. Roll up bread and set aside, seam side down. Repeat with the remaining bread.
In a bowl, beat together the eggs, milk, 1/4 teaspoon cinnamon, and nutmeg. Dip each roll up into the egg mixture, completely covering and shaking off the excess. Place on the baking sheet.
Bake 10 minutes. Pull out of the oven, brush the top side with melted butter, flip each roll then brush the bottoms with butter. If they stick, gently use a spatula to loosen them. Leave bottom side up and bake another 10 minutes.
In a small bowl, add the sugar and remaining 1/2 teaspoon cinnamon. As soon as the roll ups have finished baking, roll each one in the cinnamon sugar mixture. Serve warm with dipping sauce.
For the dipping sauce
While the roll ups are baking, make the sauce. In a medium bowl, beat together the cream cheese and apple butter until smooth. Gradually beat in the sugar then beat in the milk.
If you liked these Apple Butter French Toast Roll Ups, you may also like these apple butter recipes from me:
For more apple butter recipes, make sure you follow Musselman's on Facebook, Twitter, and Pinterest. You can also download their free e-recipe book.
Disclosure: I was compensated for developing this recipe but all thoughts are my own. Musselman's Apple Butter is a product I use and support, even without compensation.