A savory crumble featuring butternut squash, mushrooms, and bacon makes a great side dish for fall or even Thanksgiving.
I've been waiting a long time for the
Bountiful
cookbook to be released, written and shot by two of my favorite food bloggers, Diane and Todd of
White On Rice Couple
. I first discovered them via Pinterest and loved their little photography tidbits they posted on some pins (see
here
,
here
, and
here
). You can only imagine my excitement when I had the chance to review Bountiful, a BIG cookbook filled with recipes inspired from the garden, ranging from fruits to vegetables to fresh herbs. It is by no means a vegetarian book; after all, two of the three recipes I've tried involved pancetta or bacon. The first recipe I tried was the Butternut Squash Crumble, which caught my eye because not only do I love butternut squash, it was my first time reading about making a savory crumble.
Oh and I may or may not be giving away one copy of Bountiful (hint – keep reading).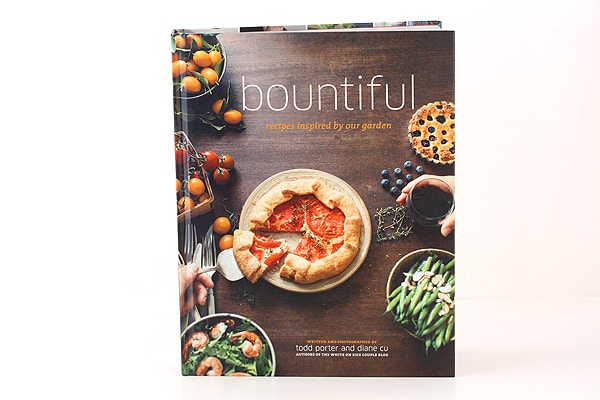 After receiving the book, I started with the introduction. As I read Diane's and Todd's bios, it made me realize how much I missed farmer's markets and embracing fresh (local!) produce. It's one of my favorite things to do in the summer, but ever since I moved a few years ago, I haven't found a market I loved. Because I live in a small town, I have to drive a bit to find one. With this past summer being as busy as it was, I spent most Saturdays traveling and not shopping. And when I do make it, they only have a few tents set up with limited choice. There are some farm stands set up along the highway but again, I have to drive over the mountain to get to them. I can't go during the week because they close by the time I go after work. And nothing locally owned is open on Sundays. That means I end up buying most of my produce at grocery store chains, something I don't pride myself on doing. Especially tomatoes. Don't buy tomatoes from grocery stores.
Reading Bountiful and flipping through the recipes made me feel excited again about produce. The chapters included are tomatoes; herbs and leafy greens; banes, stalks, and shoots; broccoli and other cruciferous vegetables; roots and bulbs; squashes; peppers and chilies; other vegetable fruits; sweet berries; citrus; stone fruits; and other tree and vine fruits. I do recognize some of the recipes that were originally posted on their blog. 100 recipes total, 90 of them never-before-posted.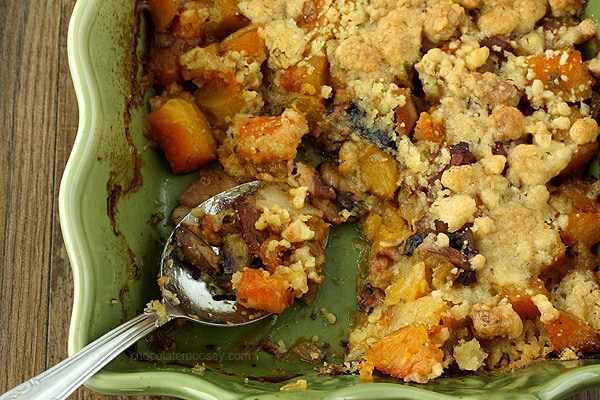 First recipe I tried was this Butternut Squash Crumble, which I made when my parents and brother were visiting. At the last minute, I needed a side dish and wasn't going to the store. My choices at home were butternut squash and frozen spinach. I remembered wanting to try the crumble recipe. Butternut squash is one of my favorite fall vegetables, but I hate peeling and cutting it. Please tell me I'm not the only one? Make sure you save those seeds to sprinkle with some garlic powder and toast.
This crumble reminded me of making a hash. The difference is you bake this with a crumble topping. Instead of pancetta as written, I used bacon because that's what I had. I also played around with herbs and used dried. Of course I highly recommend fresh herbs, but again, it's what I had on hand. I didn't use sage because none of us like sage. This dish is very versatile in flavor, so feel free to use your favorite herbs.
In addition to the crumble, I also made Braised Brussels Sprouts with Pancetta and Parmesan (left) and Roasted Broccoli and Grilled Cheese Melt (right) (except I didn't have any bread so I made quesadillas). I have a few more bookmarked to try, including Baked Eggs in Tomatoes (
another blogger posted about those
), Sweet Onion Crack Dip, and Roasted Spaghetti Squash with Sausage. Bountiful is a book that you just pick and browse when looking for something to read (and eat). I think Diane and Todd did an excellent job and can't wait to see if they write a second book.
Ingredients
Filling

2 tablespoons olive oil
1/2 cup onion, chopped
2 cloves garlic, minced
2 strips bacon or pancetta, chopped
1 cup mushrooms, chopped
3 cups butternut squash, peeled and cut into 1-inch cubes
2 tablespoons fresh parsley (I used 1 teaspoon dried parsley)
1/2 cup chicken stock
Salt and pepper

Crumble

3/4 cup all purpose flour
1/4 cup walnuts, finely chopped
1 tablespoon brown sugar
1 tablespoon fresh thyme (I used 1/2 teaspoon dried thyme)
1 teaspoon salt
1/2 cup (1 stick) cold unsalted butter, cut into 1/4-inch pieces
Instructions
For the filling

Preheat the oven to 375F. Butter a 2 quart baking dish.
In a large pan, heat the oil until hot. Saute the onions, garlic, and bacon/pancetta until the onions are soft. Add the mushrooms and squash and saute until the squash starts to soften and brown, roughly 10-15 minutes. Add the parsley, stock, and salt and pepper to taste. Spoon the squash mixture into the baking dish and cover with foil. Bake until just tender, 30-35 minutes.

For the crumble

While the squash is baking, make the crumble. In a medium bowl, combine the flour, walnuts, brown sugar, thyme, and salt. Add the butter pieces and pinch with your fingers until the mixture is the consistency of coarse meal (there may still be small lumps of butter). Chill the topping until ready to use.
Once the squash is done baking, uncover and scatter the crumble on top. Bake another 30-40 minutes more or until the topping is golden brown. Serve warm.
7.6.3
3210
https://www.chocolatemoosey.com/2013/11/07/butternut-squash-crumble/
Source: Adapted from
Bountiful
—-
If you liked this Butternut Squash Crumble, you may also like these butternut squash recipes:
From me:

From other bloggers:
—-
Thanks to the lovely publishers of ABRAMS Books, I have one copy of Bountiful to give to one lucky reader. To enter, just follow the prompts in the Rafflecopter below. US residents only. Deadline is 11/13/13 at 11:59 PM. And if you end up not winning it, you can purchase it on Amazon (affiliate link).

a Rafflecopter giveaway
Disclosure – I was given one copy of Bountiful to review from ABRAMS Books plus one copy to give away to a reader.