Cheesy Buffalo Chicken Soup
Cheesy Buffalo Chicken Soup is a spicy warm-you-up cheddar cheese soup with chicken breast and carrots, inspired by everyone's favorite buffalo chicken wings.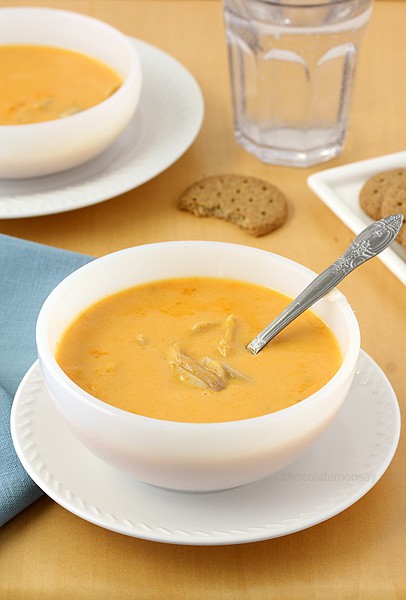 Buffalo chicken recipes
are a favorite of mine. After all, I've made
buffalo mac and cheese
,
buffalo chicken chili
, and more with the famous duo of hot sauce and chicken.
They're especially great to make in the winter because hot sauce will warm you up from the snow and ice outside. Novembers in Pennsylvania result in bundling up and cranking the heat on high.
Soup is one of my favorite go-to dinners because they are one pot, comforting, and combat any crazy winter weather going on outside.
Naturally my mind wandered to buffalo chicken dip. Is there a way to turn this into dinner? Since it uses cheddar cheese, I thought why not make a cheese soup with chicken and hot sauce? And that's how Cheesy Buffalo Chicken Soup was born. Spicy, cheesy, flavorful. All that you want in a soup (and more).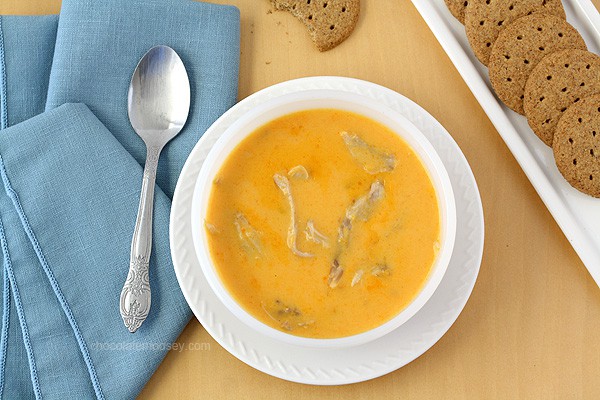 This soup is based off of my
roasted jalapeno soup
. I used carrots for the base because usually when you eat
buffalo chicken wings
, you have carrots to dip into ranch dressing.
A quick cheese tip – shredded cheese melts a lot quicker than cubed cheese. I just bought pre-shredded cheese because it was on sale, but if you use a block of cheese, grate it before adding.
For the chicken I prefer dark meat, so in the photos you see shredded chicken quarters. However in the recipe below, I made it with boneless skinless chicken breast because it's the fastest way to make this soup.
Cheesy Buffalo Chicken Soup can be as spicy as you want it. I highly recommend adding a little bit of hot sauce at a time. You can always add more heat but it's hard to take it out. If you do add too much, you can cool it down with some sour cream.
Cheesy Buffalo Chicken Soup
Yield: 4 servings
Prep Time: 20 minutes
Cook Time: 30 minutes
Total Time: 50 minutes
Cheesy Buffalo Chicken Soup is a spicy warm-you-up cheddar cheese soup with chicken breast and carrots, inspired by everyone's favorite buffalo chicken wings.
Ingredients
1 tablespoon vegetable or olive oil
1 small boneless skinless chicken breast cut into 1/2 inch pieces, patted dry, and lightly salted
2 tablespoons unsalted butter
Kosher salt, to taste
1/2 cup chopped onion
1 carrot, peeled and chopped
1 clove garlic, minced
2 tablespoons all purpose flour
2 cups chicken stock or broth
1 cup shredded cheddar cheese
1/4 cup whole milk
2-4 tablespoons hot sauce
Instructions
In a Dutch oven or large pot, heat the oil. Once hot, add the chicken in a single layer. Cook for 3-4 minutes or until brown then flip and cook until no longer pink in the middle, another 3-4 minutes. Transfer the chicken to a bowl and keep warm.
Add the butter to any meat drippings left in the pan. Once melted, add onion, carrot, and a big pinch of salt. Cook until softened, about 5 minutes. Add the garlic and cook 1 minute.
Stir in the flour until everything is coated and a roux (paste) is formed. Slowly whisk in the broth, scraping up any brown bits left on the bottom of the pan. Bring to a boil.
Once boiling, turn the heat down to a simmer. Simmer until the soup slightly thickens, about 3-5 minutes.
Taste and add salt as necessary. Depending on how salty the broth is, you may need to add up to 1 teaspoon. Turn off the heat.
Add soup to a blender then pulse a few times to ensure it doesn't explode out of the blender (hot liquid expands when blended). Blend until smooth.
Pour the soup back into the pot. Stir in the cheese until melted then stir in the milk, 2 tablespoons hot sauce, and chicken. Taste and add additional hot sauce and salt as necessary.
This post may contain affiliate links. As an Amazon Associate and member of other affiliate programs, I earn from qualifying purchase.