Whether you're looking for a healthy breakfast recipe or just a quick on-the-go snack, this 3 ingredient Banana Mango Smoothie made with fresh fruit and Greek yogurt will help you live a better lifestyle.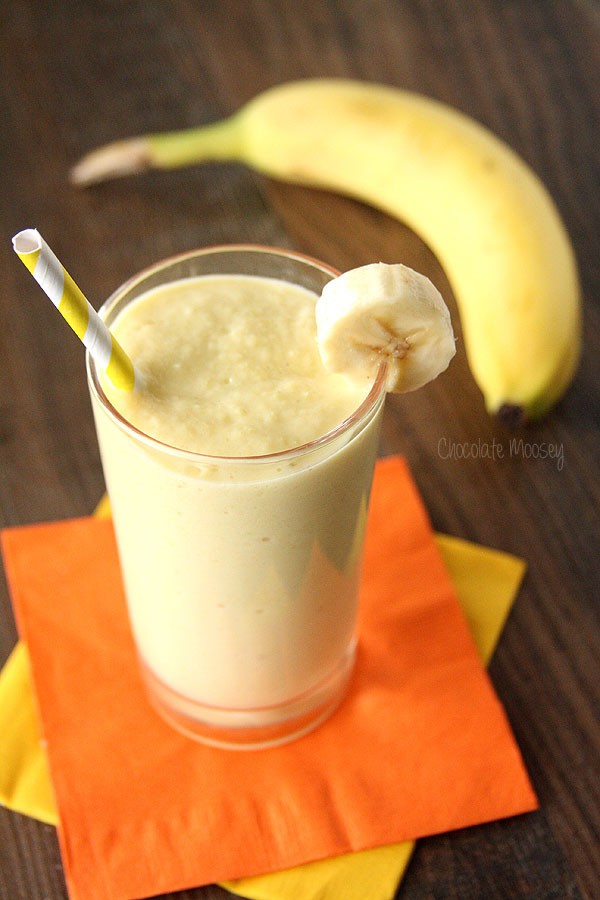 I don't get how people can eat junk food all the time. There was one girl at work who would almost always eat McDonald's for breakfast and Chinese food for lunch (or so it seemed). Don't get me wrong – I love McDonald's burgers and
General Tso's chicken
, but after eating grease and carbs for a week, my body rebels. I crave fruit and vegetables and think of how to incorporate them more into my meals. Veggies are a no brainer for me, but I'm not a pick-up-an-apple-and-eat kind of girl. Give me broccoli. Give me carrots. But oranges? Apples? Bananas? I want to thank whoever invented fruit smoothies because I made Banana Mango Yogurt Smoothies. Fruit doesn't have to be boring anymore!

Smoothies were a treat for me as a kid. They were always expensive because of the fresh fruit, so I rarely bought them. Even in college, coffee was much cheaper than a smoothie. However, I would treat myself every few months so I didn't completely miss out. Then I started making smoothies at home. I wanted to make it as healthy as possible because I know some smoothies have a whole lot of sugar added. Even some juices you get from the juice aisle aren't as healthy as you think with high fructose corn syrup and 10% real fruit juice.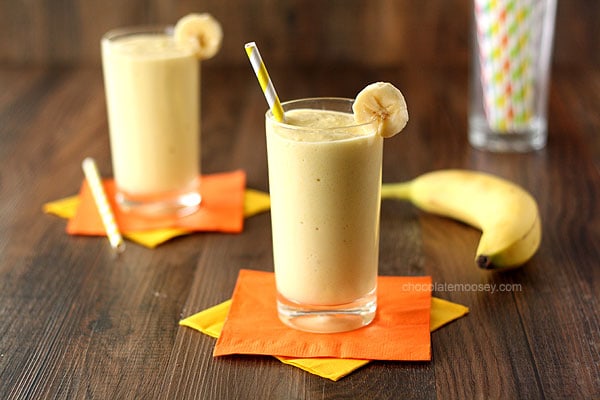 I chose bananas and mangoes because it is the middle of winter and wanted something tropical. I try not to buy peaches or berries until the summer because then I get them fresh from the farm. And yes, you can use frozen berries, but I wanted fresh fruit (er as fresh as you can get after being imported?). This Banana Mango Yogurt Smoothie recipe is very versatile. Berries and bananas, bananas and peaches, peaches and berries, even berries and pineapple. I even used milk when I didn't have yogurt, but if you do that, you may want to freeze some of the fruit for the cold element.
If I drink a glass, I can feel better about eating that cheesecake, right?

Banana Mango Yogurt Smoothie
Yield: 2

Prep Time: 15 minutes

Total Time: 15 minutes

Feel free to customize this recipe using your favorite fruits.
Ingredients
3/4 cup (roughly one 5.3 ounce container) plain Greek yogurt, frozen* (see Note)
2 cups cubed mango
1 cup sliced ripe banana
Instructions
Blend the yogurt, mango, and banana on high until completely smooth.
Notes
*Since I used fresh fruit, I chose to use frozen Greek yogurt. However, if you are using frozen fruit, you can use Greek yogurt straight from the fridge. As long as one of your three ingredients is frozen, you can adjust.
More Banana Recipes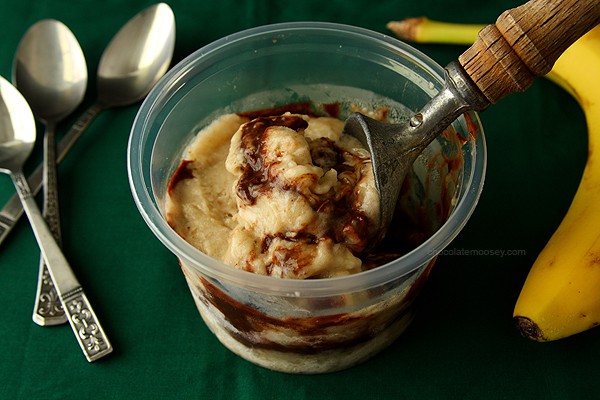 Banana Fudge Swirl Ice Cream