Warm Apple Sausage Pancakes with a hint of cinnamon accompanied by homemade Apple Cider Syrup will bring the flavors of fall to breakfast.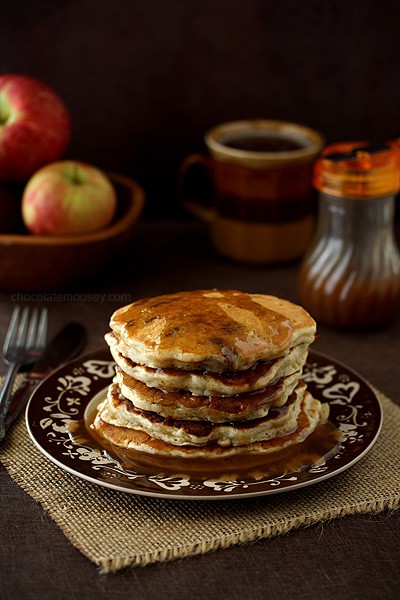 Updated 10/20/13:
Every fall, I make these Apple Sausage Pancakes shortly after attending
the apple festival
. I wanted to revisit this post to update the photos and to make some changes to the recipe. I adjusted some of the dry ingredients to make fluffier pancakes and cut back on how much sausage to add.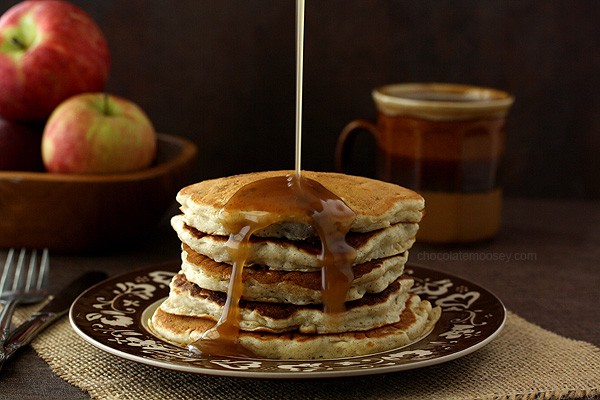 Original 11/04/08: Yet another recipe I made back in October with my apples. This breakfast is time consuming because you have to brown the sausage, then shred the apples, then make the syrup and pancakes. I guess you could save time by having already-browned sausage, but you don't want to prepare the apples until you are ready to use them. I was impressed by the syrup. Normally, I don't eat toppings with my pancakes. This syrup, although optional, tastes good. And today is the last day I register for classes, ever. None of them sound fun except maybe oceanography because we are going to the Bahamas for spring break. No video classes though because I took them all already.

Original photo from 2008
Apple Sausage Pancakes with Apple Cider Syrup
Ingredients
1/4 pound bulk pork sausage
1 cup all-purpose flour
2 tablespoons sugar
2 tablespoons baking powder
1/4 teaspoon salt
1/2 teaspoon ground cinnamon
1 egg
1 cup milk
2 tablespoons vegetable oil
1/2 cup apple, shredded, peeled and squeezed dry
Apple Cider Syrup
1/4 cup sugar
2 teaspoons cornstarch
1/4 teaspoon ground cinnamon
1/8 teaspoon ground nutmeg
1/8 teaspoon ground clove
1/2 cup apple cider
1 teaspoon lemon juice
1 tablespoon butter
Instructions
In a large skillet, cook the sausage until no longer pink, breaking it into smaller pieces as much as you can. When cooked, line a bowl with a paper towel and add the sausage. Grab another paper towel and pat down as much grease as you can. Discard both paper towels. If you had trouble crumbling the pieces while cooking, now is the time to crumble the pieces further.
In a large bowl, whisk together the flour, sugar, baking powder, salt, and cinnamon. Beat in the egg, milk, and oil until just moistened. Gently fold in the apples and sausage.
In a hot skillet, add roughly 1/4 cup of the batter. When the top bubbles and the bottom is brown, flip and cook for another minute or so until the second side is brown. Repeat with the remaining batter.
For the syrup: In a small saucepan, whisk together the sugar, cornstarch, cinnamon, nutmeg, and clove. Gradually stir in the cider and lemon juice until smooth. Bring to a boil then cook until thickened, stirring often, about 2-5 minutes. Remove from the heat and stir in butter until melted. Serve warm with pancakes.
Notes
© Chocolate Moosey. All images and content are copyright protected. Please do not use my images without prior permission. If you want to republish a recipe, please rewrite it in your own words or link back to the post for the recipe.



Source: Taste of Home's Quick Cooking Magazine, Sept./Oct. 2001 p. 12
—-
If you liked these Apple Sausage Pancakes with Apple Cider Syrup, you may also like these recipes from me: