A hearty bowl of Sweet Potato and Corn Clam Chowder is a twist on traditional New England clam chowder with the addition of sweet potatoes, corn, and bacon.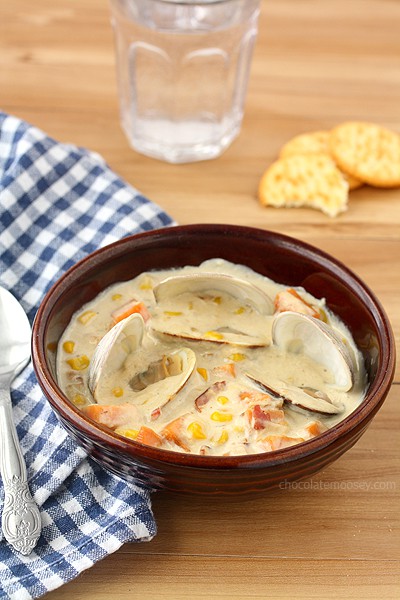 What is one ingredient you love to indulge in but don't buy often?
Maybe it's because of cost or availability. Or maybe because nobody else around you will eat it.
Mine would have to be seafood, more specifically – fresh littleneck clams.
There's a local butcher shop over the mountain a bit that sells fresh seafood, and because I only have time to visit it on a few given Saturdays, I don't buy them often.
But when I do, I almost always make this Sweet Potato and Corn Clam Chowder.
Sure, it may be a far cry from traditional New England clam chowder, but either way your seafood-loving heart will be satisfied.

I remember the first time I bought littleneck clams.
I'm pretty adventurous and tend to buy ingredients I've never cooked before then going home and figuring it out (probably not the best habit).
As I was browsing the seafood case, I noticed littleneck clams were inexpensive. Why not try a dozen?
When the guy behind the counter handed me my order, it was in a mesh bag and asked if I wanted some ice to sit them on so I wouldn't kill them.
Er wait what? The clams are…alive?!
Usually when you order something live, like say live lobsters, it's moving. These clams – they aren't moving. I said yes (because I had no clue) and took them home.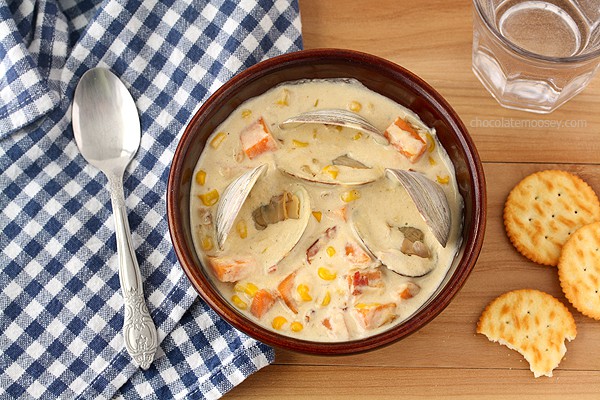 As I did some research, I learned clams are alive and best eaten within 24 hours of purchase. You can't completely submerge them in water overnight because they'll use up all of the oxygen and die.
The best way to store them is in the refrigerator in a breathable bag (hence my mesh bag) with damp paper towels covering them. That keeps them wet without depriving them of oxygen.
Don't eat any that have broken shells or don't close when you gently tap them (I never had any that were open, so I never dealt with that).
The challenge – to use my clams within 24 hours. The obvious answer is clam chowder, so I looked through my 300+ cookbooks for ideas.
Eventually I stumbled upon Bobby Flay's version using sweet potatoes instead of traditional baking potatoes. I can get behind that!
After making his recipe about three or four times over the past few years and tweaking it, I now have my version listed below.
In addition to adding corn, I skipped the step where he has you reduce the milk and cream before adding it to the chowder.
Honestly – I've made it both ways and didn't see enough of a difference to justify one extra step (and the danger of milk bubbling over and setting off the smoke detector from all of the mess. Just trust me on that one).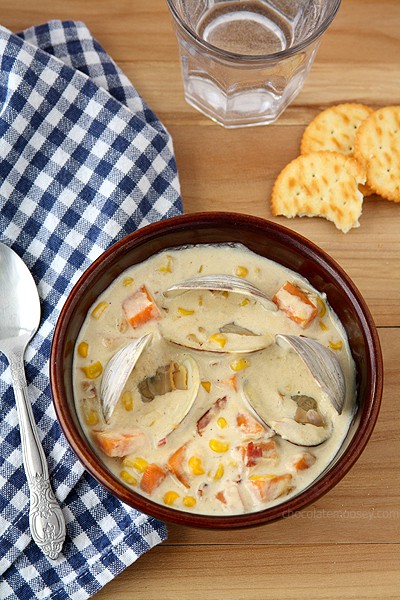 You do need to clean the clams before consuming or you'll be eating grit in your chowder.
The best method is to put them in a bowl and cover them with cold water for 20-60 minutes (any longer and you may kill them because they'd use up all of the oxygen in the water).
What happens is they use the water to filter out any sand or grit inside of them.
However, when you go to remove them, don't dump the bowl into a colander. You'll end up dumping the filtered grit back onto them.
Use a slotted spoon to gently remove them, scrub under cold water, and wipe them dry before using.
Remember – any that have broken shells in the process need to be discarded.
Speaking of discarded – any clams that don't open after being cooked need to be tossed as well.

Sweet Potato and Corn Clam Chowder
A hearty bowl of Sweet Potato and Corn Clam Chowder is a twist on traditional New England clam chowder with the addition of sweet potatoes, corn, and bacon.
Ingredients
1/2 cup water
1/2 cup white wine (or more water)
12 littleneck clams, cleaned*
Roughly 1 cup clam juice, fish stock, or more water (see step 2)
2 slices bacon
1/4 cup chopped onion
1 tablespoon flour
1 cup sweet potato, peeled and cut into 1/2-inch dice
1/2 cup heavy whipping cream
1/2 cup milk
1 cup sweet corn
Salt, to taste
Instructions
In a large pan, bring the wine and water to a boil. Gently add the clams and cover with a lid. Cook until the clams start to open, about 5-10 minutes. As they open, remove them with a slotted spoon. Discard any that don't open after about 20-30 minutes. Cool completely then remove the clams from their shells and reserve in a bowl.
Strain the liquid leftover from the clams through a fine mesh strainer then measure. You should roughly have 1 cup. Add clam juice, fish stock or water to equal 2 cups broth. Reserve.
In a large pot, cook the bacon over medium high heat. Once cooked on one side, flip and finish cooking the other side. Transfer the bacon to a plate. When cool, chop into pieces.
There should be enough bacon fat left to cook the onions. If not, add some olive oil. Cook the onions until soft, about 5 minutes. Add the flour and stir. Slowly add in the clam broth, stirring well, and bring to a simmer. Add the potatoes and cook until soft but not mushy, about 10-15 minutes.
Add milk, cream, chopped bacon, corn, and deshelled clams. Taste and season with salt if needed (I used roughly 1/2 teaspoon sea salt).
Notes
*To clean the clams, put them in a bowl and cover with cold water. Let sit for 20-60 minutes (any longer and you may kill the clams). Using a slotted spoon (because if you dump them into a colander, you will dump any grit right back onto the clams), remove the clams and scrub to remove any additional dirt. Wipe dry.
Source: Adapted from Bobby Flay Cooks American (Amazon affiliate link)
—-
If you liked this Sweet Potato and Corn Clam Chowder, you may also like these recipes:
From me: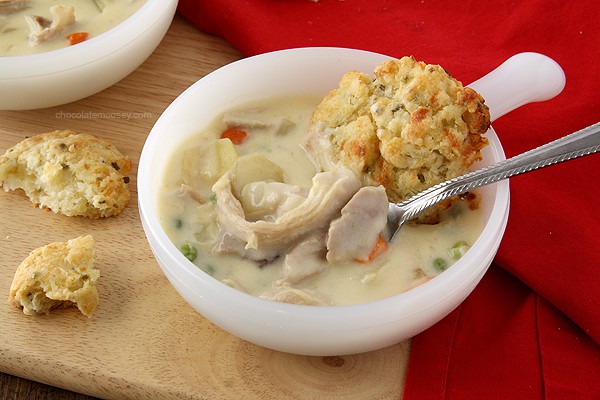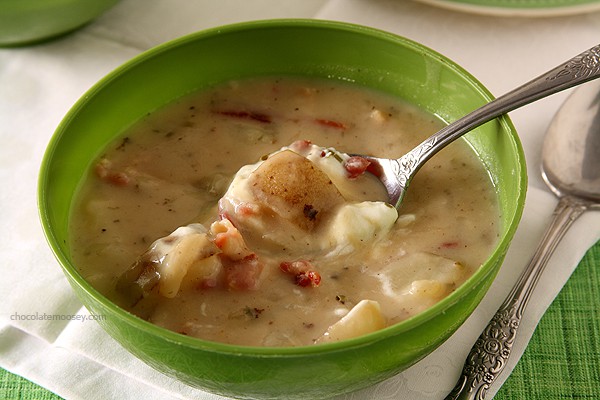 From others: