Spiced Hazelnut Linzer Cookies
Spiced Hazelnut Linzer Cookies made with ground hazelnuts and stuffed with chocolate hazelnut spread. Sometimes mistakes are good to make.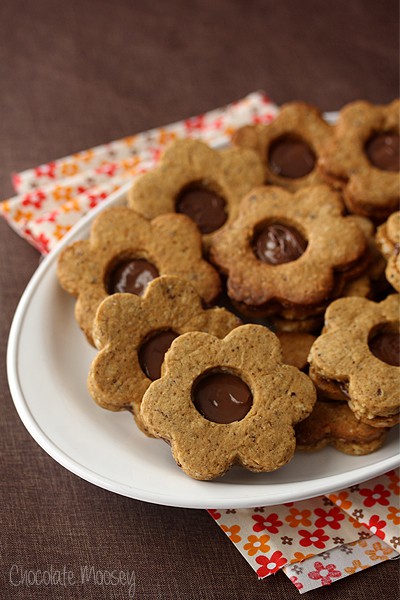 Want to hear a funny story about these Spiced Hazelnut Linzer Cookies? I accidentally made this recipe back in November. I know, I know – how do you "accidentally" make a cookie? I was recipe testing for my
gingerbread linzer cookies
, and this was the first batch. Although they came out fine, they didn't scream gingerbread when you took a bite. Hazelnut, yes, but no molasses or ginger. Rather than toss a perfectly good cookie, I sandwiched them together with Nutella to reflect the hazelnuts in the dough. Boom – now nobody will know it was a mistake.
The first time I made linzer cookies was back during my
Tuesdays With Dorie days
. They were melt-in-your-mouth amazing, the kind where you couldn't stop thinking about them. I tried adapting her recipe for my gingerbread cookies; again I didn't quite get the punch I wanted. After adjusting the recipe to compensate the molasses and sugar, the cookies came out a bit crunchier than Dorie's, but that didn't stop me from eating them. Oh and these mail well because I sent them to a friend for Christmas. I had to get them out of my house before I ate them all!
Linzer cookies aren't linzer cookies without ground nuts in the dough. It took me forever to find fresh hazelnuts where I live and ended up buying them at an Italian market near my parents (one benefit of visiting them when I can't find an ingredient). Even though I specify chocolate hazelnut spread in the ingredients, feel free to use another filling. My original intention was peach jam, but I can see using cherry or raspberry jams as well.
Spiced Hazelnut Linzer Cookies
Spiced Hazelnut Linzer Cookies made with ground hazelnuts and stuffed with chocolate hazelnut spread.
Ingredients
1 1/2 cups ground hazelnuts
2 cups all purpose flour
1 teaspoon ground ginger
1/2 teaspoon ground cinnamon
1/4 teaspoon ground nutmeg
1/8 teaspoon ground clove
1/4 teaspoon salt
1/2 cup (1 stick) unsalted butter, softened
1/4 cup brown sugar
1/4 cup molasses
1 egg
1/3 cup chocolate hazelnut spread
Instructions
In a large bowl, whisk together the hazelnuts, flour, ginger, cinnamon, nutmeg, clove, and salt.
In a large mixing bowl, beat together the butter, brown sugar, and molasses until smooth, about 2-3 minutes. Add the egg and beat 1 minute more. Gradually add the flour mixture until just incorporated (do not overmix).
Divide the dough in half. Put one dough half between two pieces of plastic wrap and flatten into a disk. Using a rolling pin, roll out the dough until about 1/4-inch thick. Repeat with the other dough half. Place both in the refrigerator and chill at least 2 hours.
Preheat oven to 375F. Line two baking sheets with parchment paper.
Take one dough half out and peel off the top plastic wrap. Using a 2.5-inch scalloped cookie cutter, cut out as many cookies as you can and place on the baking sheets. Gather up the scraps, roll out to 1/4-inch thick, and cut out more cookies. Once the first dough half is gone, repeat with the second dough half. If the dough gets too warm and keeps sticking at any time, place back in the refrigerator until cold again.
Using the wide end of a piping tip, cut out a circle in the center of half the cookies. Transfer the rounds to the baking sheets to bake along with the cookies.
Bake for 11-13 minutes or until dry and just firm to the touch. Let cool for a few minutes then transfer cookies to a cooling rack.
Once the cookies are completely cooled, place about 1 teaspoon chocolate hazelnut spread onto each cookie without a hole. Top with the other cookies. Store in an airtight container.
Source: Adapted from
Baking: From My Home to Yours
(Amazon affiliate link)
—-
If you liked these Chocolate Hazelnut Linzer Cookies, you may also like these recipes:
From me:

This post may contain affiliate links. As an Amazon Associate and member of other affiliate programs, I earn from qualifying purchase.