Strawberry S'mores Tart
Inspired by everyone's favorite campfire treat, this Strawberry Smores Tart has a chocolate marshmallow filling with a homemade graham cracker crust.
Every year Dad and I go to the local farm and pick more
strawberries
than we can eat. We love this farm so much, he waits until I'm home for the weekend then we go picking.
As we head back to the car, I ramble about all the stuff to make – strawberry jam, strawberry cake, strawberry shortcake, strawberry ice cream, strawberry pie.
One of my favorite strawberry desserts is this Strawberry Smores Tart because I love smores so much. The gooey marshmallows. The messy chocolate. The crunchy graham crackers. Adding fresh strawberries makes the tart even more summery.
If you ignore the fact the marshmallow fluff isn't toasted, it has everything you want in a s'mores – graham cracker, marshmallow, and lots of chocolate. Some purists will shout blasphemy at adding fresh fruit. I say the strawberries add another layer of flavor. Who doesn't love chocolate covered strawberries?
The chocolate filling is known as ganache, which is chocolate and heavy cream melted together then used as either a glaze or filling. To make the chocolate firm enough to slice, I used a 2:1 ratio of chocolate to cream.
Not a fan of strawberries? You can substitute other fruit, such as raspberries, cherries, or banana. Or leave out the fruit altogether.
This recipe is almost no bake. I did bake the graham cracker crust because the strawberries made a no bake crust a little soggy. I used a
9 inch tart pan with a removable bottom
(affiliate link). However, you can certainly use a pie plate.
Because chocolate melts, it's best to keep this tart refrigerated until ready to slice and serve. Having trouble making clean slices? Dip a knife in hot water, wipe it dry, then slice.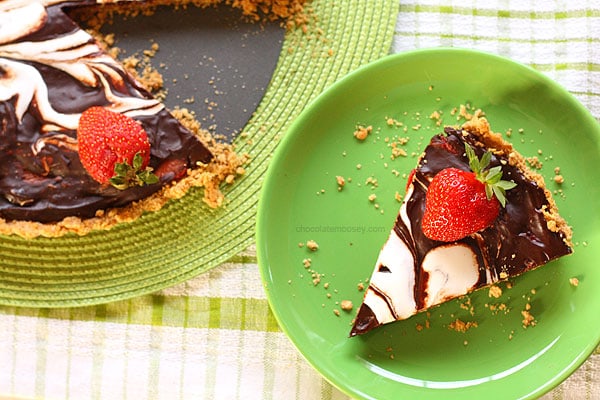 Strawberry S'mores Tart
Yield: 8 servings
Prep Time: 20 minutes
Cook Time: 10 minutes
Chill Time: 30 minutes
Total Time: 1 hour
Inspired by everyone's favorite campfire treat, this Strawberry Smores Tart has a chocolate marshmallow filling with a homemade graham cracker crust.
Ingredients
1 1/2 cups graham cracker crumbs
1/2 cup (4 ounces or 8 tablespoons) unsalted butter, melted
8 ounces semisweet chocolate, chopped
1/2 cup heavy whipping cream
3/4 cup sliced strawberries
1/3 cup marshmallow cream
Instructions
Preheat oven to 350F. Have a 9-inch tart pan ready.
In a large bowl, mix together the graham cracker crumbs and melted butter. Press the crumbs into the bottom and sides of the pan. Bake for 10 minutes. Turn off the oven and cool completely.
Add the chopped chocolate to a heatproof bowl. In a medium saucepan, heat the cream until hot but not boiling. Pour it over the chocolate and wait 1 minute. Stir together until completely smooth.
Place the sliced strawberries in a single layer on top of the cooled crust. Pour the chocolate mixture over top, spreading evenly and covering all of the strawberries.
Place the marshmallow cream in a microwave-safe bowl and microwave for 15 seconds or until easy to stir. Drop spoonfuls over the chocolate and swirl with a knife. Refrigerate until firm, about 30 minutes.
Source: Pillsbury Farmer's Market Cookbook, July 2000
This post may contain affiliate links. As an Amazon Associate and member of other affiliate programs, I earn from qualifying purchase.