Smores Cheesecake
After making and giving away birthday cheesecake, I was craving cheesecake of my own. While I was searching for cheesecake recipes, I came across several that looked amazing, including a smores cheesecake. Toasted marshmallows?? SOLD!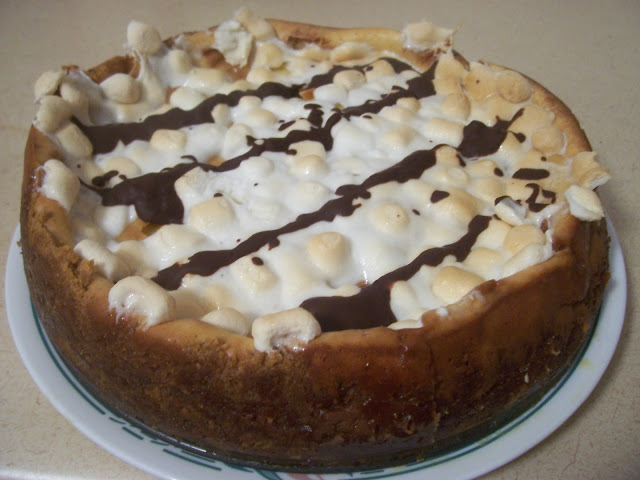 This cheesecake is different because it uses sweetened condensed milk instead of sour cream or heavy cream.
I think next time I'll stick to a mixture of heavy and sour cream because I wasn't a fan of the SCM base.
The recipe didn't call for a waterbath, which I guess doesn't matter because you cover the top with marshmallows. It did rise and shrink though.
And I really should test my oven because it took a lot longer to bake than the recipe says.
Smores Cheesecake
Ingredients
2 1/4 cups graham cracker crumbs
1/3 cup sugar
1/2 cup butter, melted
16 oz cream cheese
14 oz sweetened condensed milk
2 tsp vanilla extract
3 eggs
1 1/2 cups chocolate chips
2 cups mini marshmallows
1 Tbsp shortening or butter
Instructions
Preheat oven to 325F. In a small bowl, combine cracker crumbs and sugar. Stir in butter. Press onto bottom and up the sides of a greased 10-inch springform pan. Place on a baking sheet.
Beat cream cheese, milk, and vanilla until smooth. Add eggs, beat just until combined. Stir in 1 cup chocolate chips and 1 cup marshmallows. Pour into pan and bake 40-45 minutes or until center is almost set. Sprinkle with remaining 1 cup marshmallows. Bake 4-6 minutes longer or until marshmallows are puffed and toasted.
While cooling, melt remaining 1/2 cup chocolate chips and shortening. Drizzle over cheesecake. Cool for an hour. Refrigerate overnight.
Notes
Source: Taste of Home's Prize-Winning Recipes, 2006 p. 76
Source:
Taste of Home's Prize-Winning Recipes
, 2006 p. 76
This post may contain affiliate links. As an Amazon Associate and member of other affiliate programs, I earn from qualifying purchase.