Margarita Sorbet (Small Batch)
Churn up your favorite cocktail with a pint of Margarita Sorbet! This small batch dessert is a refreshing ending to your day.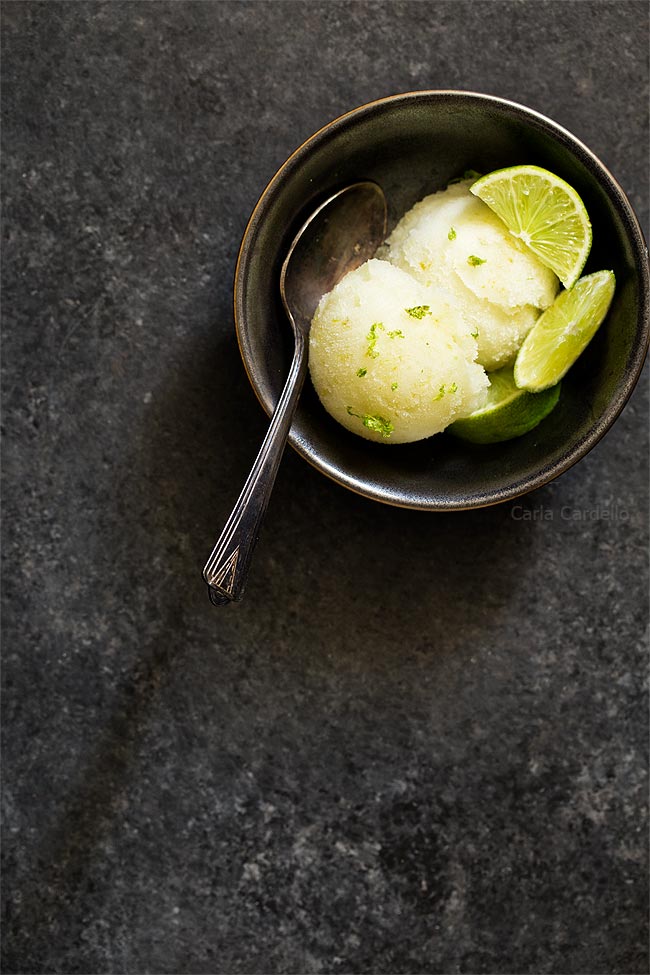 As I mentioned last week with my
Olive Tomato Puff Pastry Tart
, I'm having a challenging time finding inspiration and motivation this summer.
I really don't know what's wrong with me. I've taken a vacation, breaks, small day trips, and yet I'm still having trouble focusing.
Is it the summer slump? Will I get past this once fall is here?
It got me thinking about where I want to be in five years, and I still can't think of an answer.
Will I still be blogging? Do I want to still be blogging? What do I want to do with the rest of my life?
I'm not ready to answer those publicly yet, but I do love recipe developing and photography, so there's that.
This is the perfect opportunity for someone to let me borrow their crystal ball. Please and thank you.
To help me get my motivation back, I started making recipes bookmarked from my cookbook collection. And because I accidentally bought a bag of limes I didn't need, I had about 6 limes to use in my fridge.
I was talking with someone recently about how the local cider house now makes a frozen cider sorbet.
Then we started talking about how there aren't many places in Pittsburgh that make boozy ice cream.
There's a place in NYC called Tipsy Scoops that specializes in boozy ice cream; you actually have to be 21 to eat a scoop.
That got me in the mood to make Margarita Sorbet from David Lebovitz' book Ripe For Dessert.
I originally wasn't going to publish this recipe because the whole point was to not work, but between the feedback I got on Instagram stories and the small burst of motivation for styling, I went for it.
It's pretty much a frozen margarita served as a scoop (or two) in a bowl. The best part is if it melts before you finish, you can drink it like it's a regular margarita.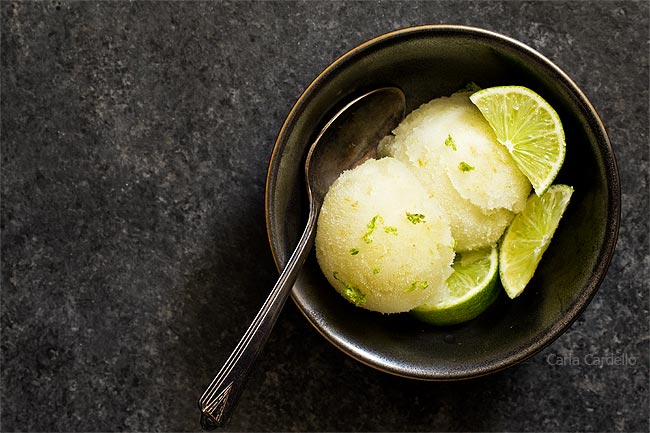 A traditional margarita is tequila, orange liqueur, and lime juice with salt along the rim. I have
Frozen Mango Margaritas
and
Creamsicle Margaritas
as examples.
I didn't add any salt because as I found out with my margarita popsicles, salt instantly melts sorbet.
This recipe is so simple you don't even need a mixer. All you need is a saucepan and a whisk.
Using an ice cream maker does make churning easier, but it's certainly not a necessity.
Read more about how to churn it by hand on my Homemade Small Batch Ice Cream Recipe guide.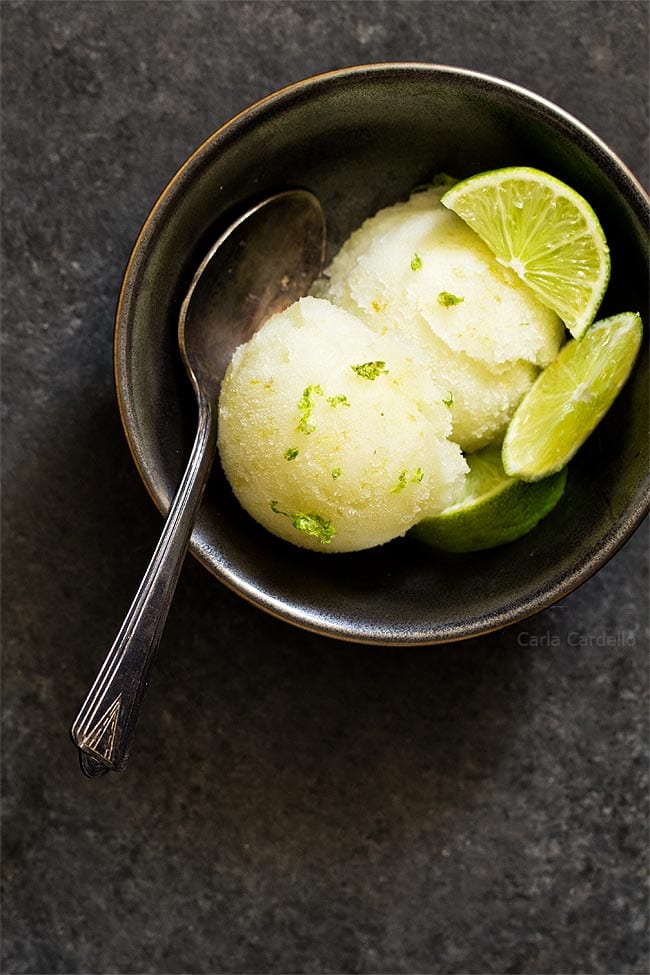 Because the alcohol doesn't burn off like it would in a cake, this sorbet is equivalent to drinking a margarita; it's not kid friendly.
If you want to make a non-alcoholic version, you can substitute lemon-lime pop.
Feel free to use this recipe as a starting point for other margarita flavors – strawberry, peach, mango, the possibilities are endless!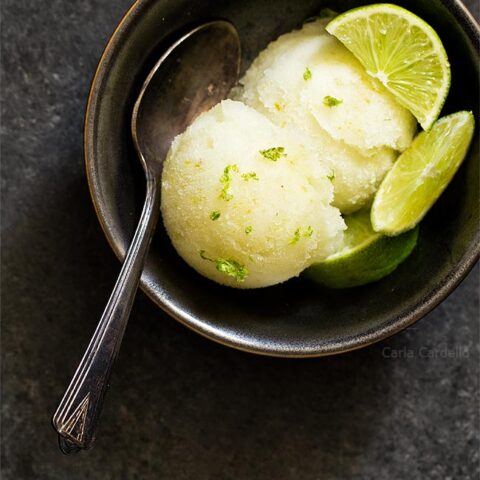 Margarita Sorbet (Small Batch)
Ingredients
1 1/2 cups water
1/2 cup granulated sugar
Grated zest from 2 limes
1/2 cup fresh lime juice (roughly from 5 limes)
2-4 tablespoons tequila
1 tablespoon Triple Sec
Instructions
In a large saucepan, bring the water and sugar to a boil. Whisk until the sugar has dissolved.
Remove from the heat and whisk in the lime zest, lime juice, tequila, and triple sec. Refrigerate until cold, about 1 hour.
Churn according to your ice cream maker's instructions then freeze until firm, at least 4 hours or overnight.
Source:
Ripe For Dessert
(Amazon affiliate link).
This post may contain affiliate links. As an Amazon Associate and member of other affiliate programs, I earn from qualifying purchase.