Single Serving Pumpkin Cookie (Eggless)
This eggless Single Serving Pumpkin Cookie is a soft, cake-like chocolate chip cookie that you aren't required to share. And let's face it – who would actually want to share their cookie?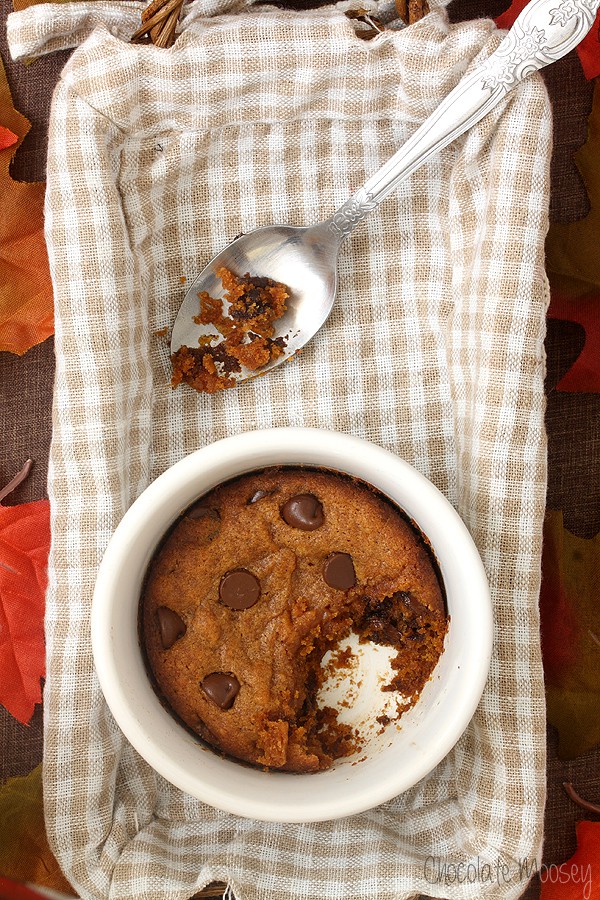 If you were to ask me what my favorite cookie is, I would immediately reply
chocolate chip cookies
.
That is, if you asked me from December – August. If you were to ask me right now through November, the answer will slightly change to pumpkin chocolate chip.
I'm not sure what it is about pumpkin, but it just makes everything taste better once September rolls around.
Growing up, my parents would often buy those soft pumpkin cookies with the bright orange icing from the grocery store bakery.
They used to be my favorite fall cookie until I made them myself with chocolate chips. Come on – chocolate chip >>> raisin.
Here's the dilemma – what do you do when you crave your favorite cookie but only want a little bit, not a whole two dozen (I mean, you DO want a whole two dozen, but your waist may say otherwise)?
You make a Single Serving Pumpkin Chocolate Chip Cookie. That's right – one soft, cakey cookie that'll make you fall in love with fall all over again.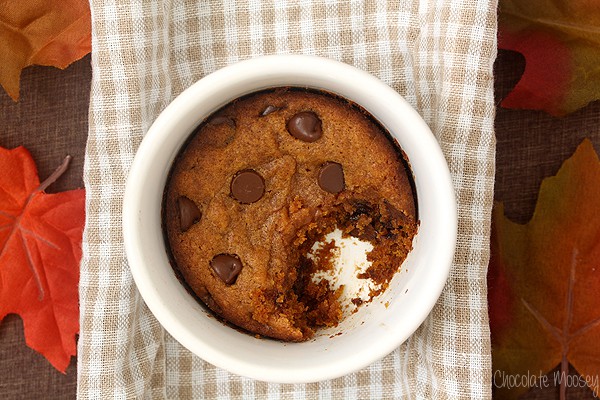 I made this bad boy FOUR times before finally getting it right. Which probably defeats the purpose of this being a single serving cookie, but who's counting?
If you don't own any ramekins, you need to buy them ASAP (Amazon affiliate)!
Of course I use them to make desserts for two, but as with most recipes, you can easily double or even quadruple this cookie recipe to serve more than just yourself.
I easily made my parents and brother my peach cobbler for two just by doubling the recipe.
So I guess my point is even though this recipe is catered for one, anybody can make this recipe if you do some math.
Thanks to the extra moisture from the pumpkin, the texture is soft and cake-like, which I felt was comforting for a fall cookie.
If you're expecting a chewy chocolate chip cookie, then you'll need to keep looking.
Using pumpkin also means you don't need to add egg; pumpkin is often used as an egg substitute in most baking recipes anyway.
Just make sure you whisk the melted butter and sugars together really well so it doesn't end up grainy.
This Pumpkin Chocolate Chip Cookie was so good warm that I didn't bother with ice cream. I highly recommend eating it straight from the oven as the chocolate chips remain melty.
Although through my recipe testing, I did eat part of one the next morning, and it was still just as good.
Not melty, but still soft with the spices hugging you like a fall sweater. But chances are you will never know because this cookie won't last that long.
Equipment you may need (Amazon affiliate links):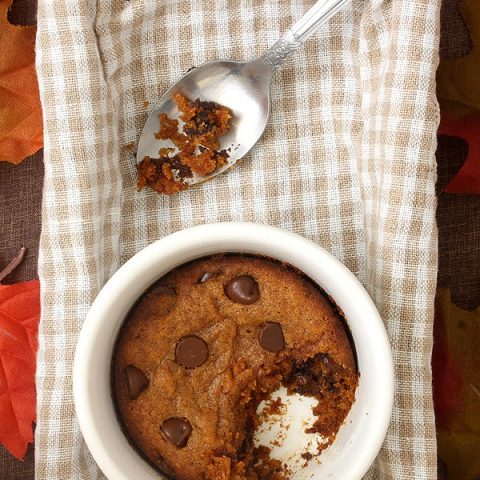 Single Serving Pumpkin Chocolate Chip Cookie (Egg Free)
Yield: 1 serving
Prep Time: 10 minutes
Cook Time: 18 minutes
Total Time: 28 minutes
This egg free Single Serving Pumpkin Chocolate Chip Cookie is a soft, cake-like cookie that you aren't required to share.
Ingredients
1 tablespoon melted unsalted butter
2 teaspoons granulated sugar
2 teaspoons brown sugar
1 tablespoon canned pumpkin puree
Few drops of vanilla extract
Pinch of salt
2 tablespoons all purpose flour
1/4 teaspoon ground cinnamon
1/8 teaspoon nutmeg
1/8 teaspoon baking soda
1 tablespoon semisweet chocolate chips
Instructions
Preheat oven to 375F degrees. Have one 6-ounce ceramic ramekin ready*.
In a medium mixing bowl, whisk together melted butter and both sugars and vanilla for at least 1 minute (you must really whisk in the sugars or it will be grainy after baking).
Whisk in the pumpkin and vanilla. Whisk in salt, flour, cinnamon, nutmeg. and baking soda. Whisk in the chocolate chips. Scrape the batter into the ramekin.
Bake 15-18 minutes or until the top is firm and brown and a toothpick inserted in the center comes out with few cookie crumbs. Let cool for a few minutes before serving.
Notes
*Using a different size and/or type of ramekin may affect intended texture of the cookie.
Want more cookie recipes?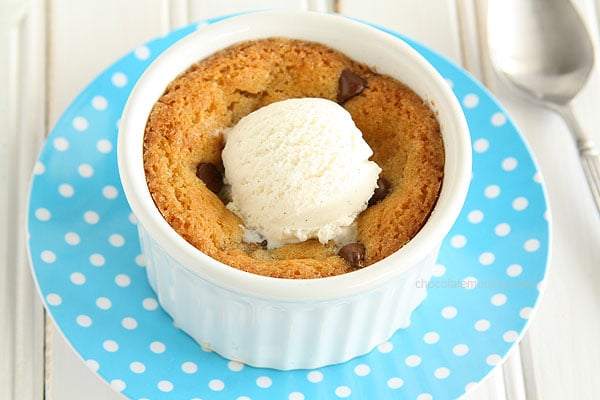 Single Serving Deep Dish Chocolate Chip Cookie
This post may contain affiliate links. As an Amazon Associate and member of other affiliate programs, I earn from qualifying purchase.