Irish Cheese and Bacon Cheesecake with Walnut Crust
Do you celebrate St. Patrick's Day? I'm not even Irish, but the holiday holds a special place in my heart. Six years ago, I studied abroad in Ireland and left part of my heart there. Every time I see something Irish, I get a little homesick. Today, the lovely
Jen from Jen's Favorite Cookies
invited a group of bloggers to share our favorite Irish-inspired recipes. I didn't want to be too traditional, so I made a savory Irish Cheese and Bacon Cheesecake with Walnut Crust.
I'm one of the lucky Americans who got to celebrate St. Patrick's Day in Ireland. Funny thing is it's such a touristy weekend. Most locals roll their eyes and usually stay away from the festivities. That's not to say they don't celebrate; most of them can be found at the bars from Friday to Sunday and have Monday off from work (the 17th was on a Saturday when I went). If you're traveling, you pretty much have to make hotel reservations a year in advance. Fortunately, I stayed with a friend in Dublin who was my tour guide for the weekend. We managed to fight and got front row at the parade so I could have a clear view for pictures. That's one thing I regret – I didn't take as many pictures as I would if I went back now. Funny how I would take pictures of the major events but not of the little details.
Irish cheese is a unique cheese. It's not cheddar or mozzarella or Colby jack. It's Irish cheese. The first brand that comes to mind is Kerrygold. I used a bit of Kerrygold butter when I was in Ireland. My housemates and I called it "the special butter" because we didn't get it all too often (college budget is tough, especially in another country). Now I can buy Irish cheese and butter in the states and know my food will be extraordinary. The brand really does make a difference sometimes.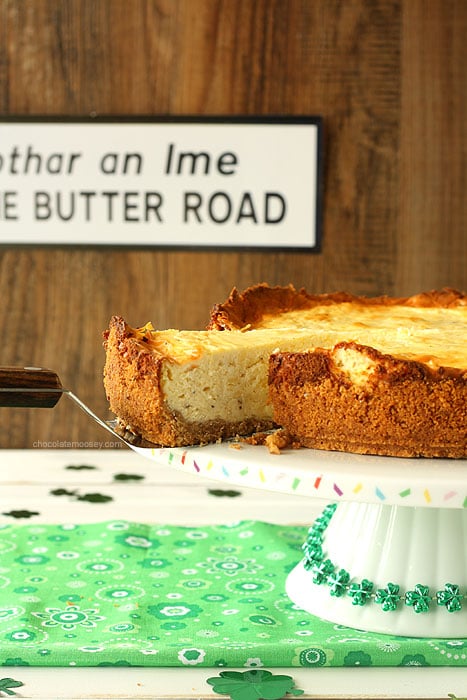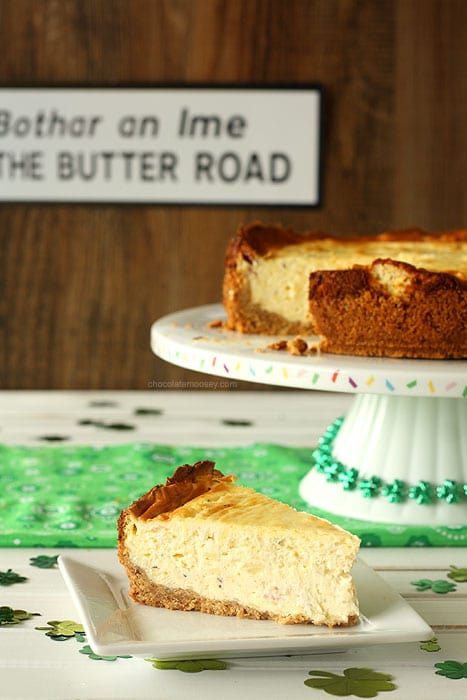 Now I know the sound of a savory Irish Cheese and Bacon Cheesecake is a little crazy. Even I was wondering what it would taste like. I saw a recipe for a plain cheddar cheesecake in a magazine, so I thought why not use Irish cheese and throw in some bacon? And boy, was it good. It's just like eating one of those cheddar cheeseballs you often see at parties. Creamy, cheesy, bacon-y. The walnut crust helps push the "dessert" towards the savory side. Wait, does that make it an appetizer now? And you're supposed to eat appetizers before dinner so…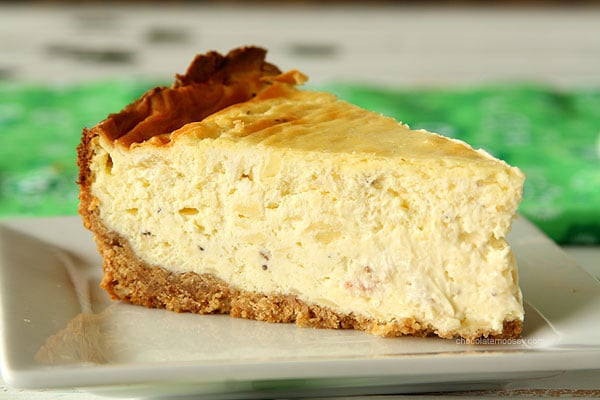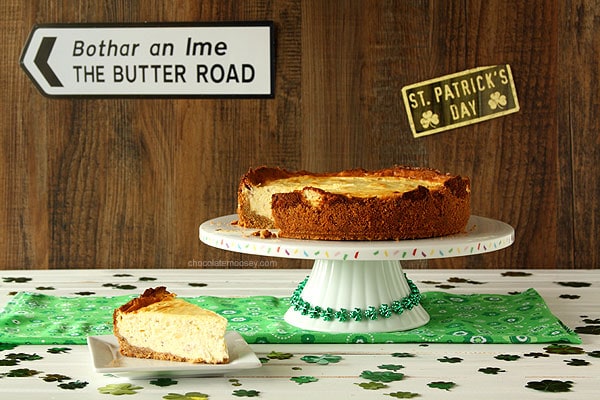 Irish Cheese and Bacon Cheesecake with Walnut Crust
Yield: 8-10 servings
Prep Time: 20 minutes
Cook Time: 45 minutes
Total Time: 1 hour 5 minutes
A savory Irish Cheese and Bacon Cheesecake with Walnut Crust that tastes like a cheese ball! Serve as an appetizer or savory dessert.
Ingredients
2 cups graham cracker crumbs
1/2 cup finely chopped walnuts
1/2 cup unsalted butter, melted
24 ounces cream cheese, softened
2 1/2 cups Irish cheese, shredded
2 tablespoons all-purpose flour
1/4 teaspoon dry ground mustard
1/2 teaspoon black pepper
1/4 cup whole milk
3 eggs, room temperature
1/2 cup cooked crumbled bacon
Instructions
Preheat oven to 375F. Have a 9 inch springform pan ready.
In a medium bowl, mix together the graham cracker crumbs, walnuts, and melted butter. Press into the bottom and up the sides of the pan. Place on a cookie sheet and set aside.
In a large bowl, beat the cream cheese until smooth and fluffy, about 2-3 minutes.
Beat in the Irish cheese, flour, dry mustard, and pepper until combined.
Gradually beat in the milk then beat in the eggs. Stir in the bacon.
Transfer the filling into the crust. Bake 40-45 minutes or until it is brown on top and is almost set (it will feel firm when touched and still wiggle a little bit when moved). Let cool until room temperature. Remove the side of the pan then refrigerate for at least 4 hours or overnight before serving.
Source: Adapted from Better Homes and Garden Holiday Appetizers 2004 magazine
—-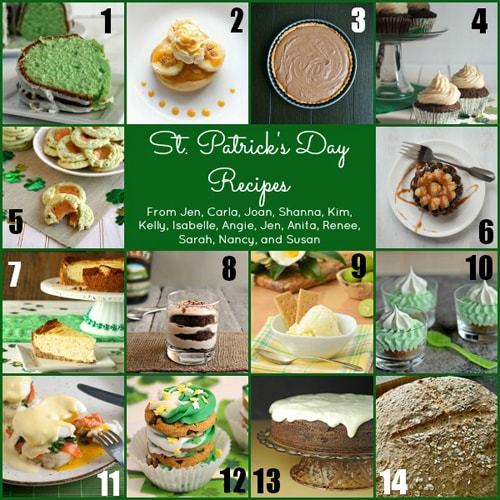 Looking for more St. Patrick's Day recipes? I am joining other awesome bloggers with a St. Patrick's Day round-up, so check out what they made:
1. Key Lime Pound Cake by Joan at Chocolate Chocolate & More
2. Mini Banoffee Pie Tarts by Kelly at Kelly Bakes
3. Chocolate Bailey's Mousse Tart from Nancy at Gotta Get Baked (no longer available)
4. Irish Carbomb Cupcakes from Susan at Girl in the Little Red Kitchen
5. Pistachio Caramel Cookies from Jen at Jen's Favorite Cookies
6. Guinness Stout Mini Bundt Cake from Shanna at Pineapple and Coconut
7. Irish Cheese and Bacon Cheesecake with Walnut Crust by Carla at Chocolate Moosey
8. Bailey's Irish Cream Cheese Trifle from Anita at Hungry Couple NYC
9. Key Lime Pie Ice Cream from Renee at Magnolia Days
10. Pistachio Mousse Cups from Kim at Cravings of a Lunatic
11. Irish Eggs Benedict from Isabelle Crumb Blog
12. St. Patrick's Day Cookie Stack from Angie at Big Bears Wife
13. Guinness Chocolate Cake from Jen at Juanita's Cocina
14. Irish Potato Oatmeal Bread from Sarah at What Smells So Good
This post may contain affiliate links. As an Amazon Associate and member of other affiliate programs, I earn from qualifying purchase.