Peach Caramel Sauce
Peach Caramel Sauce turns peaches into one delicious, sweet sauce with a hint of cinnamon and sea salt.

Living in my new apartment is definitely the opposite of my last place.
For starters, I didn't have neighbors right next door. The houses were stretched out and took a few minutes' to walk over.
Although my landlord lived in the apartment above me, she wasn't there all the time, leaving me completely quiet and alone. She also owned Scottish highland cows in the field next to us.
Now I'm in an apartment complex full of neighbors. Luckily it's a quiet building, one of my biggest worries when signing the lease.
Which also means I can hear my neighbors opening their door, and it's loud enough that it literally sounds like they are opening my door!
I will never, ever get used to that. Especially when I just get out of the shower and hear their door open. Wait, is that their door or mine?! I'm telling you, that's the scariest sound ever.
Anyway, I wonder if they can hear me when I'm using my blender because I made this Peach Caramel Sauce three times before finally getting it right.
Three batches of making peach puree. They probably think I'm into some big smoothie craze or something.
Peach Caramel Sauce totally counts as a drink, right? I mean look at it. It's in a jar. It's liquid-y when warm. It's fruit. That almost classifies it as a peach smoothie, no?
I got the idea for this Peach Caramel Sauce when I stumbled upon
this strawberry caramel sauce recipe
.
Immediately I thought about making it with peaches as they would make an excellent pairing with the caramel. And indeed I was right.
Instead of following her recipe, I took my trusted
Homemade Caramel Sauce recipe
and made a few adjustments.
She mentioned using peach puree instead of cream, so I reduced the cream.
Then I added cinnamon and sea salt to amp up the flavors.
Make sure you peel your peaches for a smooth sauce. Check out my step by step photos on How To Peel Peaches.
I'm telling you – this won't even make it as a sauce for your desserts because you'll eat it with a spoon right there.
If you do have more willpower than me, try spooning some peach caramel sauce on top of
peach ice cream
,
peach cobbler for two
,
peach dumplings
, or
peach cheesecake
to double up on the peach flavor.
Or add some peachiness to vanilla ice cream or caramel hot chocolate. You won't be disappointed!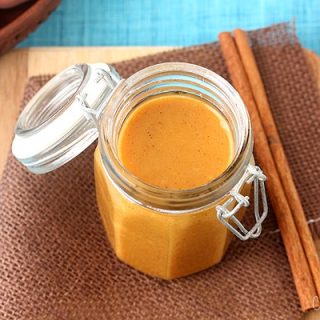 Peach Caramel Sauce
Peach Caramel Sauce turns peaches into one delicious, sweet sauce with a hint of cinnamon and sea salt.
Ingredients
1 cup peaches, peeled and chopped (learn how to peel peaches)
1 cup granulated sugar
4 tablespoons unsalted butter, softened and cut into tablespoons
2 tablespoons heavy whipping cream, room temperature
1/2 teaspoon ground cinnamon
1/2 teaspoon sea salt
Instructions
Have all of the ingredients ready to go because the process will go by quickly. Clear a path to the sink in case you need cold water.
In a blender, puree the peaches.
Place the sugar in the bottom of a heavy, deep saucepan and heat over medium heat. As the sugar melts, start whisking. As soon as all of the sugar is a light amber color, remove from the heat and carefully add the butter and whisk until melted (the sugar should look lighter than you would like because it will keep cooking. If you wait until the right shade of amber, it will burn once it is finished).
Carefully and slowly add the cream and peaches. Whisk to incorporate*. Whisk in the cinnamon and sea salt. Let cool in the pan for a few minutes then transfer to a heat-proof container. Cool to room temperature before storing in the refrigerator for up to two weeks. Warm before serving.
Notes
*If your caramel seizes (clumps) up when adding the cream, put it back over low heat and carefully whisk until smooth again. If needed, strain the sauce before cooling to remove any small clumps.
Source: Inspired by
Simple Bites
—-
Want more recipes like this?

Homemade Caramel Sauce
This post may contain affiliate links. As an Amazon Associate and member of other affiliate programs, I earn from qualifying purchase.