Mexican Hot Cocoa Sandwich Cookies
Chewy chocolate cookies spiced with cinnamon and chili sandwiched together with marshmallow filling
Mexican Hot Cocoa Sandwich Cookies and birthdays. Two things that you don't often see in the same sentence, but I did it anyway. Happy birthday, #SundaySupper! I probably should've made a cake for this occasion, but doubling the cookies and slapping them together with sweet marshmallow filling makes up for it, no? It's amazing how much you can grow in a year. I already discussed
my personal journey in 2012
, but at the same time Chocolate Moosey was growing, so was #SundaySupper.
To celebrate, we were to pick any recipe that was made for past #SundaySuppers and make it. Problem is there are so many wonderful recipes, where do you even begin? With dessert, of course. When Jen posted
Mexican Hot Cocoa Cookies
for our cookie exchange, I immediately wanted them. Then I envisioned them as sandwich cookies. Of course she broke my heart by using cake mix, but I forgive her because she sent me
cherry cookies
.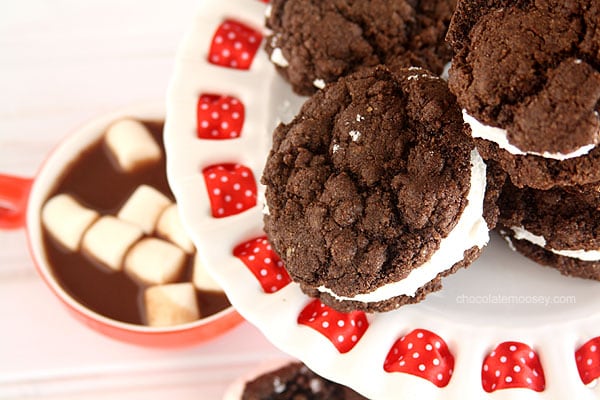 I don't like monotony, and since I did sandwich cookies
not too long ago
, I didn't want to make sandwich cookies so soon. However, I could not stop picturing these slathered together with marshmallow filling. After all, they can't be called Hot Cocoa Cookies without marshmallows.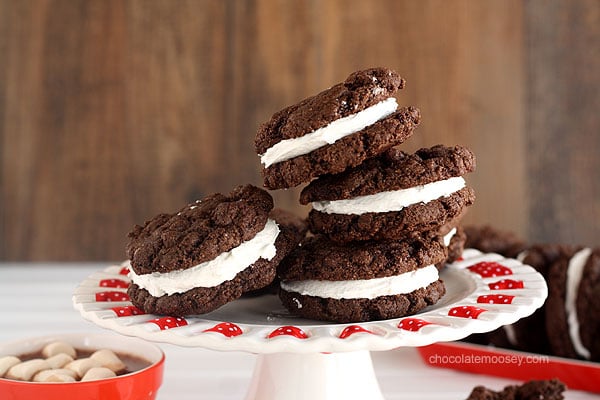 They are chewy chocolate cookies spiced with cinnamon and chili powder then binded together with a creamy and not-so-sticky marshmallow filling. Mexicans like spicing everything up, including their hot chocolate. I was going to do the glaze too, but I tend to bake at night, so I went to bed as they cooled. Instead of following Jen's directions with cake mix, I converted it all to scratch. You're welcome, baking snobs :D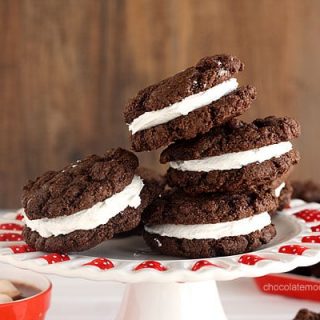 Mexican Hot Cocoa Sandwich Cookies
Ingredients
1/2 cup cocoa powder
1 1/4 cup sugar
1 1/2 cups flour
1 tsp baking soda
1/4 tsp baking powder
1/4 tsp salt
1/2 tsp cinnamon
1/2 tsp chili powder
1/2 tsp vanilla extract
2 eggs
1/4 cup vegetable oil
Marshmallow Filling
3/4 cup marshmallow fluff
1/2 cup vegetable shortening
1/2 cup powdered sugar
1 tsp vanilla extract
Instructions
Preheat oven to 350F. Line two cookie sheets with parchment paper.
In a large mixing bowl, sift together the cocoa, sugar, flour, baking soda, baking powder, salt, cinnamon, and chili powder. Add the vanilla, eggs, and oil. Beat everything together until combined and dough forms.
Scoop the dough into 24 balls and place onto the cookie sheets about 3 inches apart (if you have to reuse cookie sheets, let it cool between each baking). Bake 10-12 minutes or until puffed and cracked. Let cool on the sheet for a few minutes to remove to a cooling rack to cool completely.
For the filling: In a large bowl, beat together the marshmallow fluff and shortening until smooth, light, and fluffy, about 2-3 minutes. Add the powdered sugar and vanilla. Beat on high for another 2-3 minutes.
Take one cookie and spread some marshmallow filling onto the flat side. Take another cookie and press the flat side onto the filling. Repeat with the remaining cookies.
Inspired by
Juanita's Cocina
This post may contain affiliate links. As an Amazon Associate and member of other affiliate programs, I earn from qualifying purchase.