(Big) Rice Crispy Treat Snowballs
Remember when Hostess announced they were closing? How many of you panicked and bought the remaining Twinkies and Ho Hos? Personally, I grew up on Little Debbie snack cakes and didn't care too much. Even if I did go and buy a Ho Ho, not only would I feel sick halfway through, I would immediately regret wasting calories on something not spectacular. However, my dad loves Hostess Sno Balls, round cakes with a cream filling and covered with marshmallow frosting and coconut. I decided to do my version with (Big) Rice Crispy Treat Snowballs.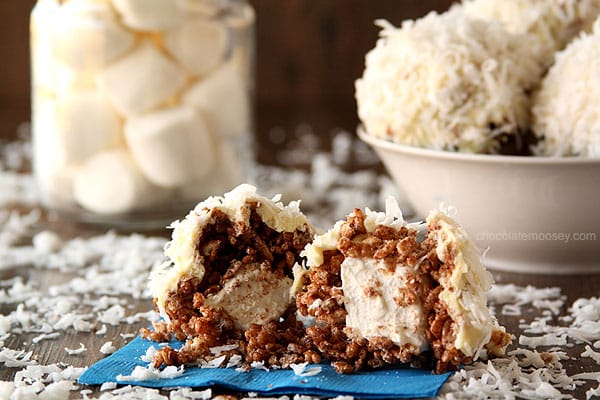 I didn't think these snowballs would end up as big as they did. Oops. And I'm pretty sure you can get first-degree burns from shaping really hot rice crispy treats. Does anybody else have this problem? You definitely need to coat your hands with some butter so the mixture doesn't stick (as much). I used a 1/2 cup measuring cup to help shape the treats.
To mimic the cream filling, I shaped cocoa crispy cereal around large marshmallows. Then after they cooled, I dipped the tops in white chocolate and sprinkled coconut on top. Next time I want to try buttercream frosting because white chocolate and I don't get along sometimes when melting.
When I brought these to my parents, my dad got so excited. He knew they were snowballs but not how he remembered them. I think he enjoyed them just the same.
Looking for a more traditional recipe? Check out my Small Batch Rice Krispie Treats made in a loaf pan.
[rss-cut]

(Big) Rice Crispy Treat Snowballs
Chocolate coconut snowballs using rice krispie treats
Ingredients
2 Tablespoons unsalted butter
2 cups mini marshmallows
4 cups cocoa rice crispy cereal
9-12 large marshmallows*
12 ounces white chocolate, chopped into chunks
2 cups shredded coconut
Instructions
In a large pot, melt the butter. Add the marshmallows and stir constantly until melted and smooth. Remove from the heat and stir in the cereal until everything is well-coated.
Line a cookie sheet with parchment paper. Rub a little bit of butter onto your hands to help with the stickiness (optional). Very carefully, shape roughly 1/2 cup of cereal around one large marshmallow. Repeat until all of the cereal is gone. Let cool completely.
In a microwave-safe bowl, microwave the white chocolate on power level 4 for 30 seconds. Keep microwaving in 15 second increments at power level 4 until the chocolate is melted and smooth. Dip the top of each snowball into the chocolate then sprinkle on some coconut (if you're having trouble dipping, spoon the chocolate on top). Let the chocolate harden before eating.
Notes
* You will get 9-12 snowballs, depending on how tightly you pack the balls around the marshmallow.
This post may contain affiliate links. As an Amazon Associate and member of other affiliate programs, I earn from qualifying purchase.