Mini Banana Split Cheesecakes (Small Batch)
These small batch mini banana cheesecakes taste like banana split but without the mess of melted ice cream.
Did you watch Food Network Star this summer?
I am a sucker for these food competition shows, so I've been watching Food Network Star since the third season.
Even though it has jumped the shark a few seasons ago, I can't help but continue to watch.
From the beginning, I knew Jay would be a finalist and under normal circumstances the winner, but because this is television, he was almost too flawless and too obvious to win.
Poor guy. I bet he'll be on The Cooking Channel (you know, where they actually COOK) very soon.
Eddie is definitely charismatic to pull it off and still good enough to be the winner, but I thought Jay edged him out just a bit.
Wouldn't you want your winner to be the absolute best instead of the second best?
I was not impressed with the pilots at all where the finalists traveled to already-established restaurants and featured them.
Um hello! Can you please cook something for your show? I'm tired of these shows finding the best of the best around the country.
Until I'm traveling to that particular destination and actually looking for places to eat, I don't care because I will never visit/remember these places.
It's great that these local establishments are getting highlighted and hopefully increased business from being featured, but please can we go back to cooking?
Although I will admit Jay's pilot has me craving chicken and waffles, and when they mentioned general tso's chicken and waffles? I can't wait to recreate that one myself.
Another aspect Food Network is missing is a dessert show.
Years ago, they did have Dessert First, but unfortunately the host was booted for plagiarizing recipes.
Whether that's true I'm not sure because there are only so many ways you can make frosting for German chocolate cake.
I guess until Food Network puts on another baking show, you'll just have to keep coming back to my blog for your dessert recipes, including these small batch Mini Banana Split Cheesecakes.
I wanted these mini banana cheesecakes to taste exactly like a banana split minus the melting ice cream part.
They are creamy, banana-y, and have all the toppings you'd expect from a traditional banana split.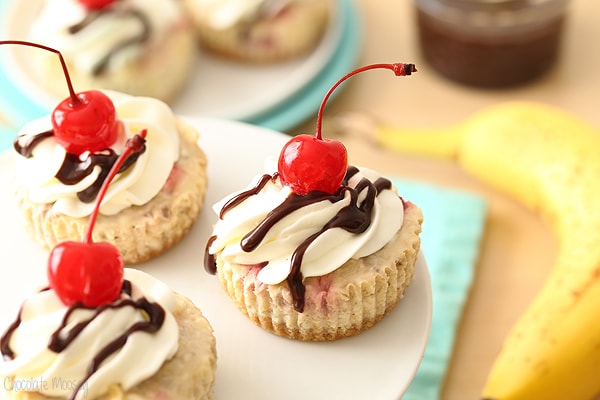 Did you know that banana splits were invented in Latrobe, PA? That is about an hour east of Pittsburgh and about 40 minutes east of my hometown.
I think it's fun to grow up near where something famous was invented.
I've been to Latrobe a few times because the Pittsburgh Steelers have training camp there.
I have not, however, eaten a banana split when I visit. Maybe I should fix that.
Banana splits remind me of my dad because he loves to get them when we go to an ice cream parlor.
Traditionally, banana splits are topped with pineapple, strawberries, nuts, hot fudge sauce, whipped cream, and of course a cherry on top.
I wanted all of those flavors to be present when you take a bite into the mini cheesecakes.
You might notice that the nuts are missing in the photos. That's because after I finished shooting, I turned around and noticed the chopped nuts sitting on my kitchen counter. Oops.
I would definitely recommend sprinkling some chopped nuts on top before serving.
Mini Banana Split Cheesecakes
Yield: 8 mini cheesecakes
Prep Time: 20 minutes
Cook Time: 35 minutes
Chill Time : 4 hours
Total Time: 4 hours 55 minutes
These small batch mini banana cheesecakes taste like a banana split but without the mess of melted ice cream.
Ingredients
1 cup graham cracker crumbs
3 tablespoons butter, melted
8 ounces (1 block or 8 tablespoons) full-fat cream cheese, room temperature and not cold to the touch (do not sub fat free)
1/4 cup granulated sugar
1 egg, room temperature and not cold to the touch
1/2 cup mashed banana (roughly 1 banana)
1/4 cup crushed pineapple, drained
1/4 cup chopped strawberries
1/2 teaspoon vanilla extract
1 recipe Small Batch Whipped Cream, for garnish
Hot fudge sauce, chopped nuts, and maraschino cherries, for garnish
Instructions
Preheat oven to 325F. Line a muffin pan with 8 paper liners. If not using paper liners, grease with cooking spray.
In a small bowl, mix together the graham cracker crumbs and melted butter until moistened and clumpy.
Press roughly 2 tablespoons crumbs into the bottom of each paper liner. Bake 5-8 minutes or until set and no longer looks wet. Cool while you make the filling.
In a large mixing bowl on high speed, beat together the cream cheese and sugar until light and fluffy, about 2-3 minutes. Scrape down the bowl as needed.
Beat in the egg for 1 minute or until smooth (do not overbeat). Beat in the banana, pineapple, strawberries, and vanilla.
Divide the filling among the paper liners. They should be filled to the top. Bake 30-35 minutes or until tops and edges are firm, the center slightly jiggles when moved, and internal temperature is 150F.
Cool for 1 hour at room temperature then cover and refrigerate at least 4 hours or overnight before garnishing and serving.

Store leftovers in an airtight container in the refrigerator for up to 5-7 days.
Recommended Products
As an Amazon Associate and member of other affiliate programs, I earn from qualifying purchases.
More Banana Recipes

Banana Cupcakes with Chocolate Fudge Frosting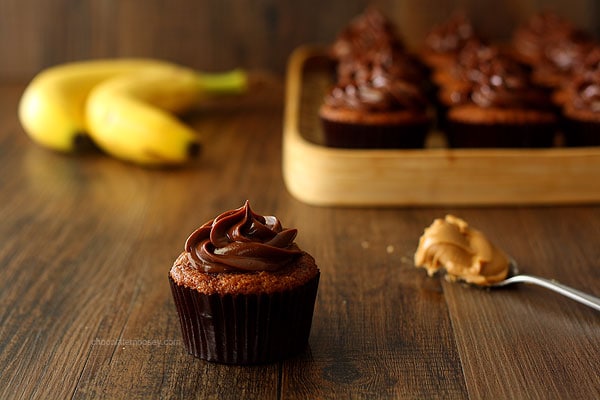 Roasted Banana Cupcakes with Peanut Butter Ganache Frosting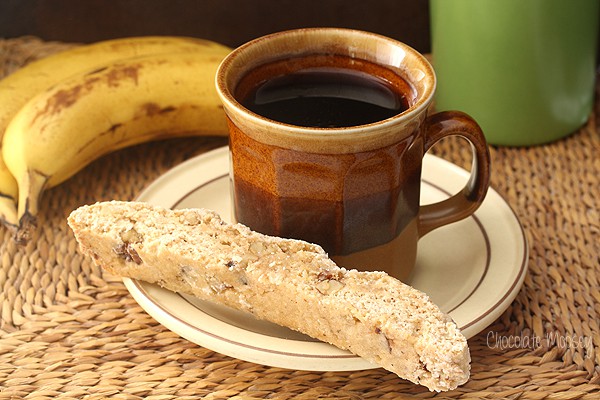 Banana Walnut Biscotti

Banana Nut Blondies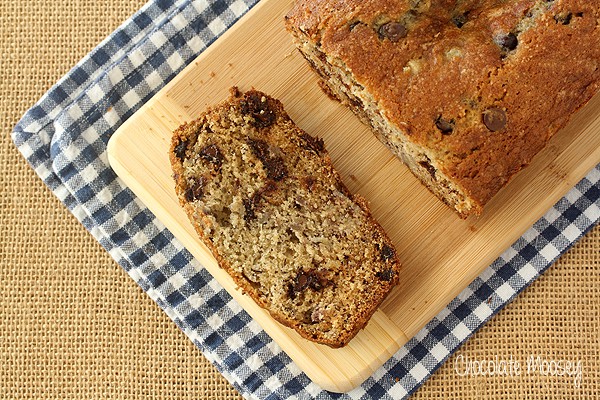 Banana Chocolate Chip Bread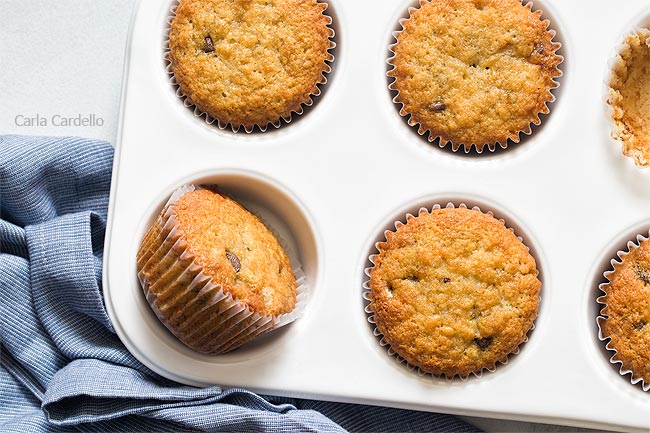 Small Batch Banana Muffins
This post may contain affiliate links. As an Amazon Associate and member of other affiliate programs, I earn from qualifying purchase.