Homemade Cherry Cream Soda
Learn how to make homemade cherry cream soda with fresh cherries. Perfect to drink as it or pour over ice cream for ice cream floats.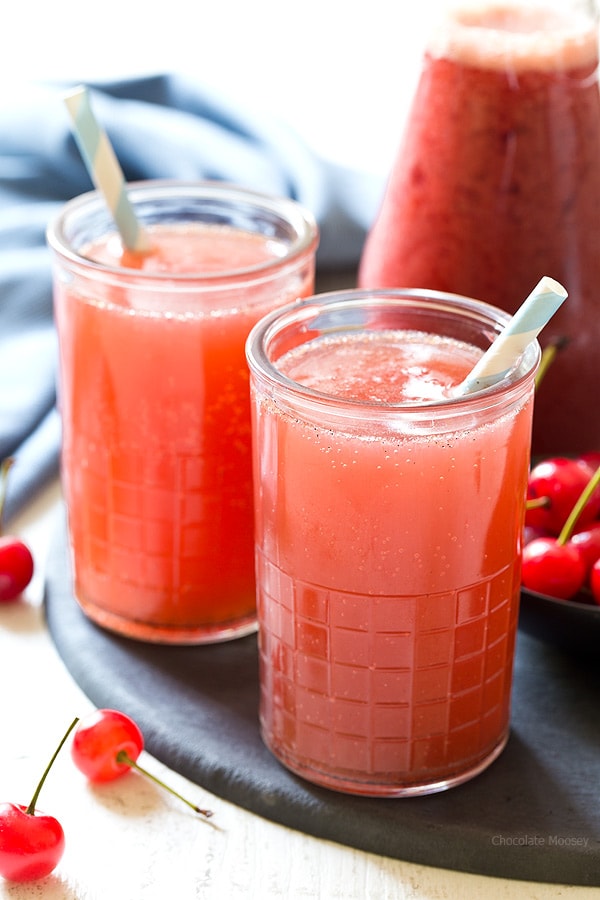 Last weekend a friend and I went exploring in our own city of Pittsburgh with our cameras. Sometimes I feel awkward walking around as a local with my camera, like I'm a new tourist for the first time. I don't know why it bothers me so much. Probably because nothing says "look at me!" quite like whipping out your camera in a non-touristy area. Having a friend around helps because then I can focus on her and not on the people staring at us. One way we figure out awesome shooting locations is to follow other local city photographers on Instagram. I follow a good bit of Pittsburgh photographers, so when I see a cool photo, I'll send my friend a link and tell her we need to go there. The one group even coordinates local photo walks, so I'm hoping to attend their next one coming up. Make sure you check out my
@citylifeadventures
Instagram account for city and travel photos.
Anyway, when my friend and I went shooting this weekend, it was hot. Super hot. 90 degrees hot. My friend left shortly after lunch time because she had to finish packing for her vacation. I went home and drank all the liquids because I was dehydrated. Usually my go-to is ice cold water (without the ice), but sometimes I get bored with only water. At this point, it was too late in the day for coffee. Since I still had sour cherries left from a few weeks ago in the freezer, could I make some sort of cherry drink? Then it hit me – homemade cherry cream soda aka red cream soda. I loved drinking red pop growing up, whether it was red cream soda or simply red pop. I've made Vanilla Bean Cream Soda Floats before, so I knew how to make cream soda. All I had to do was add cherry juice.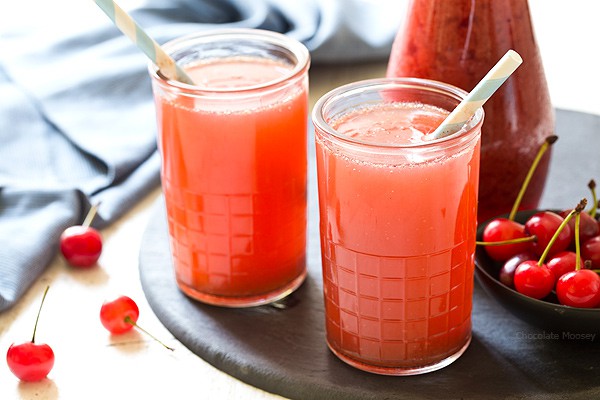 Making homemade cream soda is easy. Boil together sugar and water then stir in vanilla bean paste or extract. To finish it off, I stirred in cherry juice made from freshly blended sour cherries. Your color may vary if you use another type of cherry, such as dark bing cherries. Not fresh cherry season? Buy bottled juice or blend up frozen cherries.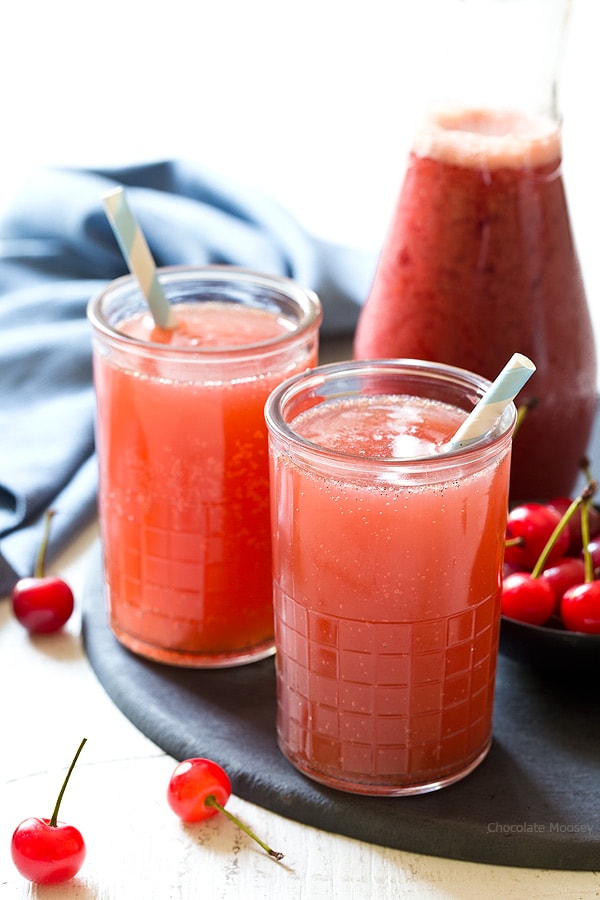 I drank my cherry cream soda as is, but you can take it one step further and add ice cream for some red cream soda floats.
Homemade Cherry Cream Soda
Yield: 2 drinks
Prep Time: 15 minutes
Cook Time: 5 minutes
Total Time: 20 minutes
Learn how to make homemade cherry cream soda with fresh cherries. Perfect to drink as it or pour over ice cream for ice cream floats.
Ingredients
1/2 cup water
1/2 cup granulated sugar
1 tablespoon vanilla bean paste (or seeds from 1 vanilla bean + 1/2 teaspoon vanilla extract)
1 cup fresh cherry juice* (see Note on making your own)
1 cup seltzer water
Instructions
In a large saucepan, whisk together the water and sugar. Bring to a boil over medium heat, whisking often.
Boil for another 1-2 minutes or until the sugar has fully dissolved.
Remove from the heat and whisk in vanilla paste and cherry juice. Cool to room temperature then refrigerate until cold.
Right before serving, add the seltzer. Serve immediately.
Notes
*To make 1 cup fresh cherry juice: Add 1 cup pitted sour cherries and 1/2 cup water to a blender. Blend until smooth. Pour through a fine mesh strainer into a large bowl, discarding any solids left behind.
This post may contain affiliate links. As an Amazon Associate and member of other affiliate programs, I earn from qualifying purchase.