Funfetti Ice Cream Sundae Cupcakes
What better way to celebrate summer than with Funfetti Ice Cream Sundae Cupcakes? Don't let their looks fool you. Even though these cupcakes look just like ice cream sundaes, there is no real ice cream involved. That's right – that is not ice cream on top. It is vanilla frosting that I conveniently scooped on top with an ice cream scoop. I used that method once before with my
Root Beer Float Cupcakes
. Then I melted some chocolate chips and a little bit of oil to create a magic shell on top for the fudge sauce. Then for whatever reason I couldn't find maraschino cherries with stems, so I had to go with stemless.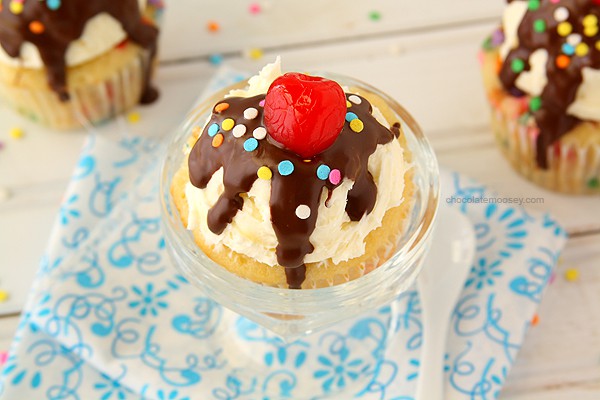 Funfetti has always been my favorite flavor of cake. I grew up with the boxed mixes, but as soon as I was old enough to bake on my own, I started making cakes from scratch. It's pretty much a butter cake with sprinkles mixed in. However, the type of sprinkles used does matter. If you use the nonpareils (the little dots), they tend to bleed into the batter and make a colorful mess. It's best to use rainbow jimmies or confetti sprinkles like I did. If you do find yourself using the nonpareils, carefully fold them into the batter and do not overmix.
When my coworker saw these, she mentioned how they would make a great party dessert baked into ice cream cones. I can't tell you how many cones this recipe would make, but feel free to get creative and be the star of your child's party. I bet you could even do an ice cream bar and have different toppings available to decorate your cupcakes.
Funfetti Ice Cream Sundae Cupcakes
Funfetti Ice Cream Sundae Cupcakes
Ingredients
1 2/3 cups all purpose flour
1/2 teaspoon baking powder
1/4 teaspoon baking soda
1/2 teaspoon salt
1 cup granulated sugar
1/2 cup (1 stick) unsalted butter, melted
1 egg
1 teaspoon vanilla extract
1/4 cup sour cream
3/4 cup milk
1/2 cup rainbow sprinkles
Frosting
3 cups powdered sugar, sifted
1 cup (2 sticks) unsalted butter, softened
Pinch of salt
1 teaspoon vanilla extract
Chocolate
1/2 cup semisweet chocolate chips
1 tablespoon vegetable oil
Instructions
Preheat the oven to 350F degrees. Line a cupcake pan with 12 liners.
In a medium bowl, whisk together the flour, baking powder, baking soda, and salt.
In a large bowl, beat together (with a mixer or whisk) the sugar and melted butter. Beat in the egg then vanilla and sour cream.
Add 1/3 of the flour mixture. Add 1/2 of the milk. Add another 1/3 part flour mixture. Add the remaining milk then add the remaining flour mixture. Fold in the sprinkles.
Divide the batter into the 12 liners. Bake 20-25 minutes or until a toothpick inserted in the center comes out clean. Cool completely.
For the frosting:
In a large mixing bowl, beat together the sugar, butter, and salt until smooth, 2-3 minutes. Add the vanilla and beat another 2-3 minutes until fluffy. Scoop (or pipe) frosting on top of each cupcake.
For the chocolate:
In a microwave-safe bowl, melt the chocolate chips. Stir in the oil. Pour over each cupcake. Top with sprinkles and a cherry. Refrigerate until the chocolate hardens. Store in an airtight container for up to one week. Keep refrigerated if the chocolate softens too much.
Source: Adapted from
125 Best Cupcake Recipes
—-
If you liked my Funfetti Ice Cream Sundae Cupcakes, you may also like these recipes:
This post may contain affiliate links. As an Amazon Associate and member of other affiliate programs, I earn from qualifying purchase.