Dulce De Leche Milkshakes With Coconut Milk Whipped Cream
Happy weekend and happy almost Cinco de Mayo! I am teaming up with a wonderfully talented group of bloggers to bring you a delicious round up of Mexican goodies, starting with my Dulce De Leche Milkshakes with Coconut Milk Whipped Cream. Imagine caramel milkshakes paired up with coconut cooling down your palate after you indulge in hot salsa and spicy carnitas. They say dairy is the best thing to drink with a spicy meal, and you can't argue with caramel milkshakes.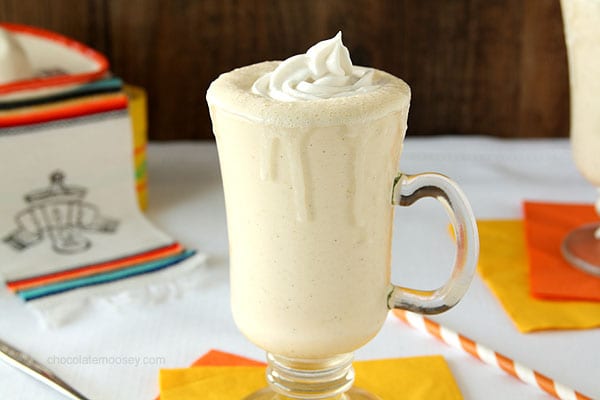 Growing up in high school, I took Spanish for four years and participated in class fiestas and various trips to local Mexican restaurants. We even got to choose our Spanish name, so I picked Catalina. One of the traditions was celebrating Cinco de Mayo, even though it's about victory from a war and technically not independence day. Funny thing is we had lots of typical Mexican food – chips and salsa, rice, beans, tacos – but I don't remember too many dulce de leche treats, which is a huge bummer because dulce de leche is amazing.
What is dulce de leche? It is pretty much caramelized milk used often in Latin desserts. But before you run out and buy a jar, did you know you can make your own for much less, thanks to
Baker's Royale's guide
? All you need is a can of sweetened condensed milk. The easiest (and less terrifying) way is pour the milk into a baking dish, put that dish into a bigger pan, pour hot water around it to create a water bath, and bake. Some people swear by boiling the unopened can in hot water, but that scares me a little. Baking in the oven it is.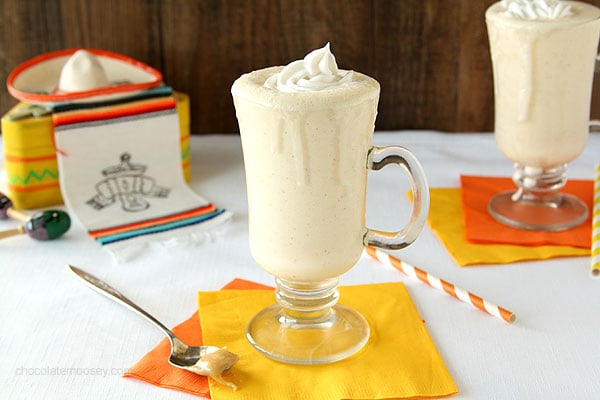 One word of advice – don't fill your glass too high because adding whipped cream will cause it to overflow. I referred to
this frustrating milkshake shoot earlier this month
. As you can see by the mess on the glass, my milkshakes overflowed. About ten paper towels and one ruined tablecloth later, I decided to roll with what I got, hoping the not-so-perfect milkshakes were understandable. I mean we've all made dumb mistakes in the kitchen before, right?
Dulce De Leche Milkshakes
Dulce De Leche Milkshakes With Coconut Milk Whipped Cream
Ingredients
One (13.5 ounce) can coconut milk
1 tablespoon granulated sugar
2 cups vanilla ice cream
1 cup dulce de leche*
Instructions
Open the coconut milk. Scoop out the solid white part you see on top and place into a mixing bowl (do not get any of the liquid). Add the sugar. Beat for a few minutes or until stiff peaks form (when you pull the beaters straight up, the peaks formed do not fall over). Set aside.
With the coconut liquid, measure out 1/2 cup. If there is leftover liquid, save for another use.
In a blender, add the 1/2 cup coconut liquid, ice cream, and dulce de leche. Blend until smooth. Pour into serving glasses. Top with whipped cream.
Notes
*If making homemade dulce de leche, one 14 ounce can sweetened condensed milk = a little over 1 cup© Chocolate Moosey. All images and content are copyright protected. Please do not use my images without prior permission. If you want to republish a recipe, please rewrite it in your own words or link back to the post for the recipe.
If you liked these Dulce De Leche Milkshakes with Coconut Milk Whipped Cream, you may also like these recipes: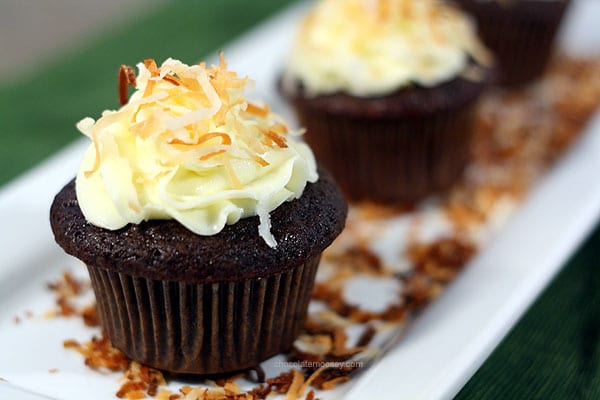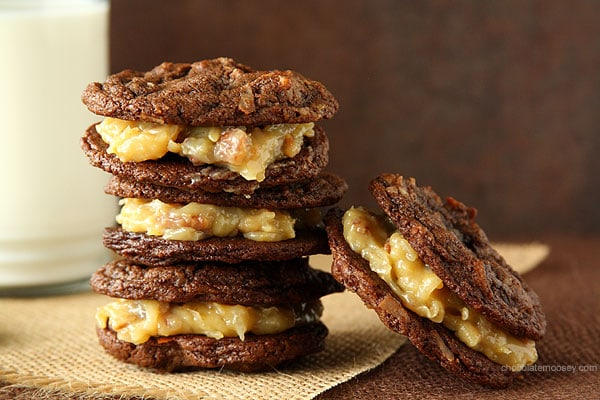 As I said earlier, I am teaming up with other bloggers to help you with your Cinco De Mayo menu. Check them out!
1. Alfajores from Roxana's Home Baking
2. Spicy Fish Tacos with Avocado Yogurt Sauce from Crumb Blog
3. Classic Flan from That Skinny Chick Can Bake
4. Dulce de Leche Milkshake with Coconut Milk Whipped Creamfrom Chocolate Moosey
5. Lime Margarita Bars from Girl in the Little Red Kitchen
6. Shrimp and Avocado Ceviche from Magnolia Days
7. Tropical Fiesta Cocktail from Hungry Couple NYC
8. Paletas – Mexican Popsicles from Pineapple and Coconut
9. Bizcochitos Cookies from Jen's Favorite Cookies
10. Mexican Hot Chocolate Cupcakes from Gotta Get Baked (no longer available)
11. Vegan Taco Salad from What Smells So Good
12.Gluten Free Tres Leches Cake from Kelly Bakes
13. Spicy Queso Blanco from The Messy Baker
14. Gorditas with Picadillo from Juanita's Cocina
15. Strawberry Margarita Slurpee from Chocolate Chocolate and More
This post may contain affiliate links. As an Amazon Associate and member of other affiliate programs, I earn from qualifying purchase.