Root Beer Float Cupcakes
Labor Day marks the end of summer, but why do we celebrate Labor Day? It's not like everyone has the day off. I used to work in retail, and I almost always worked holidays. In fact, I purposely volunteered for holidays so I would get paid time and a half. I did some research, and it looks like Labor Day was established for labor unions to have a day off. I'm sure those hard working men and women would love to have come home to an ice-cold root beer float. I know I love them when it's ridiculously hot outside. However, root beer floats don't travel very well to potlucks and cook-outs. Cupcakes do, which is why I baked some Root Beer Float Cupcakes topped with Vanilla Cream Frosting. Yes, folks, that is not ice cream. That is pure frosting.
I wanted to celebrate the end of summer with Root Beer Float Cupcakes. I saw the idea of scooping frosting on top of cupcakes instead of piping from
The Spiffy Cookie
. That kinda looked like ice cream. What if I did a play on root beer float where the cupcake was root beer and the frosting was vanilla "ice cream"? I put vanilla bean and a little bit of heavy cream in the frosting to mimic ice cream, so it's not a straight-up vanilla buttercream.
You do have to buy one speciality item – root beer float extract. There really is no way of getting that root beer flavor without it. Before you start complaining about buying a pricey ingredient you'll use only once, you can make homemade root beer, root beer cookies, and root beer lollipops with it. I don't eat lollipops, but the other two recipes are on my list to make.
As you can see, there is a ton of frosting on top. I'm not the type to eat *that* much frosting, so you'll have to decide if you want that much or if you just want to pipe some on, which would result in not using as much. Alternatively, you can use a smaller scoop. It won't cover the whole surface, but it definitely would be less frosting. For the straws, I cut off the top part of bendy straws and stuck them into the frosting. If you don't mind making a mess, pour hot fudge sauce on top. You may want to use a bowl for easy eating (and clean up).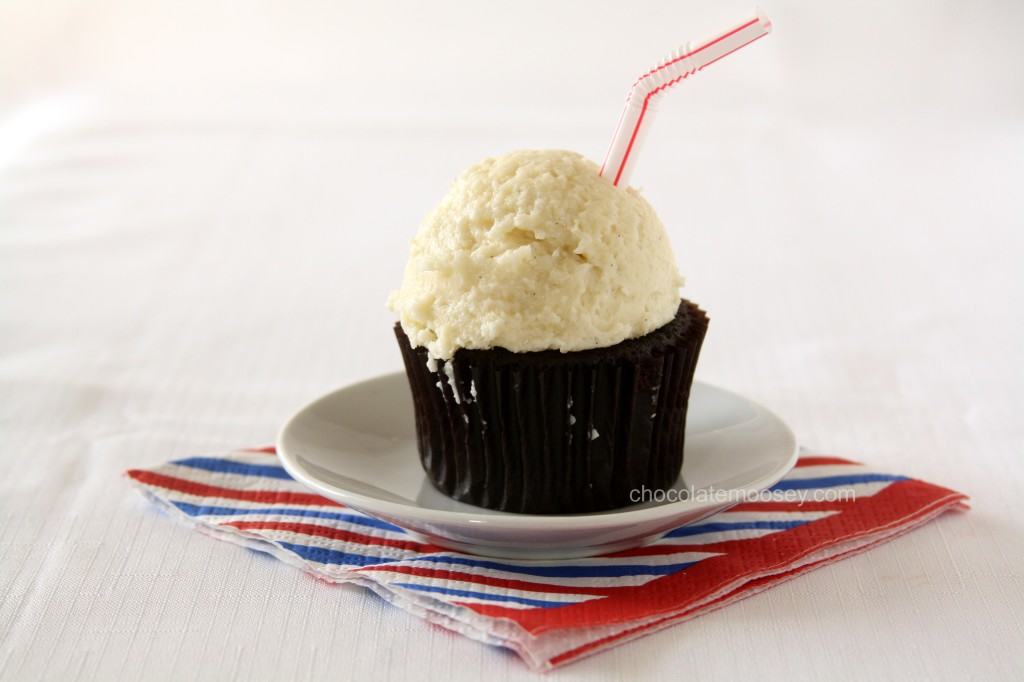 The cupcake itself is chocolate and root beer. I added a bit of cinnamon and all spice to bring out the root beer more. It tastes like, well, root beer. If you concentrate really hard, you can almost imagine the fizz from the root beer.
Root Beer Float Cupcakes
Use an ice cream scoop to scoop on the frosting for presentation.
Ingredients
1/2 cup flour
2 Tbsp cocoa
1/2 tsp baking soda
1/4 tsp salt
1/8 tsp ground cinnamon
1/8 tsp ground all spice
1/4 cup + 2 tbsp brown sugar
1 egg
1/4 cup heavy cream
1/4 cup butter, melted
1/2 tsp vanilla extract
1 tsp root beer extract
1 tbsp sour cream
2 ounces root beer
Frosting (if scooping instead of piping, double the recipe)
1 vanilla bean
1/3 cup heavy whipping cream
1 1/3 cups powdered sugar
1/2 cup unsalted butter, room temperature
Pinch of salt
Hot Fudge Sauce (optional)
Instructions
Preheat oven to 350F. Line a cupcake pan with 8 liners.
For the frosting: warm the cream in a small saucepan. Remove from the heat. Cut a slit down the middle of the vanilla bean and scrape out the seeds into the cream. Add the vanilla bean itself. Cover and let seep while you make the cupcakes.
For the cupcakes: in a small bowl, whisk together the flour, cocoa, baking soda, salt, cinnamon, and all spice. Set aside.
In a medium bowl, whisk together the egg and sugar until smooth. Whisk in cream, butter, vanilla, and root beer extract. Whisk in sour cream. Whisk in the dry ingredients then whisk in the root beer. Scoop into cupcake liners and bake 15-18 minutes or until a toothpick inserted in the center comes out clean. Let cool. If you're not making the frosting right away, refrigerate the vanilla-infused cream.
For the frosting: In a large bowl on medium speed, beat together the sugar, butter, and salt until creamy for 2-3 minutes. Increase the speed to high and beat until light and fluffy, another 2-3 minutes. Strain the cream into the bowl; save or discard the vanilla bean for another use. Beat the frosting until smooth. Pipe or scoop the frosting onto the cooled cupcakes. Pour on hot fudge sauce, if desired.
Source: Cupcakes adapted from
How Sweet Eats
; Frosting adapted from
125 Best Cupcakes Recipes by Julie Hasson
This post may contain affiliate links. As an Amazon Associate and member of other affiliate programs, I earn from qualifying purchase.