Dirty Martini Steak Kabobs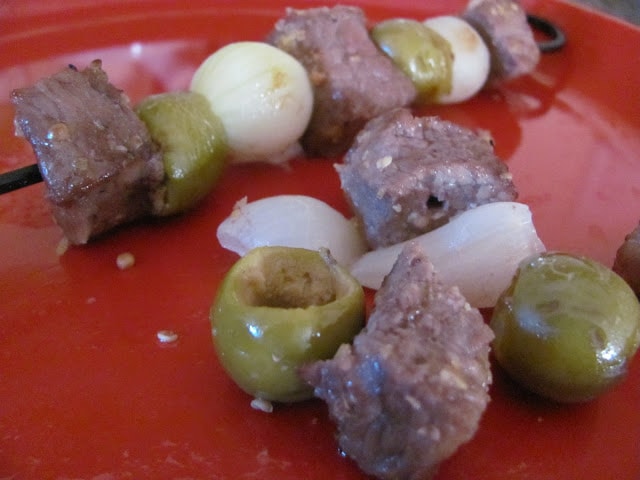 McCormick
launched its 2011 Flavor Forecast, which lists the top ten food pairings for the year. Earlier, I recapped those ten pairings. Thanks to McCormick, I had the opportunity to test out some of these pairings. First was the pairing of
cilantro and nut butter
. The next pairing I tried was mustard and vermouth. At first, I ruled out the recipe for these Dirty Martini Steak Kabobs because I had to buy vermouth, which I thought was expensive. However, I decided stop by the liquor store and see how much it was. Since vermouth is a type of wine, I'm looking up and down the wine aisle, hoping the find the word vermouth printed on the bottle. No luck so as I was walking out the door, the guy asked what I was looking for. I told him I needed vermouth for a recipe. Turns out vermouth had its own section next to the gin. Um ok? Plus side a small bottle was around $4, so I went for it.
This recipe is also easy to put together if you prepare ahead of time. First you need to marinade the meat at least two hours, longer for a stronger flavor. I decided to do it the night before work so I could fix it for dinner the next day. To save even more time, you could cube it, but I was tired and left the steak whole. When you're ready to cook, you boil pearl onions for 5 minutes and then remove the paper. However, when it came time to thread the skewers and alternate with olives, I didn't realize my olives needed to be pitted. Luckily, I bought a pitter for $3 on clearance when I worked at Target, thinking I was going to do something with cherries that summer (never happened). After they were assembled, I broiled them for 5 minutes. Very delicious and definitely a meal I'm going to make again soon.

Dirty Martini Steak Kabobs
Dirty Martini Steak Kabobs with pearl onion and olives
Ingredients
2 tablespoons mustard seeds*
3/4 cup dry vermouth
1/2 cup olive oil
1/4 cup fresh lemon juice
2 tablespoons honey
2 tablespoons juice from green olives
1 1/2 teaspoons grated lemon peel
1 teaspoon minced garlic
1 1/2 teaspoons sea salt
1/4 teaspoon ground black pepper
2 pounds boneless beef sirloin steak, cut into 1-inch cubes
16 small cippolini onions
16 large pimiento-stuffed green olives
Instructions
Heat a medium skillet on medium heat. Add mustard seed and cook 1 minute or until fragrant. Immediately pour into a bowl to prevent overtoasting. Crush the seeds with a mortar and pestle (alternatively, you can use a rolling pin).
In a large bowl, mix together the crushed mustard seed, vermouth, oil, lemon juice, honey, olive juice, lemon peel, garlic, sea salt, and pepper. Reserve 1/4 cup of the marinade for brushing. Place remaining marinade in a large resealable plastic bag and add the beef. Refrigerate at 2 hours or up to overnight.
In a small saucepan, boil some water. Add the onions and cook 5 minutes. Drain well. Cut off the top and bottom ends then peel. Set aside.
Remove the beef from marinade. Discard remaining marinade. Alternately thread beef, onions and olives onto skewers.
Broil or grill kabobs for 5-8 minutes or until steak reaches desired doneness, turning occasionally and brushing with reserved marinade.
Notes
*You can skip toasting the seeds and use 2 Tablespoons ground mustard
Source:
McCormick
This post may contain affiliate links. As an Amazon Associate and member of other affiliate programs, I earn from qualifying purchase.