Chicken and Cilantro Pesto Pasta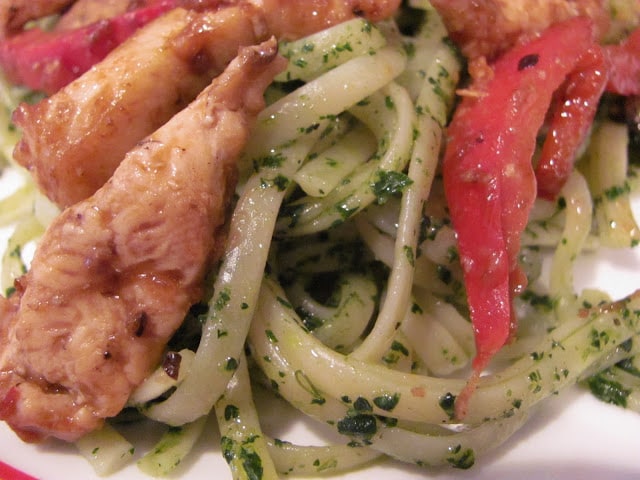 McCormick
launched its 2011 Flavor Forecast, which lists the top ten food pairings for the year. Earlier, I recapped those ten pairings. Thanks to McCormick, I had the opportunity to test out some of these pairings. First up was the pairing of cilantro and nut butter. McCormick has a recipe for Chicken and Cilantro Pesto Pasta, which sounded easy to put together. The nut butter used was peanut.
First, you make the pesto in the blender. While the pasta is boiling, you make the chicken peanut butter mixture. Drain the pasta, toss with pesto, and put chicken on top. I never used fresh cilantro before. I wasn't even sure if I ever had cilantro before, but after one bite, I recognized the flavor. Very delicious if you enjoy cilantro.
[rss-cut]

Chicken and Cilantro Pesto Pasta
Chicken and Cilantro Pesto Pasta
Ingredients
Pesto
3 cups fresh cilantro leaves
1 tablespoon grated Asiago cheese
1/2 teaspoon garlic powder
1/2 teaspoon sea salt
1/4 teaspoon ground black pepper
1/3 cup plus 1 tablespoon olive oil, divided
Pasta
3 tablespoons smooth peanut butter
2 tablespoons sweet chili sauce
2 tablespoons soy sauce
1 pound boneless skinless chicken breasts, cut into bite-size thin strips
1 medium red bell pepper cut into bite-size thin strips
8 ounces linguine pasta
Instructions
For the pesto:
In a food processor, place cilantro, Asiago cheese, garlic powder, sea salt and pepper. Process just until smooth. Gradually add 1/3 cup oil. Process until well blended and smooth. Set aside.
For the pasta:
In a small bowl, mix together peanut butter, chili sauce and soy sauce until well blended. Set aside.
Heat remaining 1 tablespoon oil in a large skillet on medium-high heat. Add chicken; cook and stir 5 minutes or until lightly browned. Add bell pepper; cook and stir 2 minutes longer or until chicken is cooked through and bell pepper is tender-crisp. Add peanut butter mixture; cook and stir 1 minute.
Meanwhile, cook pasta as directed on package. Drain well. Add cilantro pesto to the cooked pasta; toss to coat well. Spoon chicken over pasta. Toss gently before serving.
Source:
McCormick
This post may contain affiliate links. As an Amazon Associate and member of other affiliate programs, I earn from qualifying purchase.