Toasted Almond Ice Cream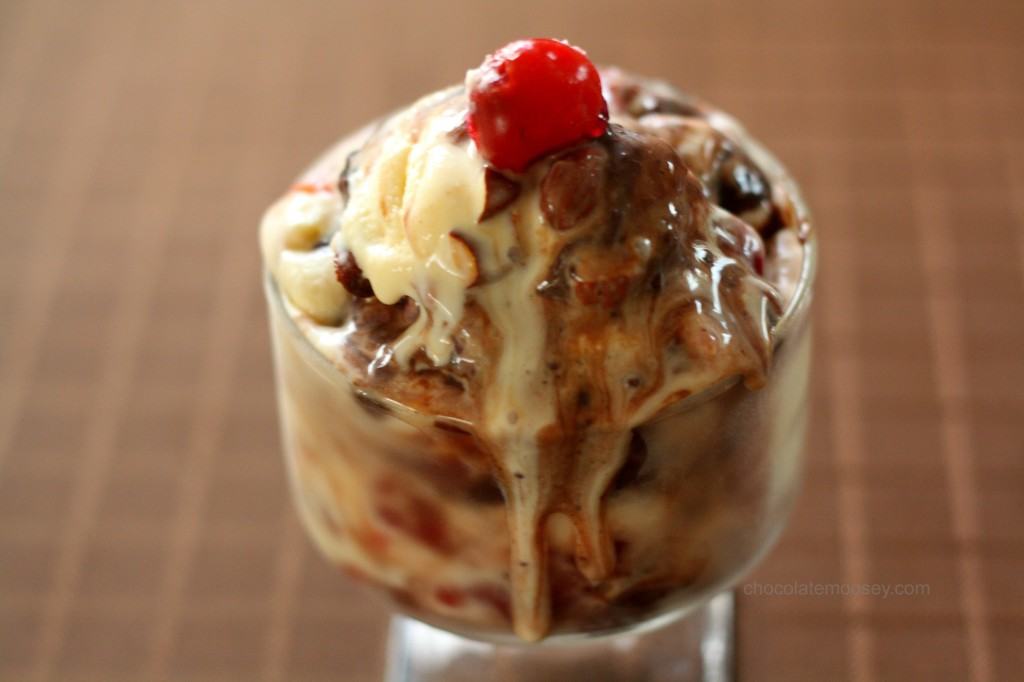 Update – the recipe is now in this post.
Unless you've been living under a rock, you've probably taken notice that it is HOT outside. Record-breaking temperatures hot. Cranky kitty hot. Eat ice cream for lunch and not feel guilty hot. We've been pretty lucky in PA as our temperatures aren't as hot as some areas with only one or two days breaking 100F, but that doesn't mean I'm going outside at will anytime soon. Instead, I'm going to stay inside and eat a big bowl of this Dark Truffle, Candied Cherry, and Toasted Almond Ice Cream I originally made for Miriam at Overtime Cook.
I met Miriam back in April. Her and I talk a lot on Twitter, mainly about food and photography (what? You think I have a life outside of this blog?). One unique thing about her is she eats kosher. All I know about eating kosher is she can't eat pork. Of course it's much more than that, so when she asked if I would guest post, I did some research.
Kosher food is food prepared in accordance with Jewish dietary laws. Some examples are ingredients derived from non-kosher animals or from kosher animals that were not prepared in the proper manner, a combination meat and milk, some ingredients produced without supervision, or the use of non-kosher cooking utensils and machinery (no shopping at thrift stores because the items were previously used). Fortunately, there isn't a whole lot of rules when baking kosher compared to cooking kosher.
It took me awhile to figure out what I wanted to make, but with this heat, ice cream was the perfect choice. I've been dying to make this Dark Truffle, Candied Cherry and Toasted Almond Ice Cream from David Lebovitz' book The Perfect Scoop ever since I got it. His picture is just so inviting with those vibrant red cherries. Imagine a scoop of toasted almond ice cream packed full of candied cherries, more toasted almonds, and dark chocolate rum truffles.
Dark Truffle, Candied Cherry, and Toasted Almond Ice Cream
Toasted Almond Ice Cream with Dark Truffle and Candied Cherry
Ingredients
Candied Cherries:
1/2 pound (8 ounces) sour cherries, pitted
3/4 cup water
1/2 cup sugar
1 tsp lemon juice
Few drops of almond extract
Dark Chocolate Truffles:
2 Tbsp heavy cream
2 tsp corn syrup
1.5 oz bittersweet chocolate, chopped
1/4 tsp rum
Ice Cream:
1/2 cup whole milk
1/4 cup + 2 Tbsp sugar
Pinch of salt
1 cup heavy cream
1 cup almonds, coarsely chopped
2 egg yolks
Few drops of almond extract
Instructions
For the candied cherries: In a medium saucepan, heat the cherries, water, sugar, and lemon juice until it starts to boil. Turn the heat down to low and cook for 25 minutes, stirring frequently during the last 10 minutes to ensure they are not sticking. Once the syrup is reduced to the consistency of maple syrup, remove from the heat and add the almond extract. Let the cherries cool in their syrup. After cool, drain the cherries in a strainer over a bowl for about 1 hour. Reserve the candied cherries; save the syrup for another recipe (or serve with ice cream).
Meanwhile, make the dark chocolate truffles: In a small saucepan, heat the cream until it just begins to boil. Remove from the heat and stir in the chocolate until melted and smooth. Mix in the rum. Place the chocolate mixture into a small bowl and freeze until firm, about an hour. Scoop into small balls and keep frozen.
Meanwhile, toast the almonds: Preheat the oven to 350F. Place the almonds onto a cookie sheet and into the oven. Heat the almonds until toasted, stirring every 5 minutes or so (roughly 10-15 minutes). Remove from the heat and turn off the oven.
Now infuse the ice cream base: In a medium saucepan, warm the milk, sugar, salt, and 1/2 cup cream. Add 1/2 cup toasted almonds (reserve the other half to stir in). Cover, remove from the heat, and let steep at room temperature for 1 hour.
Strain the milk mixture into a separate medium saucepan; squeeze as much milk from the almonds. Discard the almonds. Rewarm the strained milk mixture.
Pour remaining 1/2 cup cream into a large bowl and set a mesh strainer on top. Place the bowl in an ice bath.
In a small bowl, whisk together the egg yolks and some of the warm milk mixture. Scrape the yolks back into the saucepan. Cook over medium heat until the mixture thickens and coats the back of your spoon. Remove from the heat and pour the mixture through the strainer into the reserved cream. Add almond extract and stir until cool.
Chill the mixture in the refrigerator until cold then freeze according to your machine's directions. If freezing by hand, place the mixture in the freezer and whisk every 30-45 minutes or until almost frozen. During the last few minutes of churning/freezing, stir in the remaining toasted almonds, candied cherries, and dark truffles.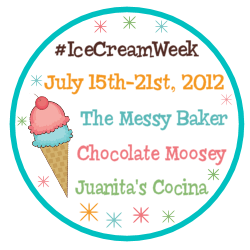 And speaking of ice cream, I'm excited to announce that next week will be #IceCreamWeek here at Chocolate Moosey! I'm teaming up with
Jen from Juanita's Cocina
and
Jennie from The Messy Baker
all of next week to bring you 7 days of ice cream fun. That is 21 posts of ice cream related treats. Bring your fat pants because we have so much delicious fun for you!
If you'd like to join in, you can post as few or as many days as you'd like. On the last day, we will have a linky widget where you can add your posts.
This post may contain affiliate links. As an Amazon Associate and member of other affiliate programs, I earn from qualifying purchase.