Copycat Chick-Fil-A Nuggets with Honey Mustard Dipping Sauce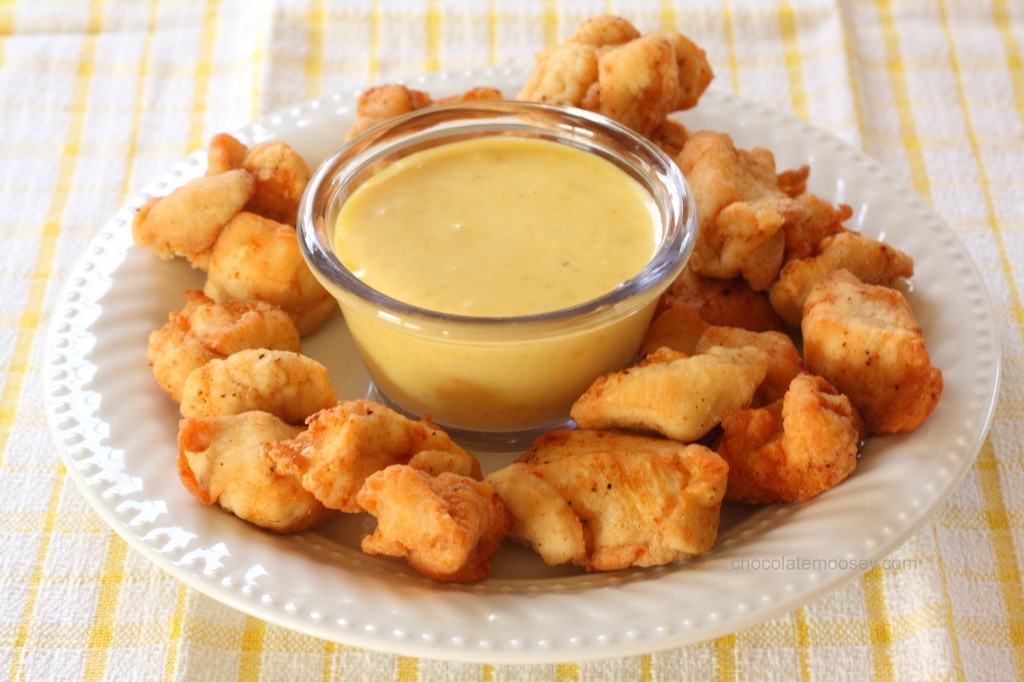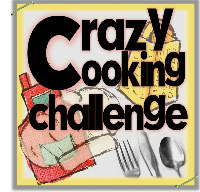 Happy Saturday! I know I rarely post on Saturdays, but today is a special Saturday.
Today is my first Crazy Cooking Challenge!
I saw a bunch of friends posting smoothies last month, so I wanted to join this month.
Figures my first theme is Fried Chicken, something I don't do too often because one – it is cooking and two – frying is a pain. I hate cleaning up the oil, which is probably good because that means I rarely deep fry.
For the event, I fried some CopyCat Chick-Fil-A Nuggets with Honey Mustard Dipping Sauce – crispy chicken nugget bites that you dip into addicting honey mustard sauce.
You haven't lived until you've eaten at Chick-Fil-A.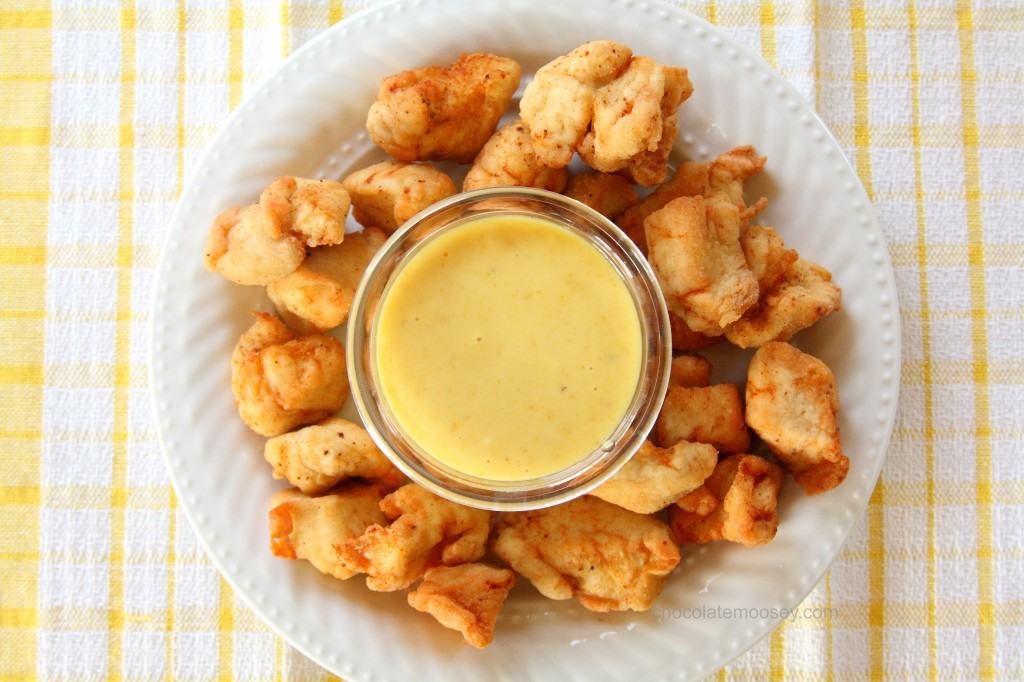 When I worked at the mall years ago, I ate Chick-Fil-A. A lot.
If I opened, I got hash browns. If I closed, I got waffle fries and a sandwich for break. Sometimes I even got lemonade just because.
However, they have this habit of closing on Sundays. We mall employees also had a habit of forgetting it was Sunday.
I remember one day in particular, my manager and I really wanted Chick-Fil-A for lunch. Without thinking, I walked all the way down to the food court, our orders in hand, and when I turned the corner, I spotted those metal bars pulled over the counter. Major disappointment.
I didn't even have my phone on me, so I had to walk all the way back to the store to tell my manager and walk all the way back down with a new lunch order.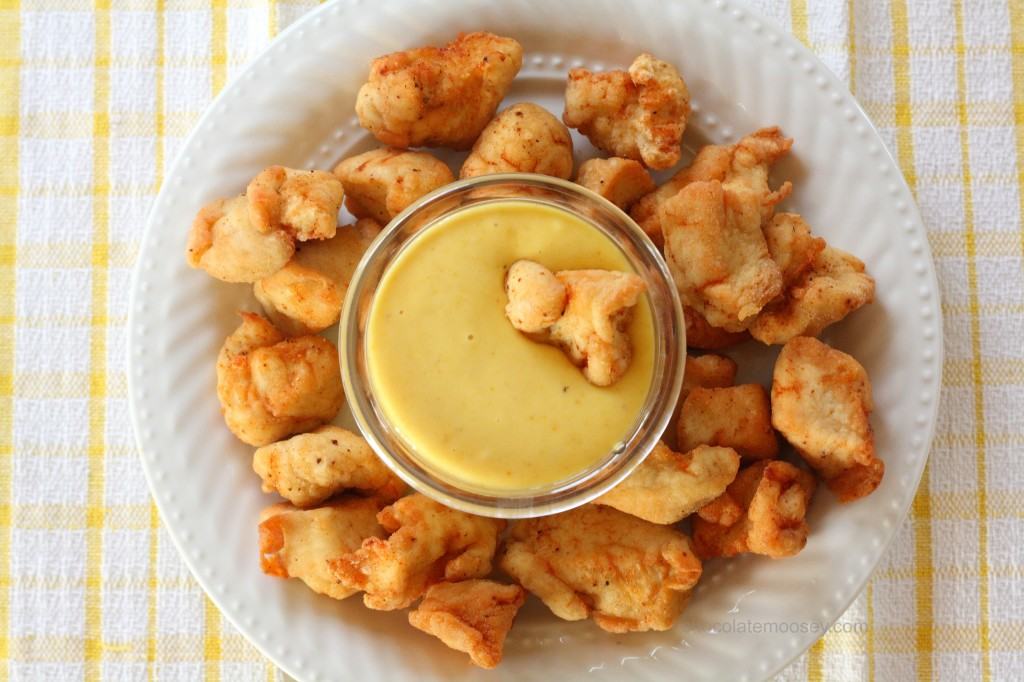 Fast forward to a few months ago when I saw a very curious tweet from
Julie of Table for Two
about her Copycat Chick-Fuh-Lay Nuggets.
See, it's not just chicken nuggets. It's Chick-Fil-A chicken nuggets.
If you're never had them before, there is a difference. They are better, more addicting.
Julie's secret ingredient is powdered sugar. Powdered sugar? With chicken? Crazy but it's what makes these chicken nuggets addicting.
I made some adjustments to her recipe by adding some onion and garlic powder to both the breading and the dipping sauce, but for the most part I stuck to the recipe, frying and all.
When I noticed her recipe called for 6(!) chicken breasts, I did the math and scaled it down for 1 chicken breast.
That should make the math easier for you if you use more than one breast. If you use 2, multiply the ingredients by 2. If you use 3, multiply by 3. You get the idea.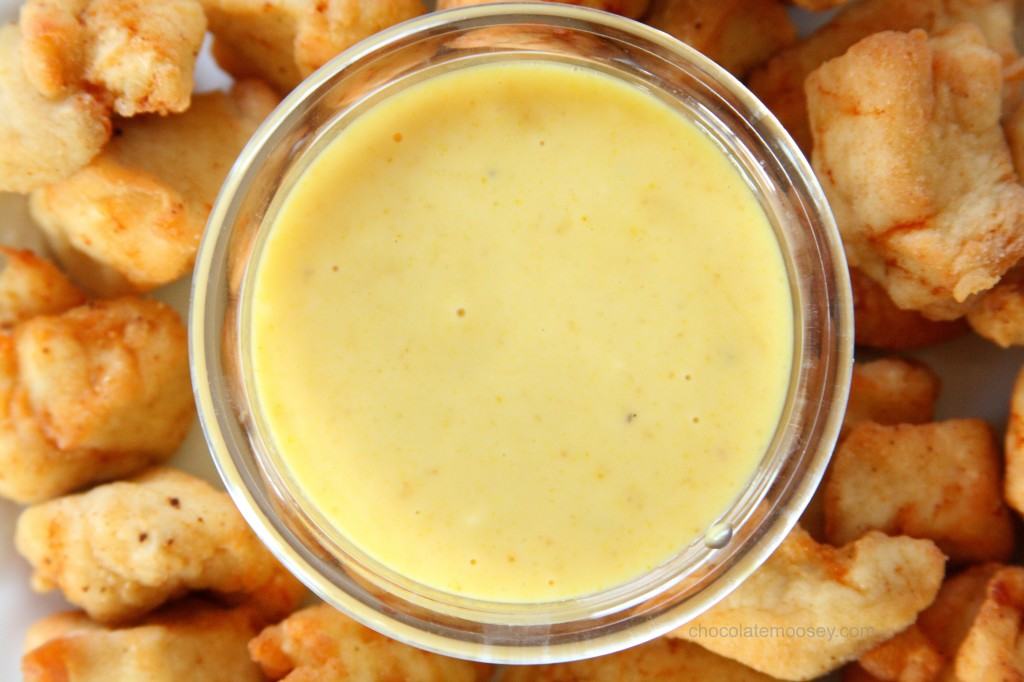 The key to deep frying is the hot oil. I used a deep fryer with a built-in thermometer that I set to 375F.
However, just because your oil is hot in the beginning doesn't mean your oil stays that temperature.
When you add food, especially cold food, the temperature drops. Keep an eye on the temperature. If it gets too cold, let it heat up again between batches.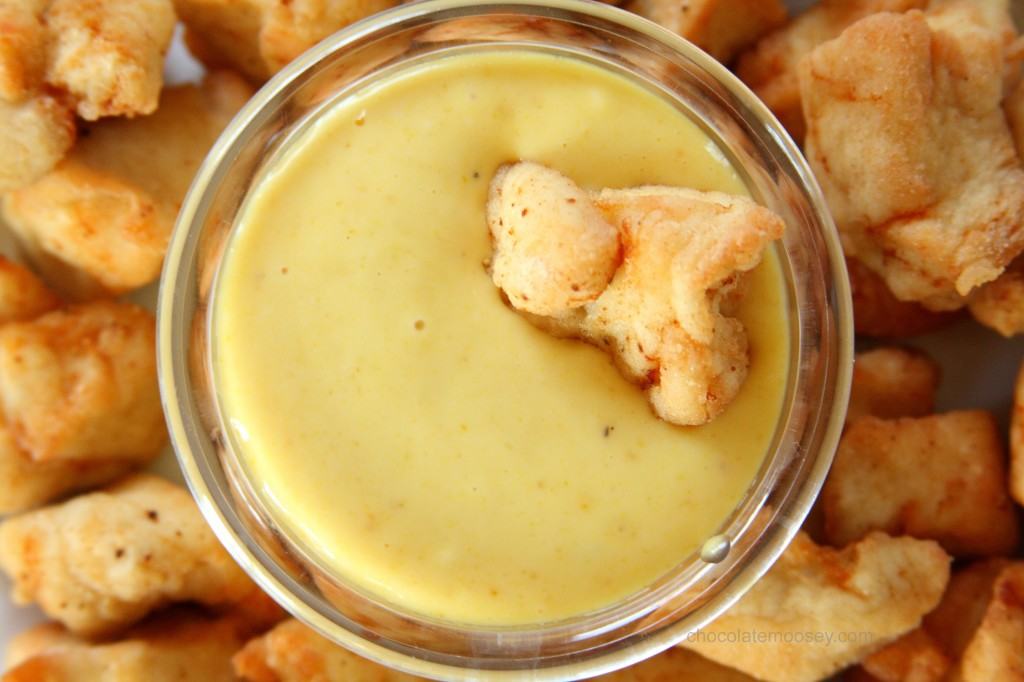 Copycat Chick-Fil-A Nuggets with Honey Mustard Dipping Sauce
Ingredients
Honey Mustard Dipping Sauce:
1/4 cup mayonnaise
1 Tbsp prepared yellow mustard
1/4 tsp garlic powder
1/4 tsp onion powder
1 1/2 tsp vinegar
1 Tbsp honey
Salt and pepper, to taste
Nuggets:
1 chicken breast, cut into bite-sized pieces
1/3 cup flour
1 Tbsp powdered sugar
1/2 tsp salt
1/4 tsp pepper
1/4 tsp garlic powder
1/4 tsp onion powder
1/4 tsp paprika
Oil for frying (vegetable, canola, or peanut, not olive)
Instructions
For the sauce: In a small bowl, whisk together the mayonnaise, mustard, garlic powder, onion powder, vinegar, honey, salt, and pepper until well-blended. Refrigerate while preparing the chicken.
Fill a deep fryer or large stockpot with enough oil to submerge the chicken. Heat to 375F.
While the oil is heating, place the chicken pieces in a freezer bag. Add flour, sugar, salt, pepper, garlic powder, onion powder, and paprika; seal and shake well.
Using a slotted spoon, remove the chicken pieces and shake off any excess flour. Place on a plate or in a bowl.
When the oil is ready, place a handful of nuggets into the oil (do not overcrowd your pan! My deep fryer came with a basket and fit roughly 6-8 pieces). Fry for 3-5 minutes, depending on the size of your pieces. You may need to let your oil heat back up to 375F in between batches if it gets too cold (use a thermometer). Place the cooked pieces on a plate lined with paper towels to drain the oil.
When the chicken is done, serve with the dipping sauce.
Source:
Table For Two
This post may contain affiliate links. As an Amazon Associate and member of other affiliate programs, I earn from qualifying purchase.