Golden Oreo Cherry Curd Tartlettes
Happy 4th of July! Hope everyone has good food planned and is staying safe. I have work off today, but I'm not doing anything since it's the middle of the week and nobody is nearby to visit. That's ok – I'll celebrate with you. Another holiday means another Holiday Recipe Club post, so I baked up some Golden Oreo Cherry Curd Tartlettes: a Golden Oreo crust filled with cherry curd and topped with lemon whipped cream. If you could sum up summer in one bite, this is it!
These Golden Oreo Cherry Curd Tartlettes are a refreshing summer dessert. Instead of being bogged down with heavy chocolate in this sweltering weather (not that I'm complaining about chocolate!), the creamy vanilla cookie crust, the tangy cherry curd, and the sweet lemon cream come together and taste like summer in your mouth.
I used my Strawberry Curd recipe from last month except I subbed sour cherries and increased the sugar. The amount of sugar will depend on how your cherries taste. If you're using sweet cherries, you may not need as much. Make sure you sweeten to taste.
The original recipe was a pie crust filled with cranberry curd then topped with meringue. That's not what I had envisioned, so I opted for a Golden Oreo crust with cherry curd topped with lemon whipped cream. Nothing is the same as the original except concept.
The Golden Oreo Cherry Curd Tartlettes are very versatile in flavor. Use chocolate Oreos for the crust, use your favorite fruit curd, or top with any flavor whipped cream you can imagine. I love desserts that can be changed for the season.
You know you've been baking long enough when you know the amount of cookie crumbs and butter for two 4-inch tartlette pans without looking up anything. If you want to make one 9-inch tart, double the recipe and watch your baking time. I can't confirm time for a big tart, but I'm guessing 10-15 minutes, no more than 20 minutes.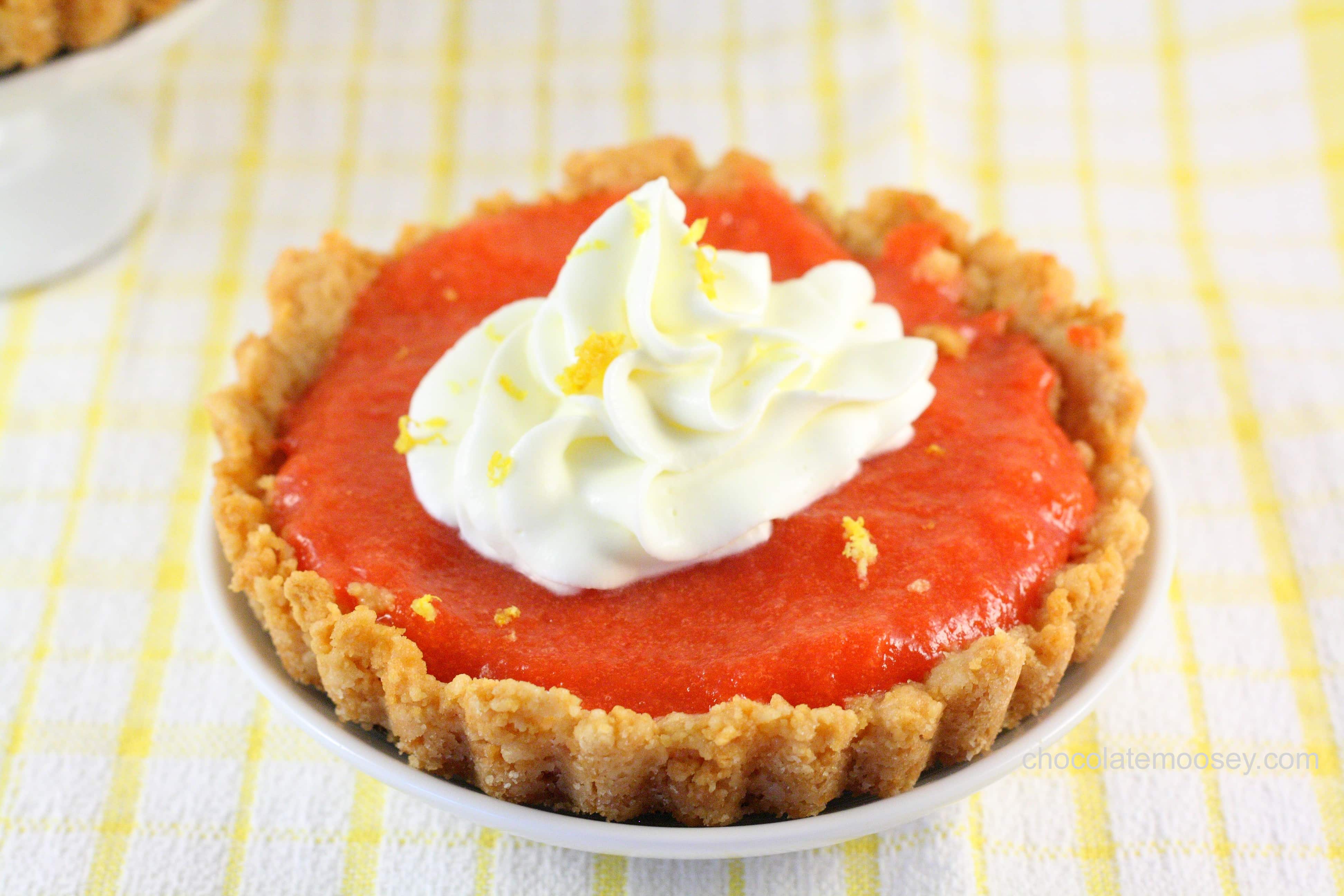 Golden Oreo Cherry Curd Tartlettes with Lemon Whipped Cream
Cherry Curd Tartlettes with a Golden Oreo crust
Ingredients
1 cup Golden Oreo cookie crumbs
2 Tbsp butter, melted
Cherry Curd:
1 cup pitted sour cherries
2-4 Tbsp sugar (depends on how your cherries taste)
2 Tbsp lemon juice
2 1/2 tsp cornstarch
Homemade Whipped Cream, for serving
Instructions
Preheat the oven to 350F. Have two 4-inch tartlette pans ready.
For the cherry curd: Combine the cherries and sugar into a blender and puree until smooth. In a small bowl, whisk together the lemon juice and cornstarch until smooth; add to the cherry mixture. Puree until as smooth as possible. Pour into a medium saucepan then cook over medium heat until the mixture starts to boil. Stir frequently and cook a few more minutes or until it thickens. Let cool while you work on the crust.
For the crust: In a small bowl, mix together the cookie crumbs and melted butter. Divide and pat into the two pans. Place the pans onto a cookie sheet and bake 10 minutes. Cool completely on a wire rack.
When both the crust and curd are cool to room temperature, fill each crust with 1/4 cup curd. Store the leftover curd in the refrigerator for another time. Refrigerate the tartlettes for at least 2 hours then serve with whipped cream.
Source: Inspired by
Cooking Light
Be sure to check out what everyone else is making for the holiday!
');
This post may contain affiliate links. As an Amazon Associate and member of other affiliate programs, I earn from qualifying purchase.