Cookie Cutter Fudge
Here's an easy gift to make your family and friends for Christmas – Cookie Cutter Fudge filled with your favorite fudge of choice.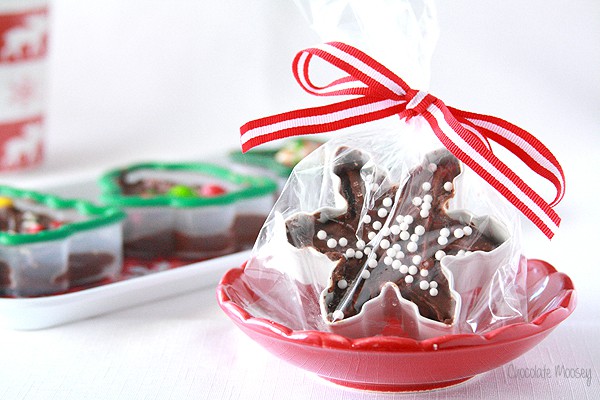 Only 44 days left before Christmas! (if you celebrate a different holiday, insert your countdown here). If you're anything like me, you have no clue what to buy for people. Sure, I know my brother wants the latest movies and Murray wants a big bag of treats, but what about everybody else? The coworkers. The friends you see a few times a year. The neighbors. What do you give someone that says more than a gift card? Today the #SundaySupper group is sharing Gifts From The Kitchen, gifts that are made from the heart (and saves your wallet). How excited would you be if you got Cookie Cutter Fudge? Not only is there a delicious treat to munch on, you get to keep the cookie cutter.
I've been dying to try this recipe for the past few years now. Usually I just give away cupcakes or cappuccino mixes in fancy containers, but I keep giving to the same people, so I needed a new idea. Cookie cutters aren't that expensive either. You can get a pack of different shapes at the dollar store. If you don't want to give the cutters away, just pop out the fudge when it is cold and firm (trust me – doing this at room temperature is a big, messy failure). Or you can make an 8×8 pan then cut out shapes when firm.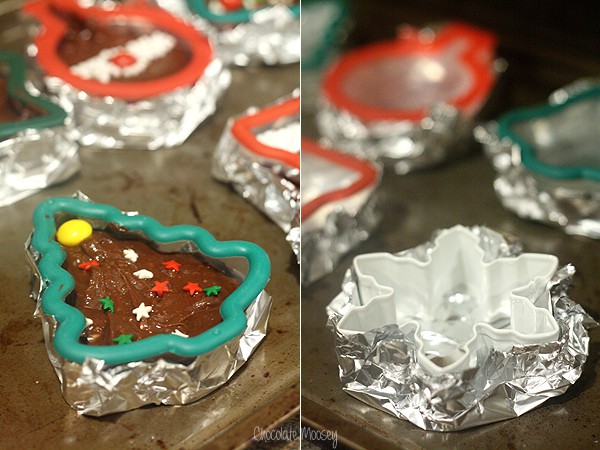 Decorating isn't my forte, but I don't think I did too badly either. I added sprinkles and Skittles after pouring the fudge so they would stick better. You can always melt chocolate (either white or those colored disks) or even pipe on buttercream or royal icing. You are welcome to use your favorite fudge recipe. I went with my foolproof, no-thermometer-needed fudge because all I had to do was melt and pour. First I wrapped the bottom of each cutter with foil and placed them on a cookie sheet. Then I used a spoon to fill the cutters, but you are welcome to use any heatproof vessel that has a pouring spout.
Oh and don't think this is a Christmas only idea. You can buy cookie cutters in all shapes and sizes, so if there is a special occasion coming up, you can customize the fudge. I thought I had a big cupcake cutter I was going to use, but I didn't. I must fix that.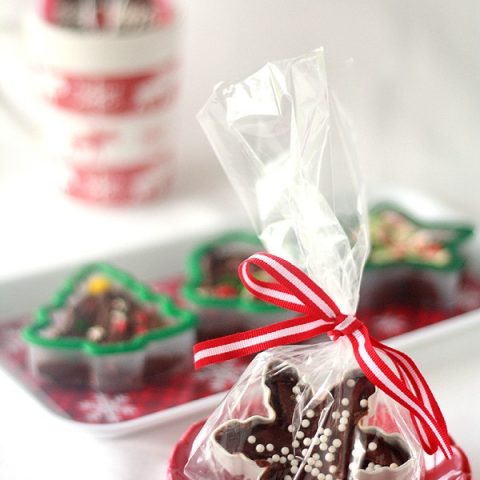 Cookie Cutter Fudge
Yield: 6 servings
Prep Time: 5 minutes
Cook Time: 15 minutes
Total Time: 20 minutes
Here's an easy gift to make your family and friends for Christmas – Cookie Cutter Fudge filled with your favorite fudge of choice.
Ingredients
Six (3-inch) cookie cutters
1 cup semisweet chocolate chips
1 cup peanut butter
1/2 cup (4 ounces) unsalted butter, cut into 8 tablespoons
1 cup powdered sugar, sifted
1 teaspoon vanilla extract
Candy and sprinkles, for decorating
Instructions
Wrap each cookie cutter tightly with foil on the bottom and up the sides. Place them onto a cookie sheet. Set aside.
Bring a saucepan of water to a steady simmer. Place a heat-proof bowl on top of the water (do not let the bowl touch the water). Add the chocolate and stir until almost smooth. Add the peanut butter and stir until almost smooth. Add the butter and stir until completely smooth.
Turn off the heat and remove the bowl. Whisk in the sugar and vanilla until well blended. Spoon or pour the batter into each cookie cutter (if you have leftover batter, pour into a ramekin). Decorate with candy and sprinkles as desired. Cool until firm.
Notes
You are welcome to use any fudge flavor you like.
Source: Adapted from
Peanut Butter Planet
(Amazon affiliate link)
More Fudge Recipes For You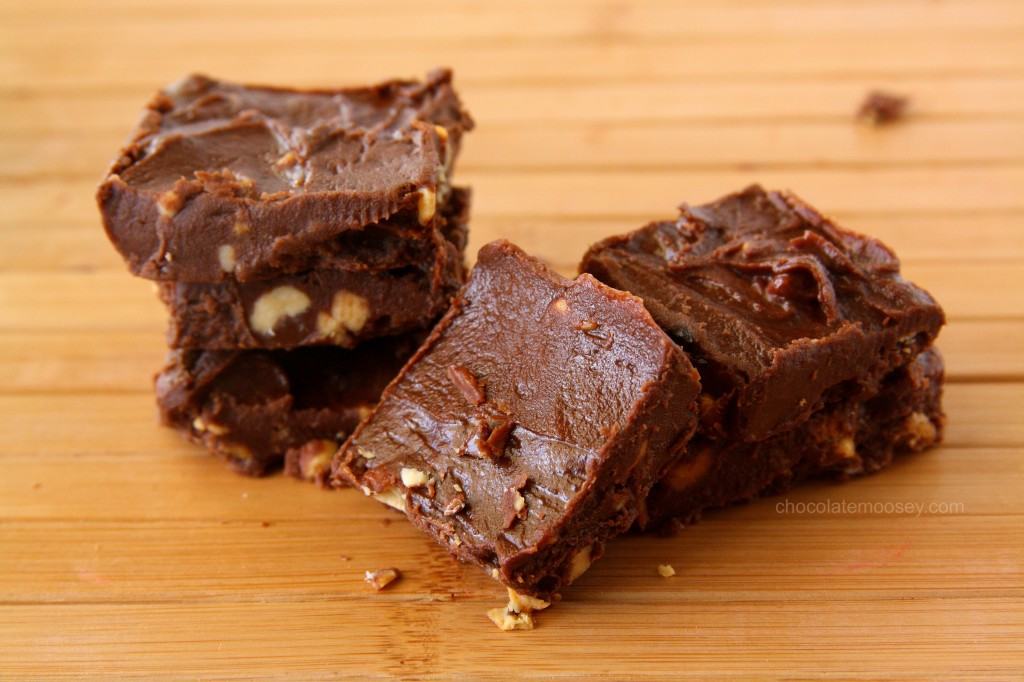 Easy Chocolate Peanut Butter Fudge
This post may contain affiliate links. As an Amazon Associate and member of other affiliate programs, I earn from qualifying purchase.