Chocolate Mint Rice Crispy Treats
What inspires you to create a recipe? Most of the time, I end up taking elements from several recipes and piecing them together. Take these Chocolate Mint Rice Crispy Treats for example. At the store, I found a bag of chocolate mint marshmallows. I've been experimenting with flavored marshmallow rice crispy treats (such as
these peppermint ones
and a gingerbread one I never posted), so I wanted to try mint. However, I wanted to add a little more pizazz. I remember seeing a recipe for a layered bar where the base was a rice crispy treat, the middle was a peanut butter mixture, and the top was a chocolate glaze. Then I got the idea to turn the filling into mint, very similar to grasshopper brownies, and top that with a simple chocolate glaze. I love the texture of these bars – the crispy base balances well with the smooth buttercream and glaze on top.
If you can't find chocolate mint marshmallows, you can use regular marshmallows with some peppermint extract. I used regular rice crispy cereal, but next time I would try chocolate. It didn't even occur to me until I melted the marshmallows and realized the cereal had a weird shade of brown. I threw in some chocolate chips to help make it look more chocolatey, but I don't think I saved the color too well. Color aside, these treats definitely packed a powerful mint flavor. You are instantly hit with a smell of peppermint every time you open the storage container to grab one (which I absolutely love).
These treats earned me the nickname Diet Ruiner because right now, my building is participating in a weight loss contest. Hey, I'm just here to test your willpower :)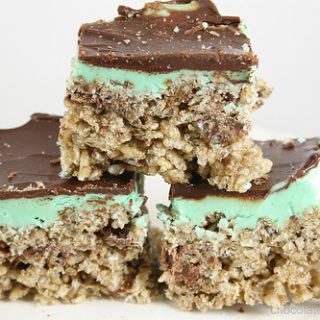 Chocolate Mint Rice Crispy Treats
Chocolate Mint Rice Crispy Treats
Ingredients
3 tablespoons butter
1 package (10 ounces) chocolate mint marshmallows OR plain marshmallows + 1/4 tsp peppermint extract
6 cups crispy rice cereal, either plain or cocoa
1/3 cup chocolate chips
Mint Filling
4 tablespoons softened butter
2 1/2 cups confectioners' sugar
2-3 tablespoons milk
1/2 teaspoon peppermint extract
Green food coloring
Glaze
3 ounces semisweet chocolate, chopped into chunks
2 tablespoons butter
Instructions
Line 9-inch square pan with parchment paper.
Melt butter in large saucepan on low heat. Add marshmallows; stir constantly until melted. Remove from heat. Add peppermint extract if using; mix well. Stir in cereal and chocolate chips. Press into pan using a rubber spatula. If needed, place a piece of cellophane wrap or parchment paper on top and press down to flatten the treats. Cool completely.
For the filling:
Cream together the butter and sugar. Add 2 tablespoons milk, beating until smooth. If it's too thick, add the remaining milk. Beat in peppermint extract and a few drops of food coloring. Spread over the cooled crispy treat layer. Refrigerate for an hour or until firm.
For the glaze:
In the microwave or in a bowl over a pan of simmering water, melt together the chocolate and butter. Spread on top of the mint layer. Refrigerate until set, about 30 minutes. Cut into squares.
Source:
Crispy Treat Layer from a previous post
,
Mint Filling from Family Fun
This post may contain affiliate links. As an Amazon Associate and member of other affiliate programs, I earn from qualifying purchase.