Cauliflower "Steaks" with Tomato Sauce
Fact: I love vegetables. When I go to a restaurant, I usually order something meatless like a portabella mushroom sandwich, a spinach salad, or a broccoli and pepper sandwich. I get carried away buying all kinds of produce at the farmer's markets. However, as much as I love vegetables, I could never be a vegetarian. Sorry to disappoint, but I blame the bacon.
What carnivores don't realize is vegetarian meals are not boring. Take these cauliflower steaks for example. After taking a bite, I kept asking myself why don't I eat cauliflower more often? This recipe intrigued me when I saw it in Bon Appetit's magazine, and based on comments from Twitter, others are intrigued by it too.
I always feel bad for vegetarians who eat away from home because their options are always boring. What are your options at big events? Rigatoni with meatless sauce? A side salad? Some green beans and potatoes? At work, we have a caterer who cooks for our training schools. Every meal is centered around meat (I'm not kidding – I've kept track for awhile for amusement). If he does get a vegetarian request, he makes them pasta. How…exciting.
These steaks are easy to prepare and actually fill you up. You cut your slices, brown them for a few minutes, then roast for about 15 minutes. This particular recipe has an olive relish on top and a simple tomato puree underneath. Technically, the relish also has sun-dried tomatoes, but next time, I'm going to use fresh chopped tomato.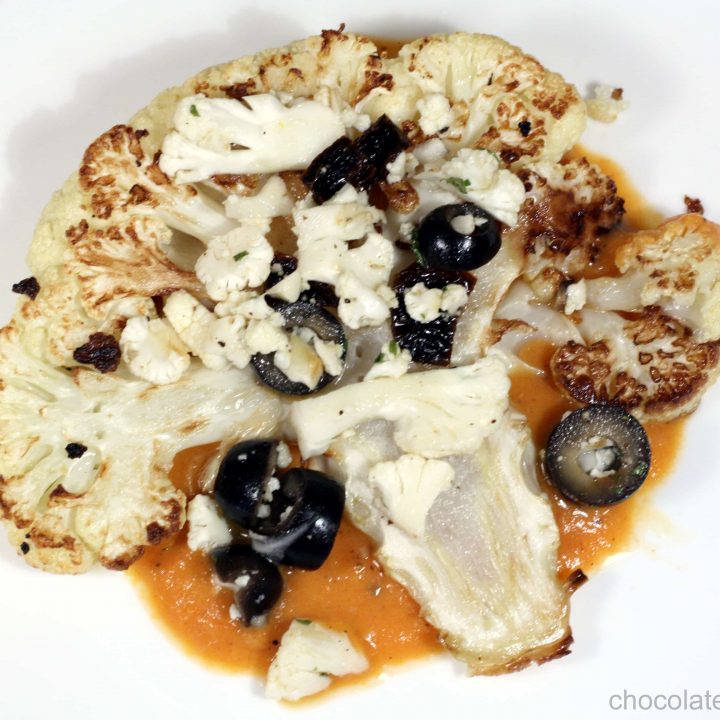 Cauliflower Steaks with Olive Relish and Tomato Sauce
Cauliflower Steaks with Tomato Sauce and Olive Relish
Ingredients
Half a head of cauliflower
1/4 cup sliced black olives
2 sun-dried tomatoes, thinly sliced (either drained or rehydrated)
2 Tbsp Olive oil
1 Tbsp parsley
1/2 tsp lemon juice
Salt and pepper
3 whole garlic cloves, peeled
1 tomato, cored and quartered
Instructions
Remove leaves from the cauliflower and leave the core intact. Slice two 1/2" "steaks" of cauliflower; set aside. Reserve any loose florets. For the relish, finely chop the florets then combine them in a small bowl with the olives, sun-dried tomatoes, 1/2 Tbsp oil, parsley, and lemon juice. Season the relish with salt and pepper.
Preheat oven to 400°. Heat 1/2 Tbsp oil in a large skillet. Cook one cauliflower steak until golden brown on both sides, about 2 minutes per side. Transfer the steak to a baking sheet. Add 1/2 Tbsp oil to skillet and repeat with the second steak.
Using the same skillet, add garlic cloves and tomatoes, one cut side down. Cook until tomatoes are browned; turn tomatoes over and transfer garlic and tomatoes to another baking sheet. Roast both baking sheets for 15 minutes or until tender.
After cooling for a few minutes, transfer the garlic, tomatoes, and remaining 1/2 Tbsp oil to a blender; purée until smooth. Season with salt and pepper. Divide the sauce among two plates. Place 1 steak on each plate; spoon over relish.
Source:
Bon Appetit
This post may contain affiliate links. As an Amazon Associate and member of other affiliate programs, I earn from qualifying purchase.