Chocolate Gingerbread Baked Doughnuts
Ready for some Christmas holiday baking? Add these Chocolate Gingerbread Baked Doughnuts to your list, complete with gingerbread men sprinkles.
It finally feels like Christmas in my apartment. The tree is up (full of cupcake ornaments –
see pictures from last year
), Christmas mugs are filled with hot chocolate, and my Pandora Christmas channel is playing in the background. Outside, neighbors decorated their balconies with lights galore while storefronts are filled with red and green. This is also the time of year where my gingerbread craving kicks in, which started with
gingerbread s'mores cookie bars
. Now I bring you Chocolate Gingerbread Doughnuts. Baked doughnuts are the easiest to make, yet I don't make them often enough. After a few tries, I finally developed a recipe that tastes like Christmas. Plus they are the perfect excuse to break out the gingerbread men sprinkles after you frost them with a chocolate ganache glaze.
Why don't I use sprinkles more often when I'm baking? That was the first thought I had once I finished frosting the doughnuts. I should really be more spontaneous with sprinkles. Also, is it doughnuts or donuts? I spell it doughnuts for the blog but spell it donuts in conversation. Does that make me a doughnut/donut hypocrite? Why can't we all get along with the spelling? I'm going to eat another doughnut while I figure that one out.
If you don't have a
doughnut pan
yet, then you need to ask Santa for one! I got mine last year for Christmas and have been using it more than frying doughnuts. If you don't have a pan and still want to make these chocolate gingerbread doughnuts, bake the batter in a muffin pan. Now you have doughnut muffins (Duffins? Muffnuts?)
Baked gingerbread doughnuts are best eaten the day they are made (almost all doughnuts are that way), which is no problem because they take only 10 minutes to bake, another 15 minutes to cool, then they are ready to frost. You can easily have them ready to go in an hour. However, if you do want them for the next day, make sure you store them in airtight container as soon as they are completely cooled so they don't dry out from sitting on the counter for several hours (oops). The chocolate frosting does help keep them moist as well.
Equipment You May Need:
Chocolate Gingerbread Baked Doughnuts
Yield: 9 doughnuts
Prep Time: 30 minutes
Cook Time: 10 minutes
Total Time: 40 minutes
Ingredients
1 1/3 cups all-purpose flour
1/2 teaspoon baking powder
1/8 teaspoon baking soda
1 1/2 teaspoons ground cinnamon
1 1/2 teaspoons ground ginger
1/2 teaspoon ground nutmeg
1/2 teaspoon ground clove
1/4 teaspoon salt
1/4 cup (4 tablespoons or 2 ounces) unsalted butter, softened
1/2 cup packed dark brown sugar*
1 egg, room temperature
1/4 cup sour cream, room temperature
1/4 cup full-flavor molasses (not blackstrap)
1 teaspoon vanilla extract
2 tablespoons semisweet chocolate chips
2 tablespoons heavy whipping cream
Sprinkles, to decorate
Instructions
Preheat oven to 375F. Lightly grease two doughnut pans**.
In a large bowl, whisk together the flour, baking powder, baking soda, cinnamon, ginger, nutmeg, clove, and salt.
In a large mixing bowl, beat together the butter and sugar until smooth and creamy, about 2-3 minutes. Beat in the egg then beat in the sour cream, molasses, and vanilla. Gradually beat in the flour mixture.
Fill a piping bag fitted with a round tip*** then pipe the batter into the pan. You'll want to fill each cavity about halfway since the doughnuts will rise. Bake 8-10 minutes or until a toothpick inserted comes out clean. Cool 5 minutes then remove from the pan to finish cooling.
Once completely cool, in a small saucepan, warm up the heavy cream just before boiling. Add the chocolate chips to a small bowl and pour the cream over top. Wait 1 minute then stir together until completely smooth. Dip each doughnut into the glaze then top with sprinkles. Doughnuts are best eaten the same day they are made. Store in an airtight container.
Notes
I like to use dark brown sugar as it contains more molasses than light brown sugar. However, you can equally substitute light brown sugar.
*If you only have one doughnut pan, bake the first six doughnuts, remove them from the pan as directed, then cool the pan in the refrigerator for 5 minutes before reusing. If you don't have a doughnut pan, you can bake them in a muffin pan.
***The piping bag makes it much easier to fill the pan. However, you can either use a freezer bag with a corner cut off or very carefully spoon the batter into the pan.
Source: Adapted from
my vanilla bean doughnuts
More Christmas Recipes To Make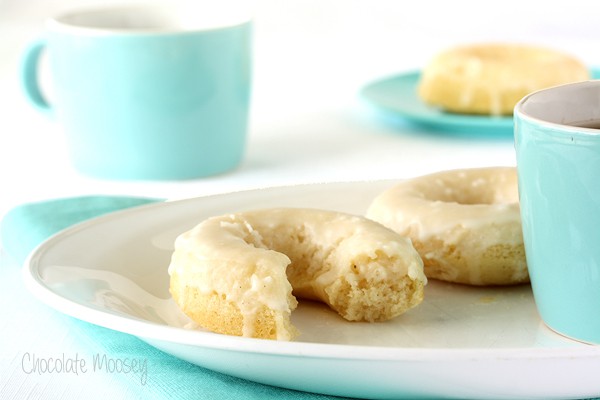 Baked Vanilla Bean Doughnuts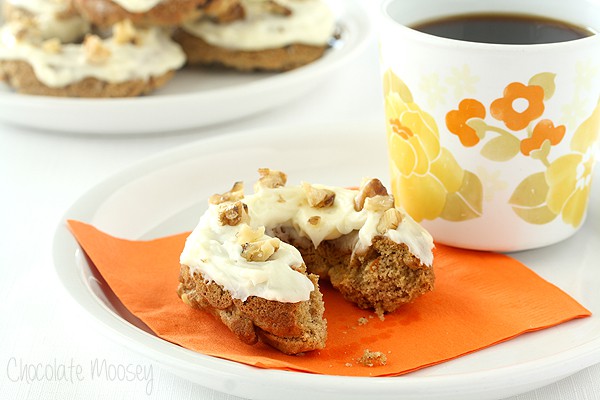 Carrot Cake Baked Doughnuts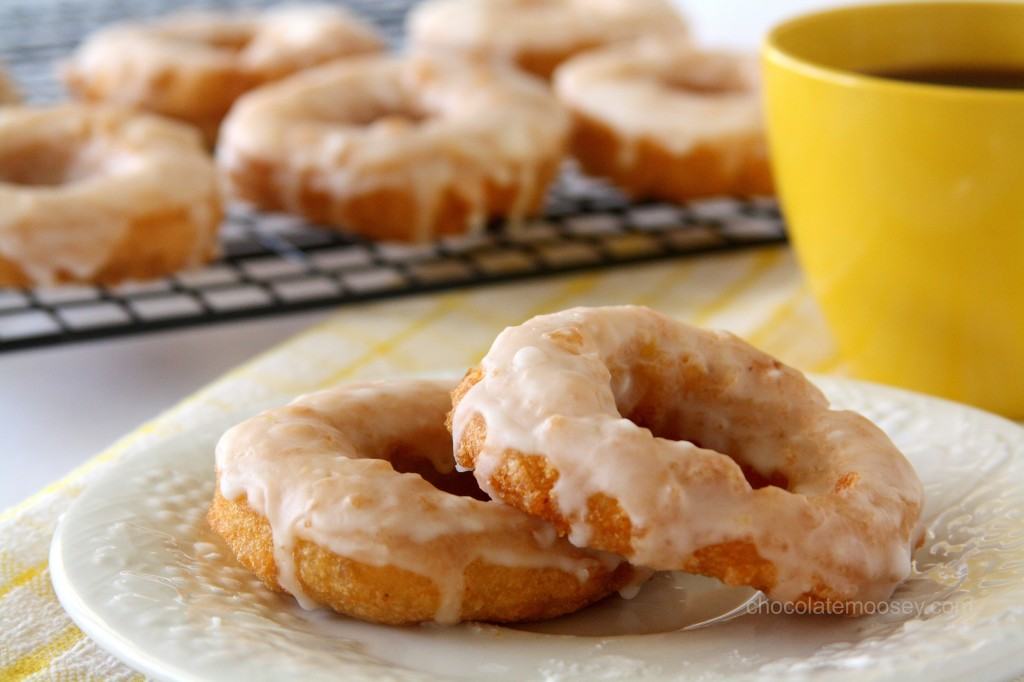 Double Lemon Glazed Doughnuts

Gingerbread Blondies

Gingerbread S'mores Cookie Bars

Gingerbread Linzer Cookies
Disclosure: This post contains Amazon affiliate links, which means I earn a small portion of what you buy through these links. Thank you for your support!
This post may contain affiliate links. As an Amazon Associate and member of other affiliate programs, I earn from qualifying purchase.