Chipotle Ranch Taco Dip
This meatless taco dip recipe made with chipotle peppers and ranch dressing mix is perfect for summer entertaining because it's a no cook dip with only 5 minutes of prep time.
As I was sitting on the couch this past weekend planning dinner for the week, I realized I haven't done much cooking for anyone this summer.
That's the one downfall of working from home; you don't have work parties to attend, either at work or at someone's home.
I do go to a coworking space where I bring in food, but usually it's just what I have left over, never a party.
My friend did host a cooking club at her house once a month, but unfortunately it's on hiatus.
I would've offered to host, but my apartment is too small with very little room in the kitchen to cook more than one dish.
Besides, I've never been one to host parties anyway as I would rather just show up somewhere else with homemade food in hand (aka I don't want to clean my apartment).
Most people expect me to bring dessert, which I often do anyway, but I also love showing up with something savory, usually dips. Dips are my weakness, and this Chipotle Ranch Taco Dip is no exception.
Lately I've been a little obsessed with chipotle pepper for two reasons . One – I love the spice and smokiness it brings to a dish.
Two – when you open a can, there's about a dozen or so peppers to use.
Of course given how spicy they can be, you only need 1-2 peppers per recipe, leaving me with lots of peppers leftover.
Not one to waste food, I started thinking of ways to use chipotle. There was my chipotle barbecue sauce I made twice.
Next I chopped some up into taco meat. Probably some of the best tacos I've had in a long time.
Then I thought about tacos some more. The one dip that is almost guaranteed to be at any party is taco dip.
There are several variations, but my favorite is sour cream based with tomatoes, lettuce, and cheese on top.
Although there's nothing wrong with traditional taco dip, I thought about ways I could elevate it.
Then it hit me – what if I used up some of my chipotle peppers into the dip itself? I also remembered I had some leftover ranch seasoning in my pantry.
And that's how this Chipotle Ranch Taco Dip was born.
I needed to make my chipotle taco dip in the blender because I wanted to blend in the peppers rather than just chopping them up.
However, the first time I made this dip, I accidentally turned it into salad dressing by blending it too long. Oops.
The second time, I blended most of the ingredients but then stirred in the sour cream by hand so it would stay thick.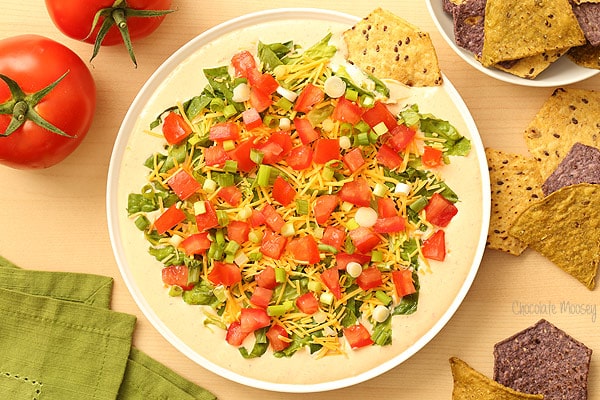 Chipotle Ranch Taco Dip
Yield: 2 cups
Prep Time: 5 minutes
Total Time: 5 minutes
This meatless taco dip recipe made with chipotle peppers and ranch dressing mix is perfect for summer entertaining because it's a no cook dip with only 5 minutes of prep time.
Ingredients
1 cup mayonnaise
1-2 canned chipotle peppers in adobo sauce
1 clove garlic
2 tablespoons dry ranch seasoning mix
1 tablespoon lime juice
1/4 teaspoon salt
1 cup sour cream
1 cup chopped romaine lettuce
1/2 cup shredded cheddar cheese
1 small tomato, seeded and chopped
2 green onions, chopped
Instructions
In a blender or food processor, add the mayonnaise, chipotle peppers, garlic, ranch mix, lime juice, and salt. Blend until smooth.
Transfer the chipotle mixture into a large bowl. Stir in the sour cream. Cover and refrigerate for at least 1 hour.
Right before serving, top the dip with lettuce, cheese, tomato, and green onion. Store any leftover dip in the refrigerator.
More Dip Recipes
This post may contain affiliate links. As an Amazon Associate and member of other affiliate programs, I earn from qualifying purchase.