Oreo-Stuffed Blondies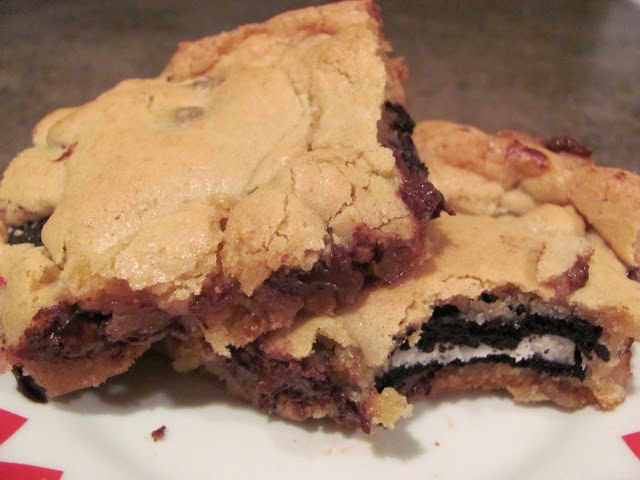 A few weeks ago,
a guest post at She's Becoming Doughmesstic featured oreo-stuffed blondies
. Then I saw a post for other cookie-stuffed cookies. The idea is so crazy, I just had to try it. I was having a craving attack for chocolate chip cookies and since I had a package of Oreos, I decided to give these blondies a try.
Because it made a 9×9 pan, I kept the ingredient amounts the same. However, when it came to putting the Oreos into the dough, I felt that there wasn't going to be enough dough for the top layer, so instead of 12 cookies, I used 9. Then because I had trouble spreading the top layer, I just made sure the cookies were covered. Hopefully the dough would spread and rise?
To my relief, the Oreos were covered after baking. Because I used only 9 cookies and didn't want to split the cookies while cutting, I cut them into 9 huge squares. It was SO hard not to eat the whole pan! That warm, chocolatey gooeyness from the chocolate chips and the softness of the Oreo. Mmm I'm tempted to bake some right now as I type this post.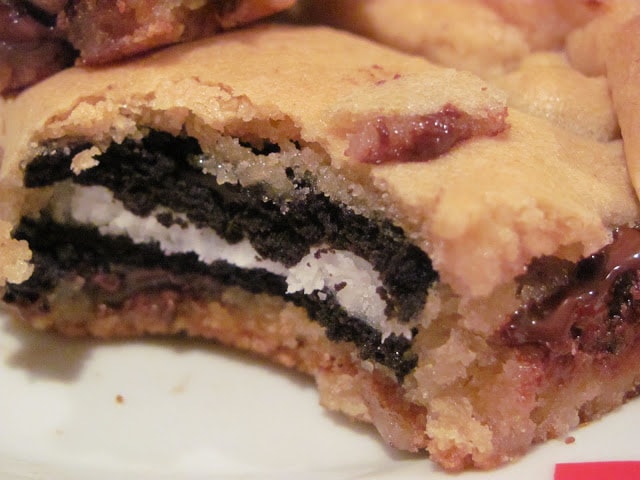 I wasn't a fan after they were completely cooled to room temperature. Don't get me wrong – I'd still eat them, but they lost that wonderful gooeyness. Plus the Oreo became a crunchy cookie again rather than melting into the dough (and in your mouth). If you want that little bit of an Oreo crunch rather than everything meshed together, then you'd like them once completely cooled.
Oreo Stuffed Blondies
Blondies stuffed with Oreo cookies
Ingredients
1/2 cup butter, softened
1/2 cup sugar
3/4 cup brown sugar
1 egg
1 tsp vanilla extract
1/2 tsp salt
1 tsp baking powder
1 1/2 cups flour
1 cup semi-sweet chocolate chips
12 Oreos
Instructions
Preheat oven to 350 degrees. Line an 8×8 pan with foil and spray with cooking spray.
Cream the butter and sugars together until light and fluffy.
Add in the egg and vanilla and mix until combined.
Mix in the flour, salt, and baking powder until all the flour is incorporated into the dough. Fold in the chocolate chips.
Press half of the dough into the bottom of the prepared pan. Lay the cookies on the the dough and press down. Press the remaining dough on top of the cookies. The whole top may not be covered. Just make each cookie is encased in dough.
Bake for 25-30 minutes or until golden and a toothpick comes out clean. Cool 15 minutes before cutting.
Source:
She's Becoming Doughmesstic
This post may contain affiliate links. As an Amazon Associate and member of other affiliate programs, I earn from qualifying purchase.