Chocolate Chili Spice Cookies (Small Batch)
Chocolate Chili Spice Cookies are chewy chili pepper cookies with chocolate to spice things up for dessert.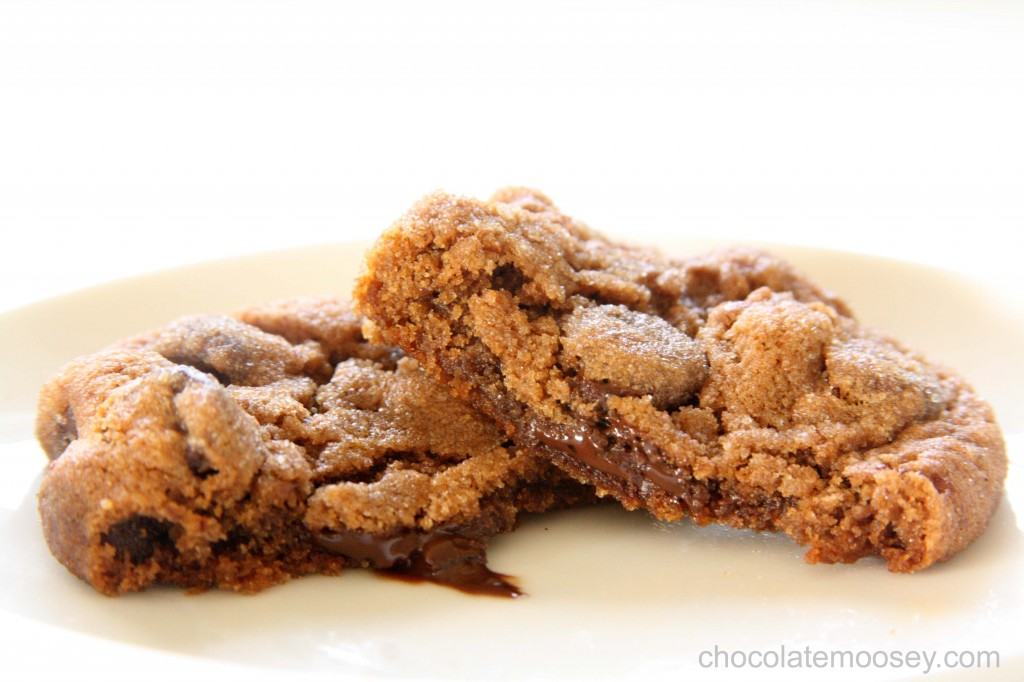 When you think spicy, you often think savory, ranging from enchiladas to salsa to curry to jerk chicken. But what about dessert?
These Chocolate Chili Spice Cookies look innocent, but they pack quite a punch.
When you first bite into one, you get what you expect – a chocolate cookie.
After a few seconds, the heat from the chili powder creeps up on you. It's enough to make an appearance, but it won't make you breathe fire (unless you eat 3 in a row. Then I'm not responsible).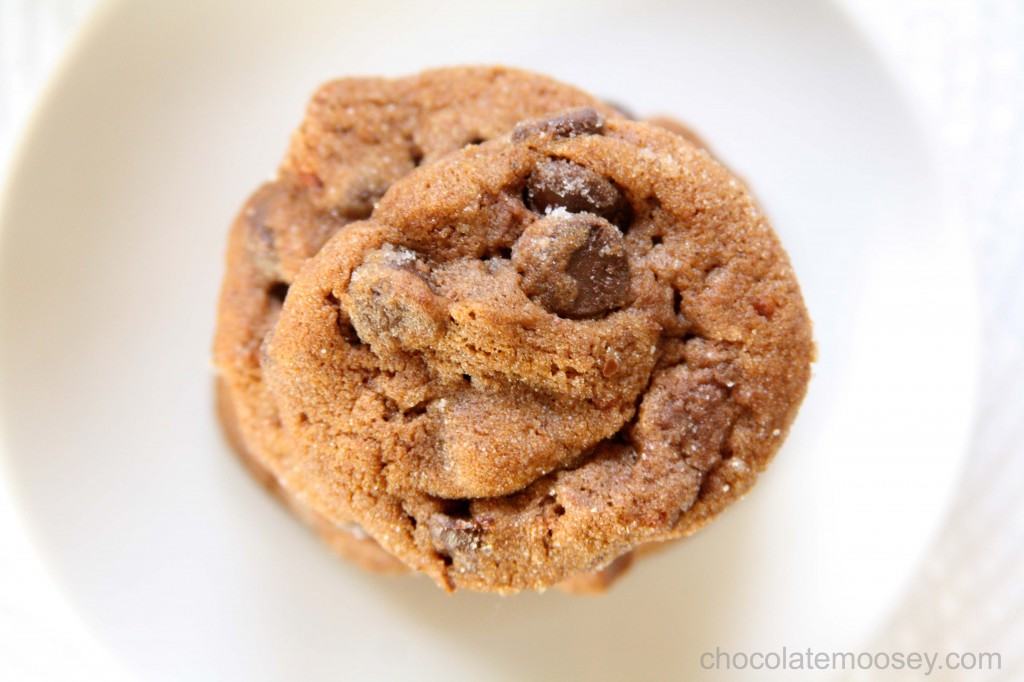 Spice is a great way to elevate your meals. If a recipe doesn't have spices in it, I'll add some (whether it's tame like garlic powder or spicy like pepper flakes. Or even dried herbs).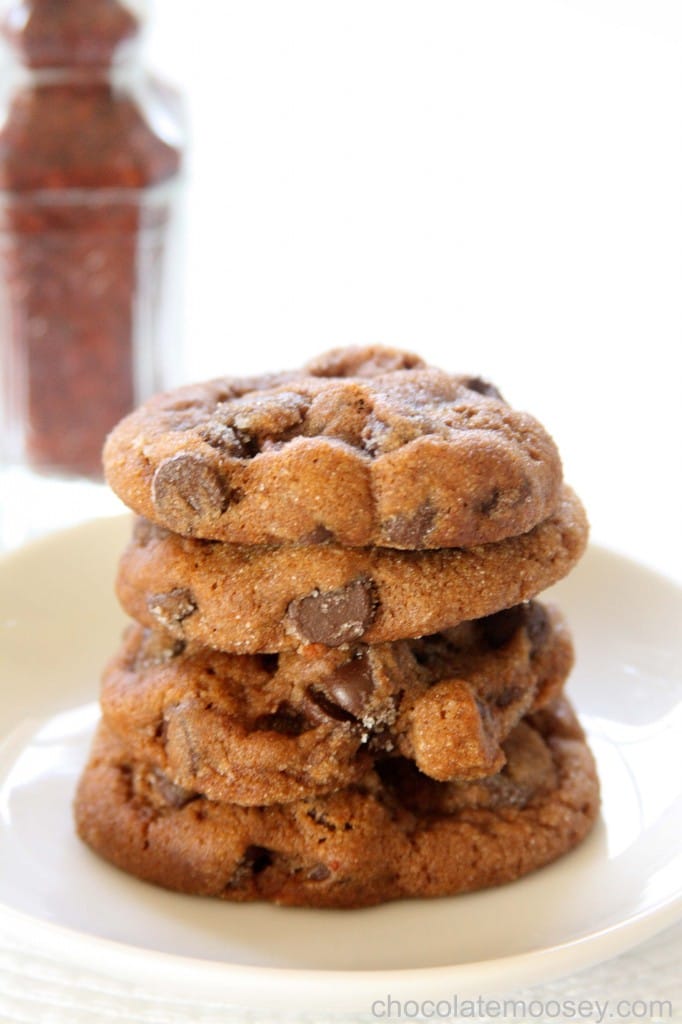 Although I enjoy spicy food, I'm a bit of a wimp.
One time, I made a habanero sauce but couldn't finish dinner because I was on fire.
However, I do grow jalapenos, mainly for my fresh garden salsa recipe, and add them to dinner when I can.
I also love curry and sweet chili sauce. Oh and I make a pretty awesome fajita seasoning too.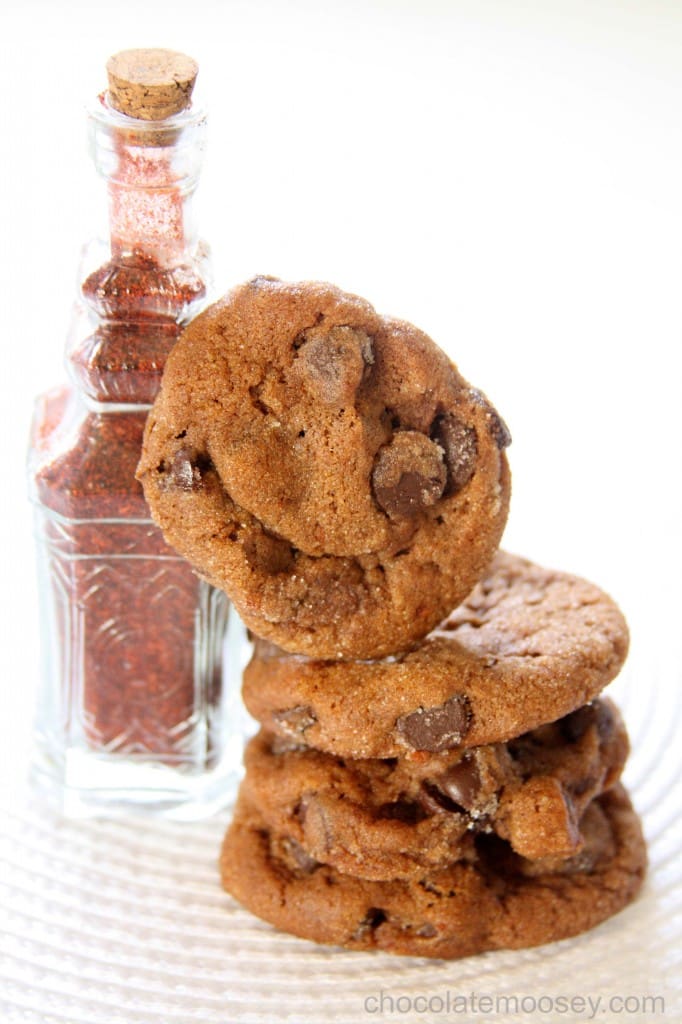 Chili powder in chocolate desserts is becoming more common, perhaps even a little cliché, but I can't call it cliché if I've never tried it before, right?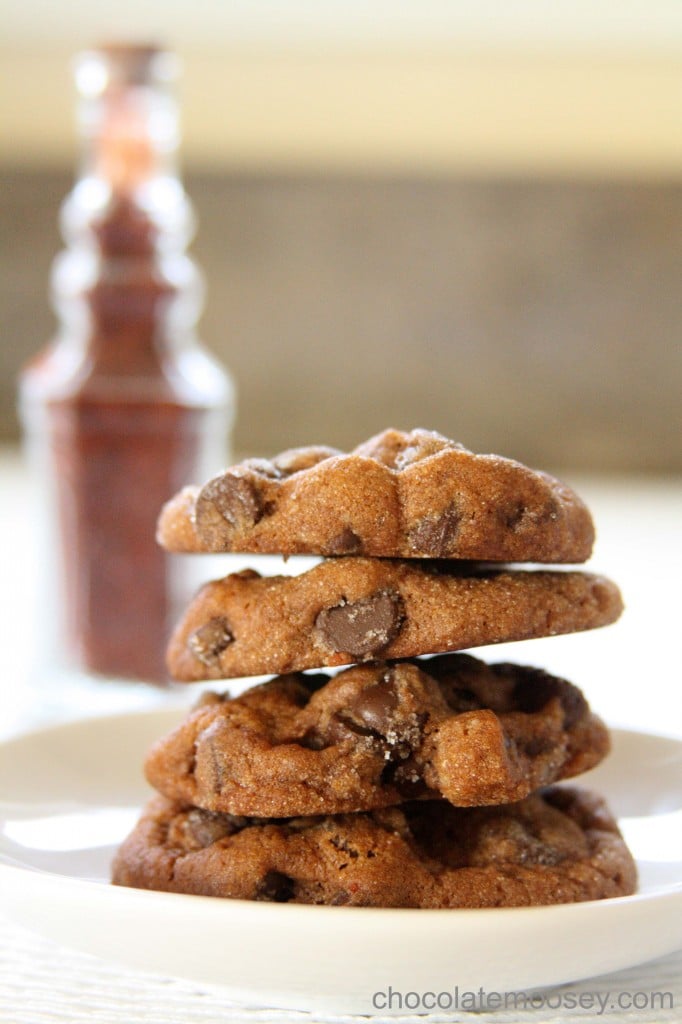 Wash your cookies down with my frozen mango margarita recipe.
Small Batch Chocolate Chili Spice Cookies
Yield: 5 cookies
Prep Time: 20 minutes
Cook Time: 15 minutes
Chill Time: 30 minutes
Total Time: 1 hour 5 minutes
Small Batch Chocolate Chili Spice Cookies are chewy chocolate cookies with chili powder to spice things up.
Ingredients
1/3 cup all-purpose flour, sifted
1 teaspoon unsweetened cocoa powder
1/4 teaspoon salt
1/4 teaspoon ground ginger
1/4 teaspoon ground cinnamon
1/4 teaspoon ground clove
1/4 teaspoon chili powder
1/2 teaspoon water
1/4 teaspoon baking soda
2 tablespoons unsalted butter, softened
2 tablespoons packed brown sugar
1 tablespoon honey
1/4 teaspoon vanilla extract
1/4 cup semisweet chocolate chips
2 teaspoons granulated sugar
Instructions
In a small bowl, whisk together the flour, cocoa, salt, ginger, cinnamon, clove, and chili powder.
In another small bowl, microwave the water for 10 seconds or until warm. Stir in the baking soda until dissolved. Set aside.
In a large mixing bowl, beat together the butter and brown sugar until smooth and creamy, about 1-2 minutes.
Beat in the honey and vanilla until smooth.
Gradually add half of the flour mixture. Add the baking soda mixture then remaining flour. Stir in chocolate chips.
Refrigerate until firm, about 30 minutes.
Preheat oven to 325F. Line a cookie sheet with parchment paper.
Using a #40 cookie scoop or by hand, roll the dough into 1 1/2-inch balls, roll into granulated sugar until completely coated, then place on the baking sheet about 2 inches apart.
Bake until edges are set and surface cracks slightly, about 13-15 minutes. They will seem underbaked but will firm up as they cool. Cool for 5 minutes then transfer to a cooling rack.
Notes
Dissolving baking soda into water first will result in a puffier cookie texture due to the steam it creates.
Recommended Products
As an Amazon Associate and member of other affiliate programs, I earn from qualifying purchases.
Source: Adapted from Savour Fare (link no longer available)
This post may contain affiliate links. As an Amazon Associate and member of other affiliate programs, I earn from qualifying purchase.