Apple Butter Baked Doughnut Holes
Want to learn how to make doughnut holes? These Apple Butter Baked Doughnut Holes filled with apple butter are easy to whip up in minutes, perfect for last-minute brunch recipes and everyday snacks.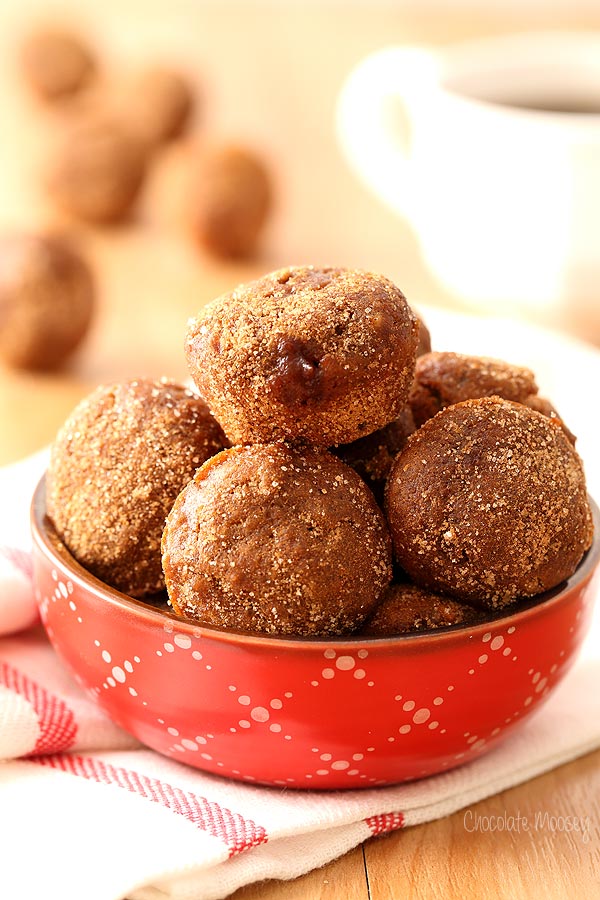 Tomorrow is Mardi Gras, and I almost missed it.
I don't even care so much about celebrating it; I just like to eat Mardi Gras related food: doughnuts, beignets, gumbo, jambalaya, King cake.
Every year, I tell myself I'm going to make a King cake. And every year, I don't make a King cake. 2015 is no different (someone remind me next year to make one).
Ok no King cake this year. What else could I make? The next recipe I thought about making were doughnuts.
Since I knew I could whip up baked doughnut holes in no time, I made these Apple Butter Baked Doughnut Holes to celebrate.
I thought about baking regular doughnuts, but I wanted smaller, snack-size treats. And how do you make smaller, snack-size treats even better? By filling them, much like jelly doughnuts, with apple butter to give them an extra boost in apple butter flavor then tossing them in cinnamon sugar. Little bites of bliss.
What I love most about this recipe is that it can be made all year round. They are perfect for brunch (I bet Mom would love these for Mother's Day) or just an everyday fun snack with your morning cup of coffee.
If you're in the mood for apples, cinnamon spice and everything nice, then these doughnut holes are for you.
I didn't realize there were people who haven't heard of apple butter until friends started asking me about it. Maybe it's because I grew up with it in PA where the Pennsylvania Dutch and the Amish have a heavy influence.
However, when I asked you on Facebook, you were very passionate about apple butter.
Apple butter is a highly concentrated form of apple sauce that is cooked until the sugar in the apples caramelize, giving it its dark brown color.
It has a thick, smooth texture spiced with cinnamon and clove that makes it excellent to spread on toast in the morning.
You can either buy a jar or make small batch apple butter.
For more apple butter recipes, check out my guide on what to do with apple butter.

A few important notes about this recipe. Since I don't own a cake pop pan, I used
a mini muffin pan
(hence why they look like mini muffins).
Don't be fooled! They do not taste like muffins. Rather, they taste like doughnuts with a cake-like texture.
I also filled them with apple butter, much like you would with jelly doughnuts. I highly recommend buying a long piping tip specifically for this job, known as a bismarck tip or the round 230 tip. I bought this cupcake piping kit a long time ago that includes the round 230 tip.
If you don't have any piping tips, you can use a small squeeze bottle.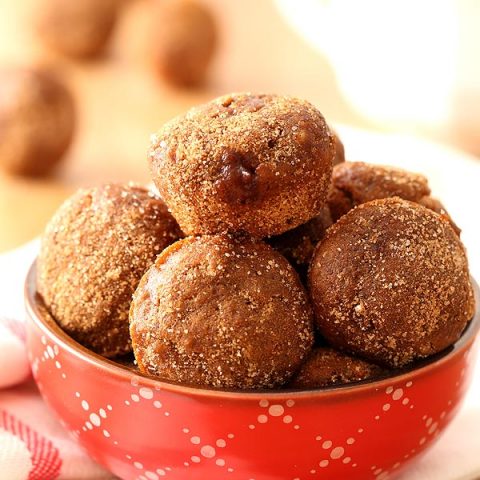 Apple Butter Baked Doughnut Holes
Yield: 3 dozen
Prep Time: 30 minutes
Cook Time: 10 minutes
Total Time: 40 minutes
Want to learn how to make doughnut holes? These Apple Butter Baked Doughnut Holes filled with apple butter are easy to whip up in minutes, perfect for last-minute brunch recipes and everyday snacks.
Ingredients
1 cup all-purpose flour
1/2 teaspoon baking soda
2 teaspoons ground cinnamon, divided
1/2 teaspoon ground nutmeg
1/4 teaspoon ground clove
1/4 teaspoon salt
2 tablespoons unsalted butter, melted
1 1/4 cup Musselman's Apple Butter, divided
1/4 cup packed brown sugar
1 egg
1/4 cup buttermilk, room temperature
1 teaspoon vanilla extract
1 tablespoon granulated sugar
Instructions
Preheat oven to 350F. Lightly grease two mini muffin pans with cooking spray.
In a large bowl, whisk together the flour, baking soda, 1 teaspoon cinnamon, nutmeg, clove, and salt.
In a large mixing bowl, beat together the melted butter, 3/4 cup apple butter, and brown sugar until smooth, about 1-2 minutes. Beat in the egg, buttermilk, and vanilla until fully incorporated, about 1 minute. Gradually beat in the flour mixture until just incorporated (do not overmix).
Fill each mini muffin cup with roughly 2 teaspoons of batter (or one scoop from a small #60 cookie scoop). The cups should only be halfway full. Bake 8-10 minutes or until a toothpick inserted in the center comes out clean. Wait 1-2 minutes then remove the doughnut holes to a cooling rack.
In a small bowl, whisk together the remaining 1 teaspoon cinnamon with granulated sugar. While the doughnut holes are still warm but cool enough to handle, toss each one into the cinnamon sugar mixture. Cool completely.
Once fully cooled, fill a pastry bag fitted with a round 230 tip with the remaining 1/2 cup apple butter. Insert the tip into one doughnut hole and fill with enough apple butter until the top starts to expand upward. Repeat with the remaining doughnut holes. Best served the same day but will keep in an airtight container for up to 2 days.
More Apple Butter Recipes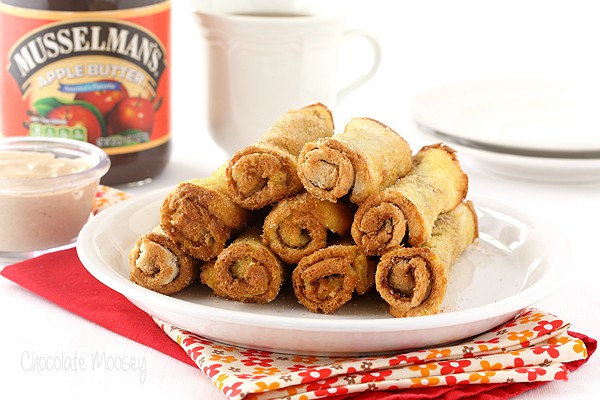 Apple Butter French Toast Roll Ups
This post may contain affiliate links. As an Amazon Associate and member of other affiliate programs, I earn from qualifying purchase.