Enjoy your Game Day party with these easy to assemble Antipasto Football Cracker Stacks with salami, turkey, ham, and mozzarella cheese.
This is a sponsored post written by me on behalf of Nabisco and Giant Eagle. All opinions are 100% mine.
Are you ready for some football?! Or maybe you're like me and you're ready for some Game Day football food.
I may cook for myself on a daily basis but since we're in the middle of football season, my parents somehow magically invite themselves over for the game. Secretly I think they come over for the food and the cat.
This blog may be about recipes for two and small batch recipes, but sometimes you need to serve guests, especially if you're inviting people over to watch your favorite football team play.
I know it can be a little overwhelming to suddenly go from 2 servings to 4+ servings. How much food should you buy? How long will it take to cook everything? How will you get everything done without an assistant?
That's where these Antipasto Football Cracker Stacks come in handy. They're RITZ Crackers topped with basil, salami, turkey, ham, mozzarella cheese, Italian dressing, and either a tomato or an olive. They take only a few minutes to assemble, which means less time cooking and more time socializing with your guests.
One of the hardest things about small serving sizes is buying meat. Since you only need a few slices of each lunch meat, it's easy and more cost effective to buy a small amount at your local Giant Eagle deli counter than buying pre-packaged. This reduces both overall cost and food waste.
I bought about 1/4 pound of each lunch meat then either snacked on the leftovers or used them in crepes. You can also add some ham or turkey to these Roasted Broccoli And Cheese Quesadillas.
If you're used to cooking for 1-2 people, it can get overwhelming when you have guests over. Even more so when you want to enjoy your company and don't want to be stuck in the kitchen the whole time.
That's when RITZ Crackers comes in handy. Typically I serve them with a bacon cheddar cheese ball, but I wanted to make them a little more substantial (and fun!) by stacking them with salami, turkey, ham, and mozzarella cheese.
To make serving even faster, cut the meat and cheese ahead of time so all you have to do is assemble.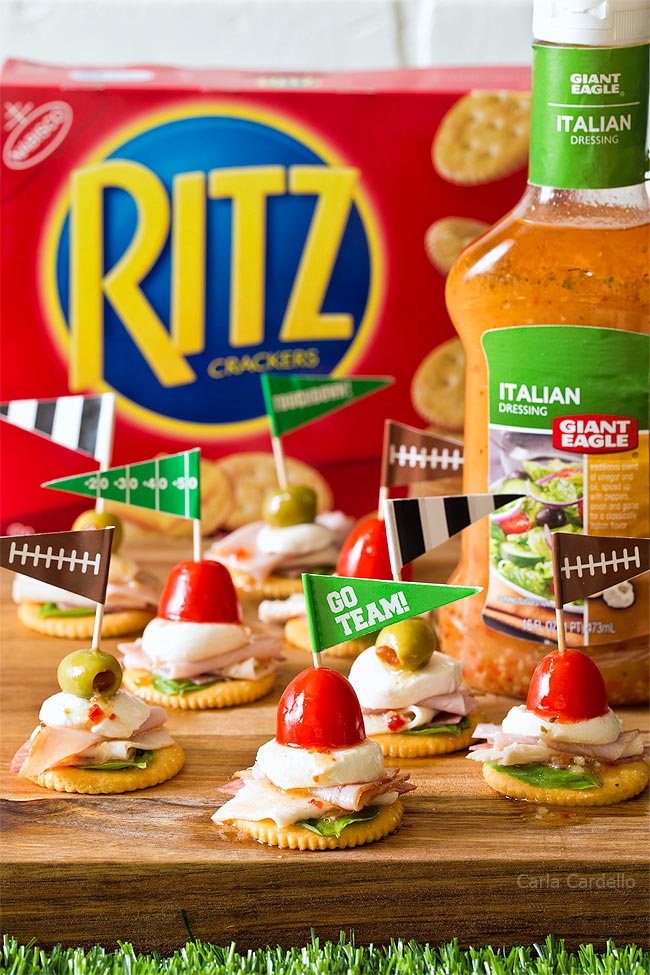 You can buy all of your ingredients for this recipe at
Giant Eagle
. From 10/18 – 11/1/18, save $5.00 when you buy any TEN (10) participating items, which include RITZ Crackers (8-14oz.), TRISCUIT Crackers, WHEAT THINS Snacks, and GOOD THINS Snacks (3.5-9.5 oz.), and RITZ Toasted Chips (7-9 0z.).
I'm not much of a party decorator, but I did find some
astroturf
for my photo shoot. You can use it as a festive "tablecloth" for your food. You can also buy these
fun football toothpicks
to top your crackers.
Antipasto Football Cracker Stacks
Yield: 4 servings, 3 topped crackers each

Prep Time: 15 minutes

Total Time: 15 minutes

Enjoy your Game Day party with these easy to assemble Antipasto Football Cracker Stacks with salami, turkey, ham, and mozzarella cheese.</
Ingredients
12 RITZ Crackers
2 tablespoons Italian dressing, divided
12 small basil leaves
3 slices salami (1 oz.), each cut into 4 pieces
2 slices deli-style roasted turkey breast (2 oz.), each cut into 6 pieces
2 slices deli-style Black Forest ham (2 oz.), each cut into 6 pieces
3 ciliegine fresh mozzarella balls in water, drained, each cut into 4 slices
6 small stuffed green olives
3 small grape tomatoes, halved
Instructions
Place crackers in single layer on serving plate; drizzle evenly with half the dressing.
Top with basil, salami, turkey, ham, and cheese, folding meat slices if necessary to fit.
Add olives or tomato pieces, securing all toppings with decorative toothpicks.
Drizzle with remaining dressing before serving.
Nutrition Information:
Serving Size: 1
Amount Per Serving: Calories: 85 Total Fat: 7g Saturated Fat: 1g Sodium: 316mg Carbohydrates: 6g Sugar: 4g

Disclosure: This post is sponsored by Nabisco and Giant Eagle and also contains Amazon affiliate links. Thank you for supporting me and the companies I work with as sponsored posts help pay for website hosting and groceries.