A quick and easy meatless dinner of Roasted Broccoli and Cheese Quesadillas not only incorporates more vegetables into your diet, you won't miss the meat at all.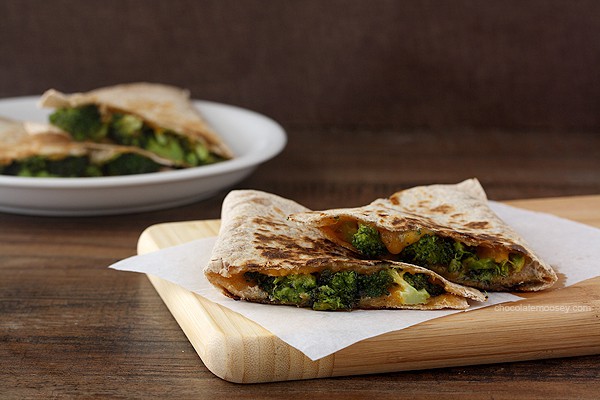 Earlier this month, I mentioned how eating more vegetables is
one of my 2014 resolutions
. Truth is, I've been doing this for the past few months now. I learned the best way to incorporate more vegetables is to start with your favorites because it's much easier to add something you really like first before experimenting with new-to-you produce. The biggest challenge I have, however, is finding time to cook. I work a full time job during the week, so I need relatively quick and easy recipes that take no more than an hour to prepare after a long eight-hour day. That's why I made these Roasted Broccoli and Cheese Quesadillas for Weekday Supper, a collection of easy weeknight dinners for busy people.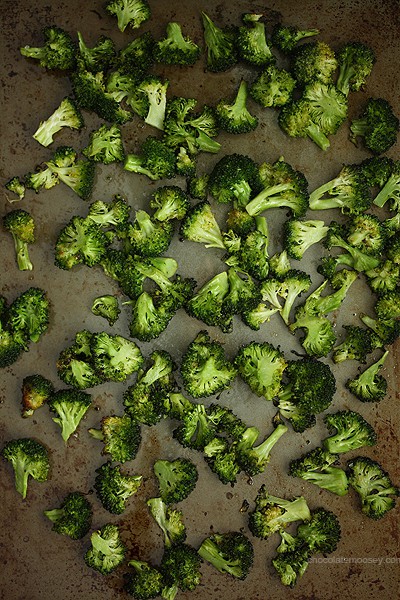 Broccoli is probably my second favorite vegetable (right behind cauliflower), so it made sense to make more meals around broccoli. Roasting vegetables is the easiest and probably the most flavorful way to cook vegetables (
see my recipe for roasted Brussels sprouts
). Toss in a little bit of oil and sea salt then bake for roughly 15-20 minutes. To save time with prep, I cut up the vegetables ahead of time (especially if I'm using a head of broccoli in several recipes – might as well cut all of it at once) and keep raw in a container to use at a moment's notice.
I eat quesadillas *a lot* for dinner because you can stuff it with practically anything and have it ready in no time. Here's a hint though – don't make extras and reheat for lunch in the microwave because the tortillas taste soggy and not good. Instead, pack any extra filling and tortillas separately then make tacos or wraps. Or whatever you want to call random stuff inside an unheated tortilla.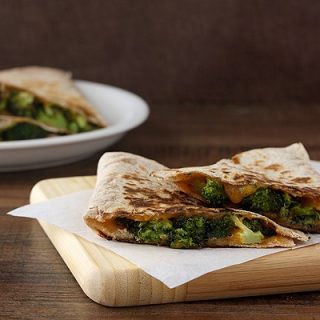 Roasted Broccoli and Cheese Quesadillas #WeekdaySupper
Ingredients
2 cups chopped broccoli
2 tablespoons olive oil
Pinch of sea salt
1/2 cup cheddar cheese, shredded or thinly sliced
4 tortillas
Instructions
Preheat oven to 400F. Have a baking sheet ready.
In a large bowl, toss together the broccoli, oil, and salt. Spread into a single layer on the baking sheet and bake for 8-10 minutes or until evenly roasted but not burnt. Remove from the oven and allow to cool.
Heat up a large skillet. On one half of a tortilla, add some cheese then top with some broccoli. Fold the tortilla in half then add to the skillet (alternatively if your tortillas are small, you can cover the whole tortilla with the filling then top with a second tortilla). Cook until the bottom is brown. Flip it over and cook until the other side is brown. Remove and cut. Repeat with the remaining tortillas.
Source: Adapted from
Bountiful: Recipes Inspired by Our Garden
(Amazon affiliate link)
—-
If you liked these Roasted Broccoli and Cheese Quesadillas, you may also like these recipes from me: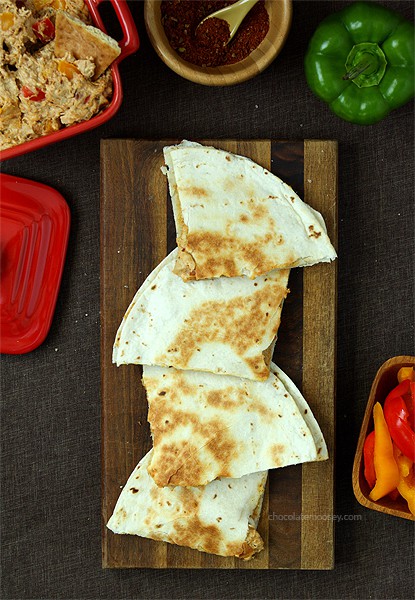 Looking for more Weekday Supper inspiration? Check out the recipes for this week: