Looking for a make ahead brunch recipe? Bring Mediterranean flavors to the table by serving Artichoke Olive Quiche filled with artichoke hearts, green pimento olives, and roasted red pepper baked in a homemade pie crust.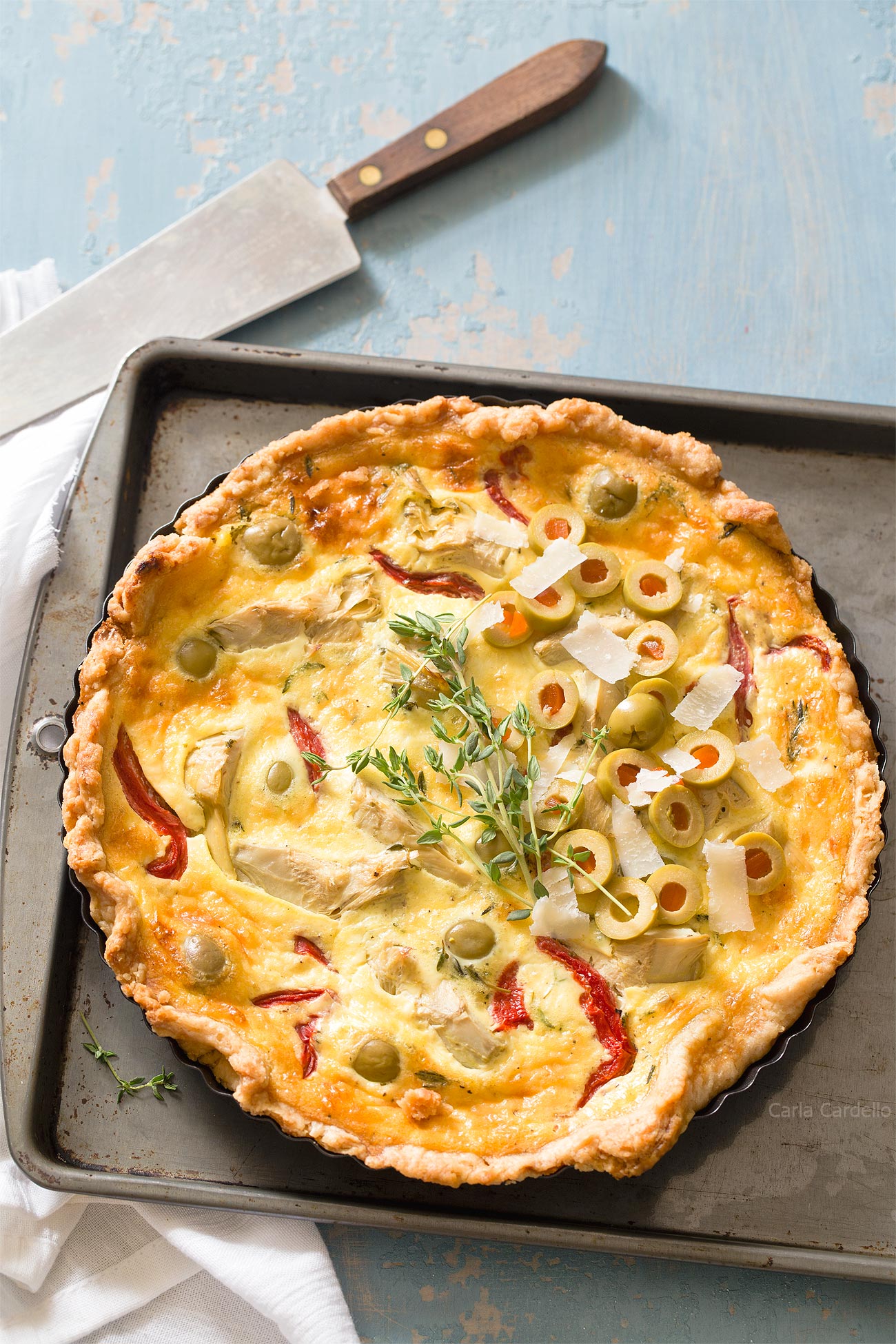 Raise your hand if you didn't realize
Easter
is in two weeks. It seemed to have crept out of nowhere, and I can never keep track of when it is. April! March! Back to April! Back to March! Can we please pick the same time each year like we do for Thanksgiving?
This week also marks the first day of spring, which is hard to believe because the weather has been alternating between spring and winter the past month or so.
With Easter, Mother's Day, and springtime in general, I think of one word – brunch.
Brunch is that magical time of the day where non-morning people like me get to sleep in and still eat breakfast. The trade off is I need all the help I can get for making dishes ahead of time since it takes me awhile to wake up. That's where this Artichoke Olive Quiche comes in handy.
Artichokes aren't new to quiche filling; after all, everyone has heard about spinach artichoke quiche. However, I wanted to go in a more Mediterranean direction with green pimento olives and roasted red pepper.
Quiche is the perfect example for make ahead brunch food. You can fully bake it the day before then pop it in the oven to reheat the next day. Or you can make the pie crust the day before then bake it with filling the morning of.
It also makes an excellent breakfast for dinner (aka brinner).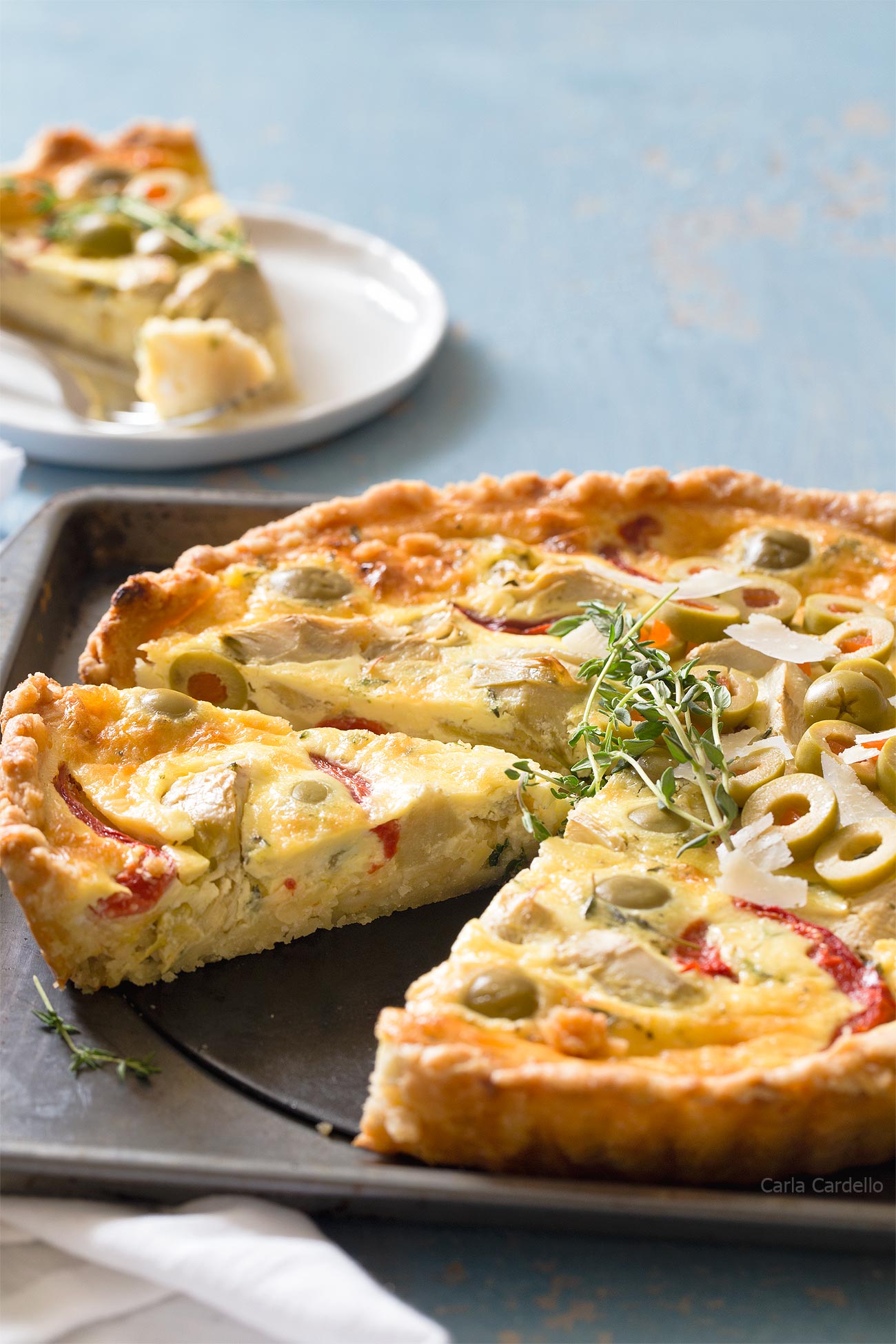 A quiche is essentially an egg custard baked in a pie crust. Learning how to make a quiche is easy once you understand its components:
1. The crust: You do need to prebake a pie crust for quiche prior to filling it. Otherwise, you'd end up with a soggy crust.
After pressing your homemade pie dough into your pan, prick it with a fork to help release steam, cover it with foil so it doesn't overbrown, and fill it with pie weights so the dough stays flat.
You don't need to buy actual pie weights. I use dried lentils, but you can also use dried beans or rice. Keep them in a special jar to use over and over for future quiche making.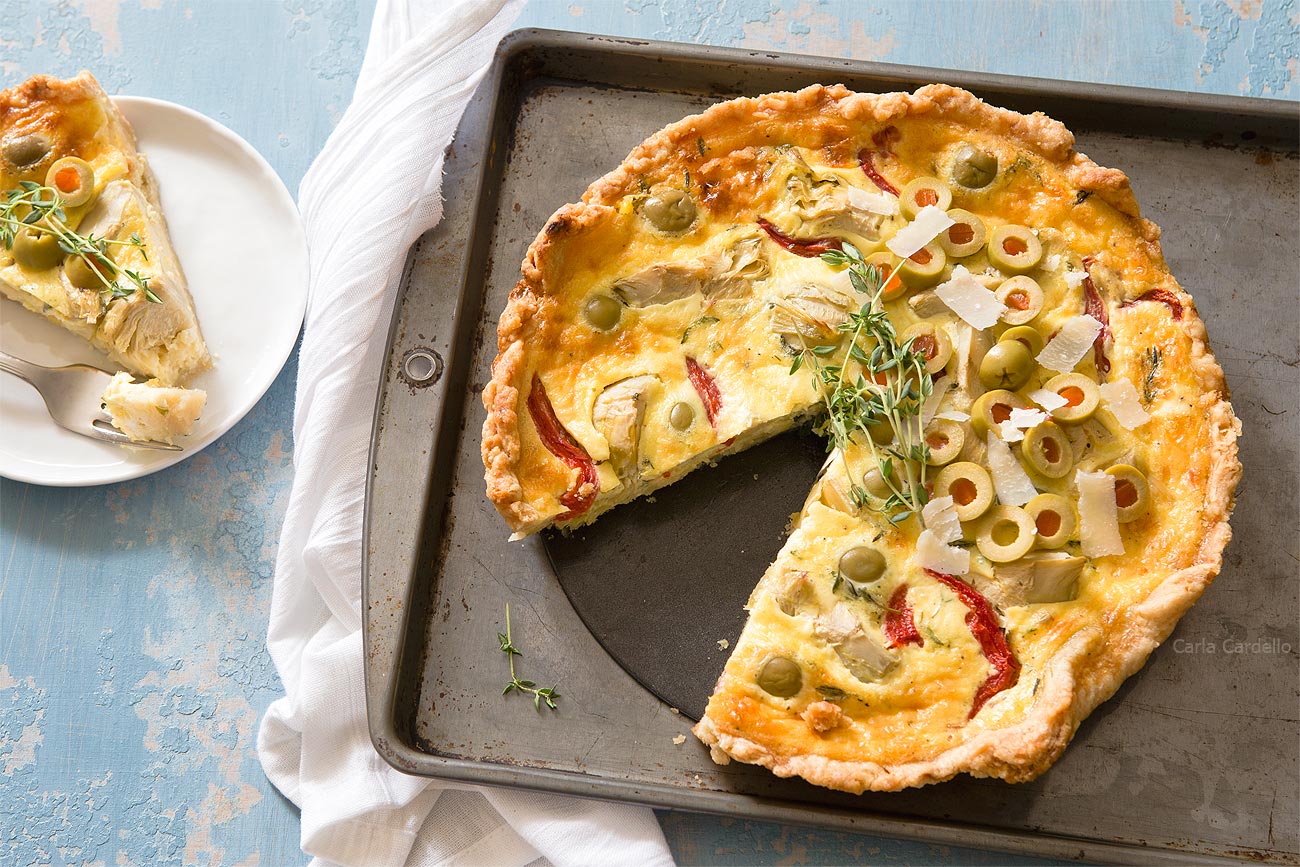 2.
The egg filling:
The ratio of eggs to milk in quiche is 2:1. For example, use 2 eggs for every 1 cup dairy. I use a combination of whole milk and heavy cream to balance the richness. Don't forget the salt!
3.
The mix ins:
This is where the fun and creativity begins!
First, layer the baked crust with cheese to act as a barrier between the dough and filling. Next, scatter your mix ins on top. Finally, pour the egg mixture in between until the whole pan fills up.
For my mix ins, I used Mario Foods artichoke hearts, green manzanilla olives, and roasted red peppers. Using these ingredients straight from the jar means you don't have to do any knife work; everything is either already cut for you or small enough to leave whole.
The artichoke hearts are marinated and ready to eat so you don't have to worry about trimming a fresh artichoke. The green olives have a bold taste and firm texture, which helps keep them whole even with a long baking time. The roasted red peppers add a pop of color.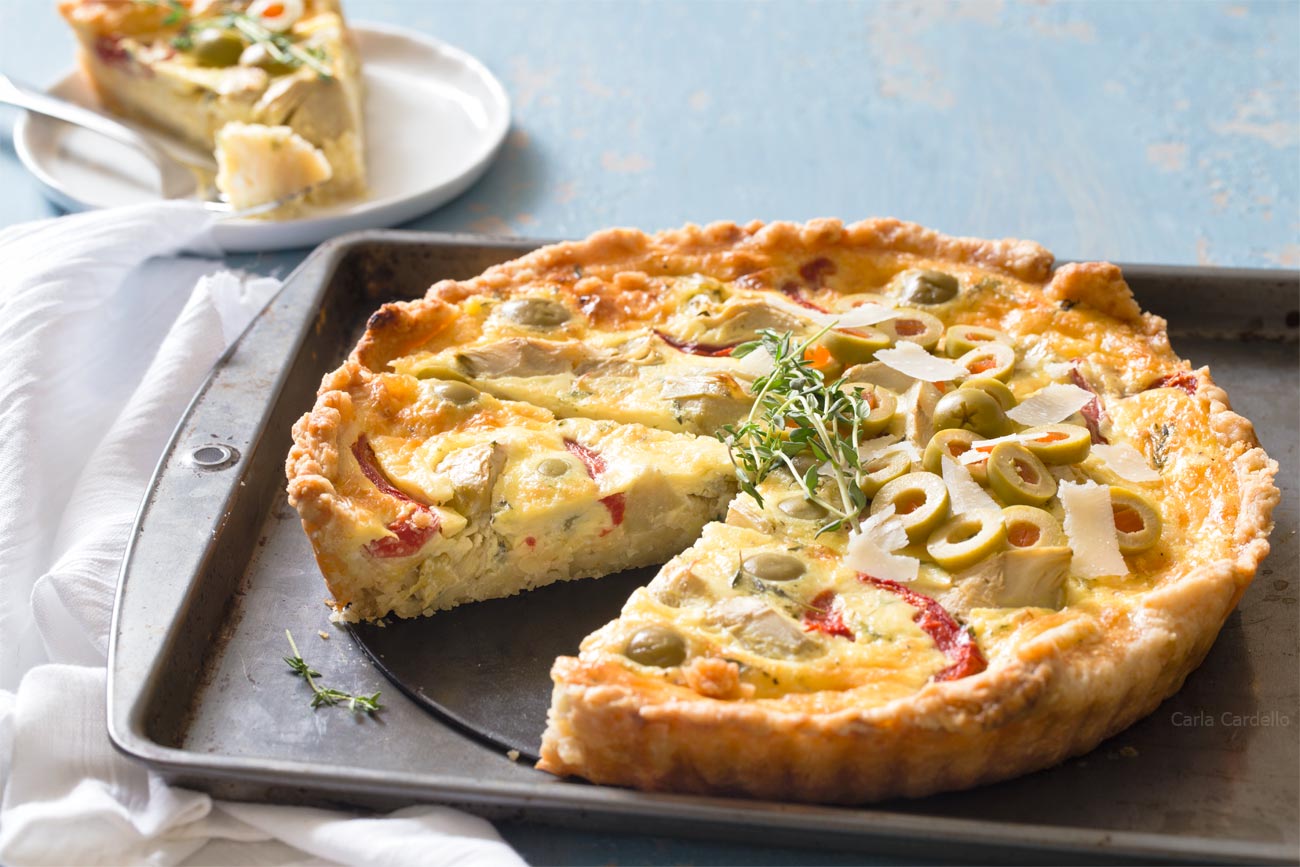 I find it's easiest to bake your quiche in a
tart pan with a removable bottom
(affiliate link). The fancy white fluted quiche pans do make for a stunning presentation, but I find them harder to cut and serve without falling apart.
Although an 8-inch quiche makes a little more than brunch for two, leftover quiche tastes even better the next day and makes an excellent breakfast.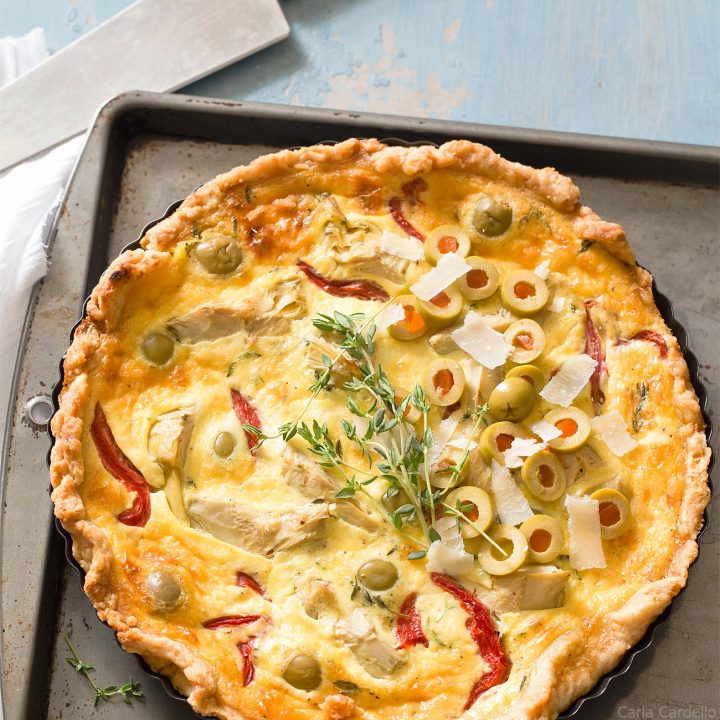 Artichoke Olive Quiche
Yield: 6-8 servings

Prep Time: 30 minutes

Cook Time: 50 minutes

Chill Time: 1 hour

Total Time: 2 hours 20 minutes

Looking for a make ahead brunch recipe? Bring Mediterranean flavors to the table by serving Artichoke Olive Quiche filled with artichoke hearts, green pimento olives, and roasted red pepper baked in a homemade pie crust.
Ingredients
Pie Crust
1 1/2 cups all-purpose flour
1 tablespoon granulated sugar
1/2 teaspoon salt
1/2 cup (4 ounces) unsalted butter, cold and cut into 8 tablespoons
3 tablespoons vegetable shortening, cold and cut into 3 tablespoons
1/4 cup cold water
Filling
2 eggs
1/2 cup whole milk
1/2 cup heavy whipping cream
1 tablespoon fresh thyme leaves
1/4 teaspoon salt
1 cup shredded Parmigiano Reggiano cheese
1 (6.5 ounce) jar Mario artichoke hearts
1/4 cup Mario manzanilla olives
1/4 cup Mario roasted red pepper strips
Instructions
Make the pie crust: In the bowl of a food processor, add the flour, sugar, and salt. Add the cold butter and shortening and pulse until butter and shortening are cut into the flour, looking like large pebbles. Add the water and pulse until a dough forms. Gather the dough and pat into an evenly round disk. Wrap in plastic wrap and refrigerate at least 1 hour or until cold.
Preheat oven to 375F. Place a lightly greased 8-inch tart pan with a removable bottom onto a baking sheet.
On a lightly floured surface, roll out the pie dough into a circle slightly bigger than the pan. Line the bottom and sides with the crust, patching it together if necessary.
Line the pie crust with foil on top then fill with pie weights or dried beans. Bake for 10 minutes. Remove the foil and weights then bake another 5 minutes or until the bottom is golden brown and no longer looks uncooked.
Meanwhile, make the filling: In a large bowl or measuring cup, whisk together the eggs, milk, cream, thyme, and salt.
Once the crust has finished baking, sprinkle the cheese evenly over the crust. Top with the artichokes, olives, and red pepper. Pour the egg mixture over top. Bake for 35-40 minutes or until top is golden brown and slightly puffed. Cool at least 15 minutes before serving.
Recommended Products
As an Amazon Associate and member of other affiliate programs, I earn from qualifying purchases.

Disclosure: This post is sponsored by Mario Camacho Foods. Thank you for supporting me and the companies I work with as sponsored posts help pay for website hosting and groceries.