Get your apple pie fix in half the time with these No Bake Apple Pie Cheesecake Phyllo Cups. No need to roll out pie dough or spend time baking the cheesecake filling. Just fill pre-made phyllo cups and serve.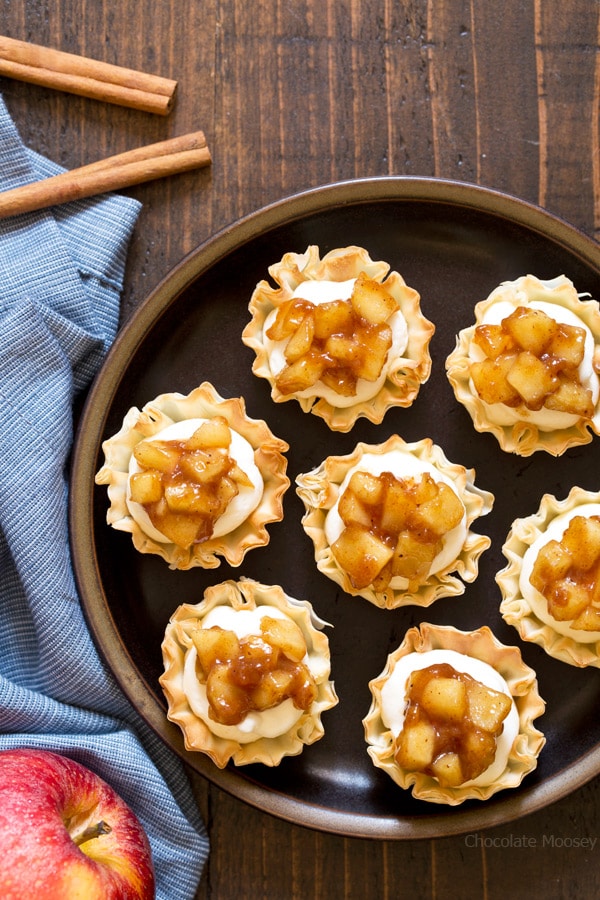 Last weekend Dad and I went to our favorite apple festival we attend every year. Fresh pressed cider, tractor pulls, stone ground cornmeal and whole wheat flour, arts and crafts, and fill your own bag of apples with at least eight varieties to choose. That last part is important to us because most apple festivals sell already-filled bags with only 1-2 choices. Digging through the bins is the next best thing to picking your own right off the tree. This year was unreasonably warm to the point where we were sweating, which meant lots of cold apple cider and an apple dumpling with ice cream. We came home with a peck of apples, ranging from Jonagold and Golden Delicious to Gala and McIntosh.
I really wanted to make apple pie, which is unusual because it's not my favorite pie. However, these past few weekends have been busy, leaving me with little time (and energy) to make anything. Yet I have a peck of fresh apples in my fridge, begging to be turned into pie. I did the next best thing and made these No Bake Apple Pie Cheesecake Phyllo Cups, which combines the flavors of apple pie and cheesecake into one bite while cutting prep time in half. No need to roll out dough or bake anything. The phyllo cups give them a flaky crunch for texture to go along with the creamy cheesecake filling and cooked apples on top. No need to mess with layering of phyllo dough either. Just fill pre-made cups and serve.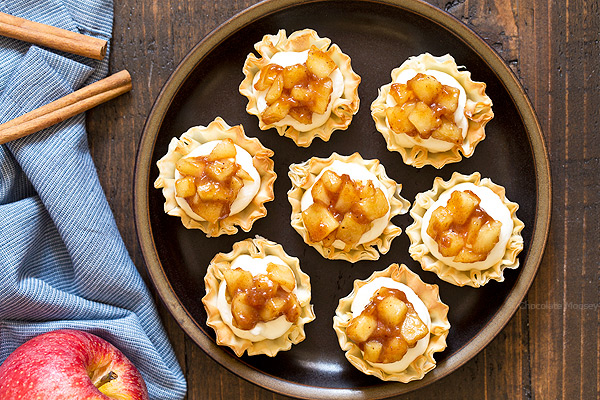 What is phyllo? Sometimes spelled as fillo or filo, it is a paper-thin unleavened dough made with little fat. Typically when working with phyllo, you layer multiple sheets together for a crisp, flaky texture. My first encounter with phyllo was in my middle school cooking class when we learned how to make baklava (which is one of my favorite desserts to this date). Traditionally it's associated with Middle Eastern cuisine, but I put a little American twist on it with
homemade apple pie filling
on top.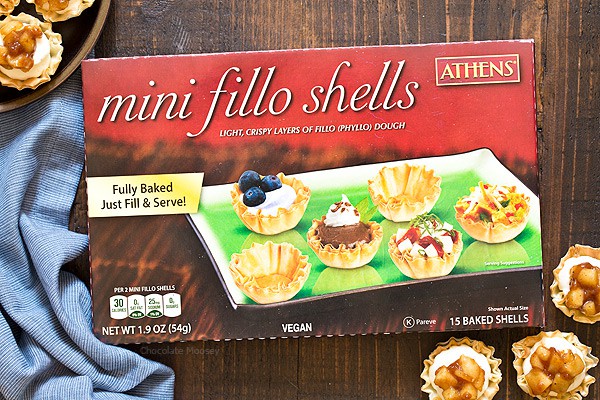 You can also buy phyllo as mini cups. I used
Athens Mini Fillo Shells
, which are ready-to-use mini cups made of phyllo. They are ideal for the busy holiday season because they are ready to use right out of the package. No baking, no cooking, no prepping. Just fill and serve. Sometimes you may bake them because of the filling, but in the case of no bake cheesecake, there's no need to bake anything. They also only take about 10 minutes to thaw straight from the freezer, making them ideal for last-minute recipes. This means you can keep a few boxes in your freezer and be prepared for almost anything. By the time you prep your ingredients, your fillo shells are now ready to fill.
Yields 30 mini fillo shells
No Bake Apple Pie Cheesecake Phyllo Cups
1 hr, 30 Prep Time
5 minCook Time
1 hr, 35 Total Time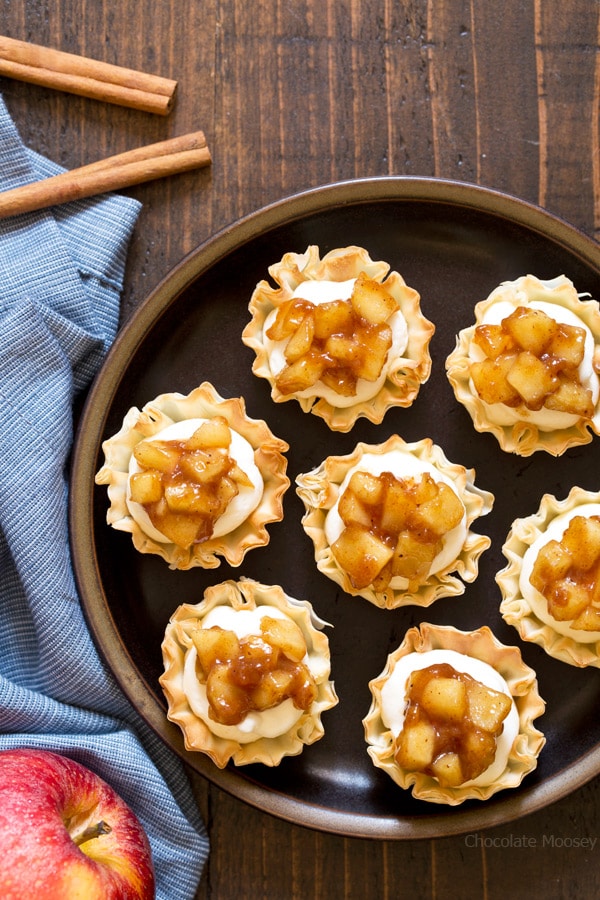 Ingredients
Apple Pie Filling

2 cups finely chopped peeled apple
1/2 cup water
1/4 cup granulated sugar
2 teaspoons ground cinnamon
1/2 teaspoon ground nutmeg
1/2 teaspoon ground clove
1 teaspoon cornstarch
1 teaspoon vanilla extract

Cheesecake Filling

1/2 cup heavy whipping cream, cold
8 ounces full-fat cream cheese, softened
1/2 cup granulated sugar
1 teaspoon vanilla extract
2 packages (15 count each) Athens Mini Fillo Shells
Instructions
First, make the apple pie filling: In a large saucepan, combine the apples, water, sugar, cinnamon, nutmeg, clove, and cornstarch. Bring to a boil, stirring often. Once boiling, cook for 3-5 minutes or until thickened and apples are softened. Remove from heat and stir in vanilla. Cool while making the cheesecake filling.
For the cheesecake filling: In a large mixing bowl (with whisk attachment if using stand mixer), beat the heavy cream until it thickens and stiff peaks form, roughly 3-4 minutes (when you pull the beaters up, peaks will form and not fall over). Transfer to another bowl and keep cold in the refrigerator.
In the same mixing bowl (no need to clean bowl - switch to paddle if using stand mixer), beat together the cream cheese and sugar until smooth and creamy, about 2-3 minutes. Beat in vanilla. Scrape down the bowl.
Fold the whipped cream into the cream cheese mixture until fully incorporated.
Pipe the cheesecake filling into each fillo shell then top with apple pie filling. Chill for at least 1 hour before serving.
7.6.3
3564
https://www.chocolatemoosey.com/2016/10/10/no-bake-apple-pie-cheesecake-phyllo-cups/
Disclosure: This post is sponsored by Athens Foods. Thank you for supporting me and the companies I work with as sponsored posts help pay for the costs of running Chocolate Moosey, including website hosting and groceries for recipe development.