Soft and chewy with a bit of spice and fresh ginger, these Gingerbread Chocolate Chip Cookies will be Santa's new favorite Christmas cookie.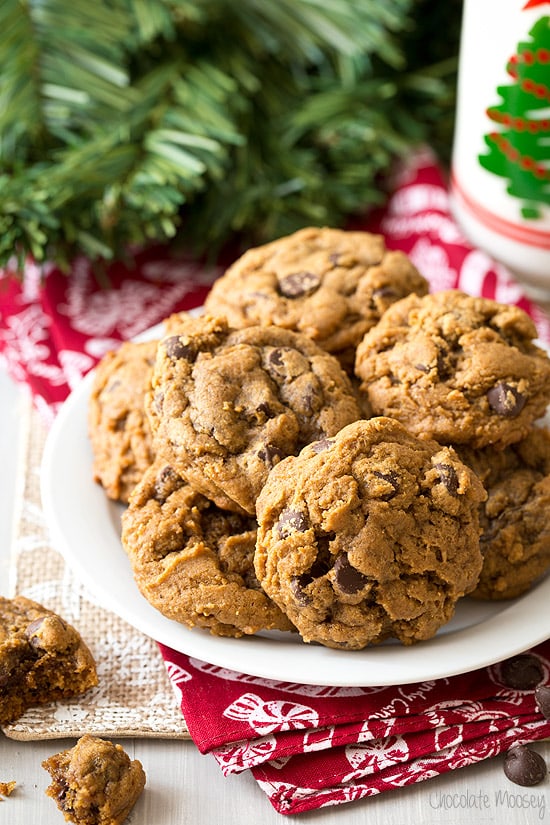 It's hard to believe we are halfway through December (!!!), and I'm not ready for Christmas. Mentally yes I'm ready, but I've barely done any Christmas shopping, am late in mailing Christmas cards, haven't watched any Christmas movies, and haven't worn my furry winter boots. It probably doesn't help that it's still 50 degrees outside and only need my winter coat in the mornings and evenings. On the plus side, I haven't had to deal with digging my car out of the snow or cursing because it's negative 10 degrees outside with the wind chill. My apartment is decorated with a
cupcake Christmas tree
and various Christmas knick knacks, mainly on the TV stand and end tables. With Christmas being less than two weeks away, it's time to start baking up a holiday storm.
I've baked a lot of gingerbread desserts in the past, but surprisingly enough I haven't combined gingerbread with my love of chocolate chip cookies until now. Usually I stick with the classic chocolate chip cookie with a touch of sea salt on top, but I'm making an exception with these Gingerbread Chocolate Cookies. These are my new favorite Christmas cookie – soft and chewy with a bite of warm spices and plenty of gooey melted chocolate chips. Normally I stick with ground ginger in gingerbread, but fresh ginger definitely packs quite a flavor punch compared to its mild ground ginger cousin. It adds another level of flavor, taking these cookies to a whole new level of yum.
I love ginger but rarely buy it fresh often because I never seem to remember to use it all before it spoils, not to mention how annoying it gets when peeling with the different nooks and crannies ginger has. Luckily,
Gourmet Garden
makes it much easier to use fresh ginger with their ginger paste. All you need to do is squeeze out however much you need from the tube. No peeling and no chopping. Done and done. The pastes last quite a bit of time in the fridge too. No need to throw it out after one week. You can find Gourmet Garden in your store's produce section near the fresh herbs.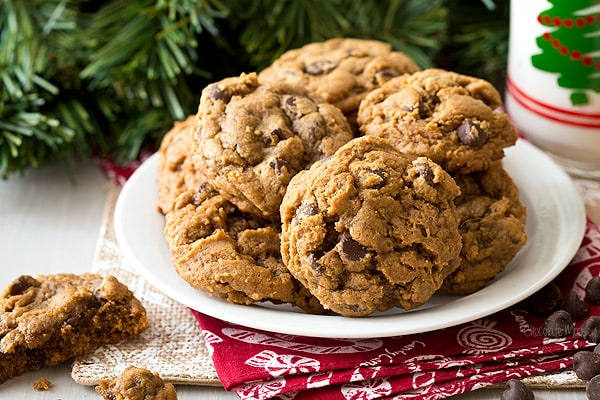 Even though this recipe makes a little over two dozen cookies, the dough does freeze well. In fact, it needs at least 1 hour of chill time to blend the flavors plus make the dough easier to handle. At this point, you can wrap what you're not going to bake and save for later. To make prep easier on your future self, scoop all of the dough into balls before freezing. That way, all you have to do is grab and bake.
For more information on Gourmet Garden, please visit their
website
and say hello on
Facebook
,
Twitter
,
Pinterest
, and
Instagram
.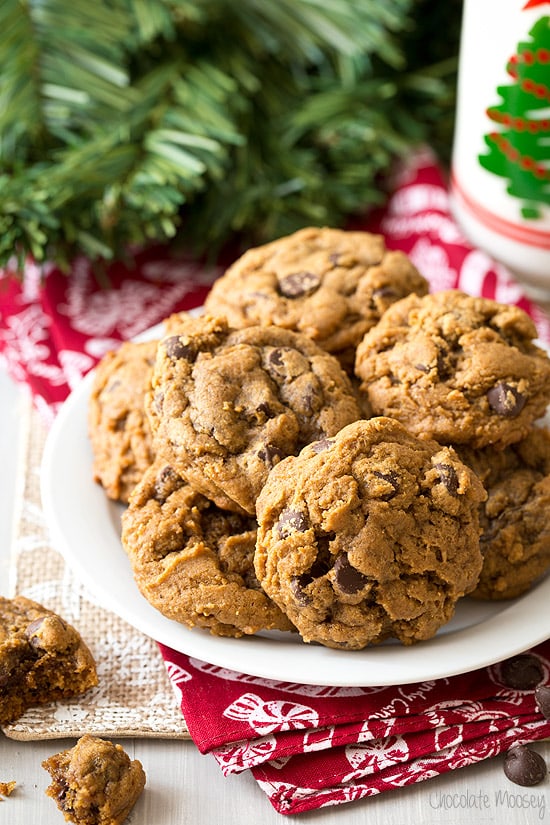 Ingredients
2 1/4 cups all-purpose flour
1 teaspoon ground cinnamon
1/2 teaspoon ground nutmeg
1/2 teaspoon ground ginger
1/2 teaspoon baking soda
1/2 teaspoon salt
1/2 cup (4 ounces or 8 tablespoons) unsalted butter, softened
1/2 cup granulated sugar
1/2 cup packed brown sugar
1 egg
1/4 cup molasses
2 tablespoons Gourmet Garden ginger paste
1 teaspoon vanilla extract
1 cup semisweet chocolate chips
Instructions
In a large bowl, whisk together the flour, cinnamon, nutmeg, ground ginger, baking soda, and salt.
In another large mixing bowl, beat together the butter, sugar, and brown sugar until light and creamy, 2-3 minutes. Beat in the egg until smooth then beat in the molasses, ginger paste, and vanilla. Gradually beat in the flour mixture then add the chocolate chips.
Cover and refrigerate the dough for at least 1 hour or until firm enough to scoop.
Preheat oven to 350F. Line two baking sheets with parchment paper.
Using a #40 cookie scoop or by hand, roll the dough into 1 1/2-inch balls then place on the baking sheets about 2 inches apart. At this point, you can freeze any dough you're not baking right away and save for a future date.
Bake 10-12 minutes or until golden brown and puffed. Cool on the baking sheets for 5 minutes before removing to a cooling rack. Cool completely before serving.
7.6.3
3483
https://www.chocolatemoosey.com/2015/12/14/gingerbread-chocolate-chip-cookies/
More Gingerbread Recipes

Gingerbread S'mores Cookie Bars
Disclosure: This post is sponsored by Gourmet Garden. Thank you for supporting me and the companies I work with as sponsored posts help pay for the costs of running Chocolate Moosey, including website hosting and groceries for recipe development.